It was about a year ago when Symbiote Studios, manufacture of the adorable super-deformed Symbiote figurines, unveiled its slate of video game-licensed SDCC exclusives. Hot off the heels of E3, the company is back at Comic-Con in 2014 and has begun to release information on what attendees can expect to see on the show floor.
We'll update this master post as new information is announced by the company. Keep checking back to see the entire lineup of Symbiote exclusives.
[UPDATE] We have new images of the Elder Scrolls Online Fighters Guid Journeyman in Akaviri Armor figurine, seen below:
Symbiote also announced they will be live streaming the show and after hours activities on Twitch. The live stream will include game play, commentary, prizes and more. Please note: Since this is a live show, some of the show might not be safe for work.
The live stream schedule is as follows:
(All times: Pacific UTC -08:00)
Thursday, July 24, Friday, July 25,
Saturday, July 26: 9:30 AM-7:00 PM
Sunday July 27: 9:30 AM-5:00 PM
Regular Shows every night at 10:30 pm PST (NSFW)
You can watch the live stream via Symbiote Studios' Twitch channel.
[UPDATE July 10] Symbiote Studios sent us details and images on their third and final exclusive for SDCC, the Warframe Excalibur Statue ($59.99):
The Excalibur Statue is based on the groundbreaking game from Digital Extremes, Warframe. Excalibur is a sword-themed Warframe. By empowering any blade he wields, Excalibur cuts down his foes swiftly. He is one of three starter options for new players. This limited edition statue is over 8 inches tall and is hand numbered on the base. Limited to 100 pieces.
And the other great thing about Symbiote's exclusives? They will be giving us one of each to raffle off at our Enchantment Under The SDCC party!
[UPDATE July 3] We reached out for more information on the previously announced Elder Scrolls Online figurine (below) – Symbiote Studios confirmed it will be limited to 100 units.
And they were also gracious enough to give us the reveal for their next SDCC exclusive, the Warframe Hoodie ($59.99), mentioned in our previous update. Here's the official description and images of the hoodie:
We've teamed up with Digital Extremes and ARSNL, makers of cool threads, to offer an exclusive Warframe® branded hoodie to help you carry out your ninja mission! Made of a poly-cotton blend, this hoodie from ARSNL's Kato line features the Lotus insignia and a ribbed facemask.
We were told there will be one more exclusive the company will be announcing before SDCC, so check back soon for more information as it is made available.
[UPDATE June 14] Before we get into exclusives, we wanted to let our readers know Symbiote Studios is looking for volunteers during Comic-Con to cosplay and hand out flyers at the company's booth on the exhibit floor. The perks are awesome, not only do you get one of each of the company's exclusives they will be selling at the booth, but you also get to tag along to any industry parties Symbiote Studios is invited to. Check out the post for more information and to enroll.
The first Symbiote exclusive has been announced via the company's blog, and it's from the new MMO The Elder Scrolls Online – a Fighters Guild Journeyman in Akaviri Armor with Pony Guar Pet. Note the image below is for the prototype and not final, but it gives you a good idea of what to expect.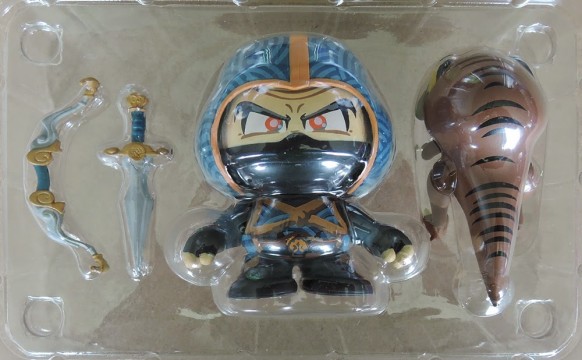 Here's the description of the figure from the blog post:
The figure is the Fighters Guild Journeyman in Akaviri Armor with Pony Guar Pet. This figure is the first time we have added a pet to our base figure. Also included is a code for in game DLC for The Elder Scrolls Online. The first place you can get the code for a Scrib pet is by buying this figure.
The figurine will sell for $59.99. No details production run or packaging, but as soon as we get word we'll update this post with the details.
Also worth noting – leaked on the company's call for volunteers was a mention of Symbiote's second exclusive for 2014, a Warframe Ninja Hoodie, which will also sell for $59.99. Warframe is the upcoming free-to-play third-person shooter developed by Digital Extremes for the PS4, Xbox One and PC. No pictures or other details revealed for the Warframe Ninja Hoodie figurine, but we'll update as soon as we get the info.
What do you think about Symbiote's exclusives for 2014? Let us know in the comments.