tokidoki has announced its merchandise and booth events for next week's Comic-Con, including all new collaborations and a signing with Creative Director Simone Legno.
First, the company has announced it will have available a 5" Golden Donutella vinyl for $30, and a tokidoki x Peanuts tote bag for $15. There will be more limited-edition t-shirts and hats the company will have at its booth, #5145, priced between $20 and $30. Attendees will also be able to get a first-look at products from tokioki's fall 2014 London Sole collection.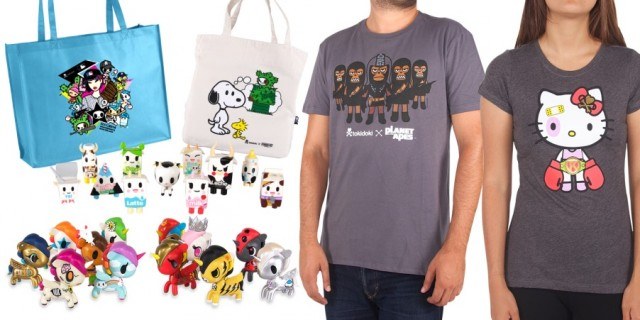 There will also be a signing at the booth by tokidoki's co-founder and Creative Director Simone Legno on Thursday July 24, Friday July 25 and Saturday July 26 from 3-4pm.
All this will be taking place inside a brand-new spacious booth on the exhibit floor which "provides both an expanded and improved working area within the space to sell product to consumers and private cubicles to work with retailers". To celebrate the new booth space, the first 100 visitors will receive a free tokidoki x MLB tote bag.
Check out the full details in the press release below:
TOKIDOKI TO REVEAL NEW COLLABORATIONS AT SAN DIEGO COMIC-CON JULY 24 – 27

Tokidoki Co-Founder and Creative Director Simone Legno to Host

Autograph Sessions in Brand's New booth

Los Angeles, Calif. – July 17, 2014 – tokidoki, the pop culture brand meaning "sometimes" in Japanese, is thrilled to reveal  product from its fall '14 London Sole collection as well as tease the 2015 collaboration with Peanuts with an exclusive tote bag.  All the exciting news will be unveiled at the brand's new 20×20 booth at San Diego Comic-Con July 24 – 27, 2014. The first 100 fans at the booth will receive a free tokidoki x MLB tote, no purchase necessary.

tokidoki will unveil limited-edition product exclusives including tees and hats as well as a 5" Golden Donutella vinyl for $30.00.  A tote bag, made exclusively for Comic-Con, will feature a tokidoki x Peanuts design with an MSRP of $15.00. All apparel and hats will be priced between $20.00 and $30.00.

The new booth provides both an expanded and improved working area within the space to sell product to consumers and private cubicles to work with retailers.  The new space allows ample room for Legno to sign and interact with the brand's beloved fans.   "We are so excited to unveil our all-new booth in San Diego,' stated Legno.  "It's a beautiful way to showcase our collection of characters."

Legno's autograph sessions will take place at booth #5145 from 3:00PM – 4:00PM Thursday, 7/24, Friday, July 25, and Saturday, 7/26.  Sixty signing passes will be handed out at the booth at the start of each day.

About tokidoki®

tokidoki, which translates to "sometimes" in Japanese, is an internationally recognized and iconic lifestyle brand based on the vision of Italian artist Simone Legno and his partners, serial entrepreneurs Pooneh Mohajer and Ivan Arnold.  Since debuting in 2005, tokidoki has amassed a cult-like following for its larger-than-life characters and emerged as a sought-after global lifestyle brand.  tokidoki offers an extensive range of products which include apparel, handbags, cosmetics, accessories, toys and more.  Simone Legno, tokidoki's creative director, was born in Rome, Italy and from a very young age developed a deep love of Japan and a fascination with world cultures.   As a result of Legno's unique talent and creativity, tokidoki has grown exponentially. Legno has become a frequent speaker and exhibitor throughout the world at museums, universities, conferences and more.  As an innovative company, tokidoki is known not only for its eye-popping aesthetic and criminally cute characters but also its megawatt partnerships with the likes of brands such as, Hello Kitty, Karl Lagerfeld, LeSportsac, Barbie, Onitsuka Tiger, Sephora, Marvel, MLB and others.  For more information, please visit the tokidoki flagship store in Los Angeles, CA or online at www.tokidoki.it.
Will you be checking out the tokidoki booth at Comic-Con? Let us know in the comments.