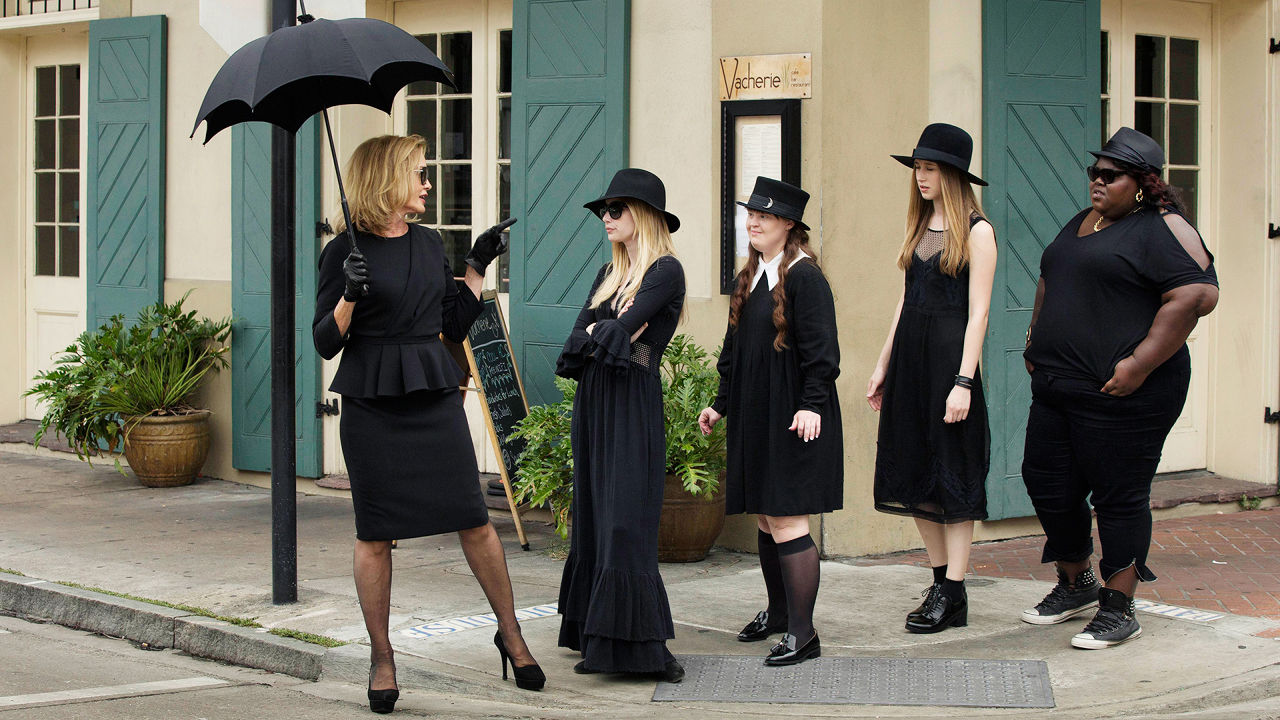 Twentieth Century Fox Television has announced this year's line-up of San Diego Comic-Con for all of its TV shows housed on various networks, including FOX, FX, TNT, and more, and just like with Warner Bros. TV, the studio is heading to Comic-Con in a big way.
Along with returning series Bones, Bob's Burgers, Brickleberry, Sleepy Hollow, The Simpsons, American Dad, Family Guy, Sons of Anarachy and 24 (for the first time since 2009), the studio is also bringing along several newcomers. The most notable of which? American Horror Story will finally be heading to Comic-Con, along with Legends, Witches of East End, and Salem.
We predicted that American Dad, which FOX had sold to TBS for the remaining seasons, might not make the trek and that the traditional Fox Saturday Animation Hour in Ballroom 20 would be a thing of the past, but it appears that at least for another year, it's here to stay.
With the inclusion of 24 at Thursday at 10AM in Ballroom 20, this continues last year's trend of opening up Ballroom 20 on Thursday earlier (previous years had seen it closed on Thursdays until mid-afternoon). It's a trend we like, we it means less sitting around, and generally, more TV panels to go around. Even with that extra time, though, American Horror Story won't be placed in Ballroom 20 – heading instead for Room 6DE. Considering the panelists include Angela Bassett, Kathy Bates, Michael Chiklis, Sarah Paulson, Evan Peters, Emma Roberts, and executive producer Tim Minear (though surprisingly not Jessieca Lange), expect that room to get packed, and early.
From the press release, here are the panel descriptions:
THURSDAY, JULY 24:

10:00-11:00 24 – JACK IS BACK at Comic-Con, DAMN IT! Kiefer Sutherland takes the stage to celebrate 24's most iconic moments and highlights of Jack Bauer's triumphant return in 24: Live Another Day. Catch the exclusive sneak peek at highly-anticipated Blu-ray and DVD featurette, "Worlds Collide," illustrating how the pulse-pounding storytelling was created for this thrilling new season. Screening and discussion moderated by Executive Producer Jon Cassar to be followed by fan Q&A and more. Ballroom 20

12:30-1:30 Exclusive first look at TNT's Legends! From Homeland producers Howard Gordon and Alexander Cary and Fringe co-executive producer David Wilcox, and starring Sean Bean (Game of Thrones), this new suspense-filled drama centers around, an undercover agent working for the FBI's Deep Cover Operations (DCO) division with the uncanny ability to transform himself into a completely different person for each job. But after an encounter with a mysterious stranger, he begins to wonder: Is he the man he believes himself to be? Following the screening, stars and producers will provide fans with an exclusive sneak peek at this new series and an opportunity to hear about the exciting first season. Room 6A

5:45 – 6:45PM Witches of East End – Darkness Is Rising! Get an exclusive look at what's in store as season two unfolds, plus an audience Q&A with the entire star-studded cast – Julia Ormond, Jenna Dewan-Tatum, Rachel Boston, Mädchen Amick, Daniel DiTomasso, and Eric Winter, plus Executive Producers Rich Hatem (Supernatural, Grimm) and Maggie Friedman (Eastwick). Room 6DE

FRIDAY, JULY 25:

12:30 -1:30 PM Bones – Fan favorites David Boreanaz, Emily Deschanel and Executive Producer Stephen Nathan return to Comic-Con to share secrets from the set, upcoming twists and turns and what's in store for Booth and Brennan as Bones enters its milestone tenth season. Ballroom 20

4:00 – 5:00PM Bob's Burgers – You never know what to expect from the cast and producers of Bob's Burgers. Creator and executive producer Loren Bouchard, executive producer Jim Dauterive and the hilarious cast including H. Jon Benjamin, Dan Mintz, John Roberts, Kristen Schaal and Larry Murphy will entertain with never-before-seen footage followed by a Q&A panel discussion. Indigo

5:30-6:30PM Live table read and never-before-seen episode of Comedy Central's hilarious Brickleberry! Join creators and executive producers Waco O'Guin and Roger Black along with David Herman (Futurama), Tom Kenny (SpongeBob SquarePants), Jerry Minor (Eastbound & Down) and Natasha Leggero (Suburgatory, Burning Love) for a so-wrong-it's-right live reading and all new episode, as well as a Q&A with producers and stars. Room 25ABC

5:45 – 6:45PM Sleepy Hollow – Executive Producers Alex Kurtzman & Roberto Orci (Star Trek, Fringe, Spider Man 2), Len Wiseman (Underworld, Total Recall) Mark Goffman and Heather Kadin return to Comic-Con with the breakout show of the year, featuring an exclusive look at the highly-anticipated second season followed by a fan Q&A featuring cast members Tom Mison, Nicole Beharie, John Noble, Orlando Jones, Lyndie Greenwood and Katia Winter! Room 6BCF

SATURDAY, JULY 26:

10:00 -11:00 The Simpsons – Celebrate the 25th anniversary of The Simpsons — no gifts please — with creator Matt Groening, Executive Producer Al Jean, Supervising Director Mike Anderson and Director-for-life David Silverman. Topics include the new Treehouse of Horror, Simpsorama, a visit from Homer Simpson and much much more. Ballroom 20

1:00-1:45 Family Guy – The Griffins are back at Comic-Con with an exclusive sneak peek of the historic Family Guy/The Simpsons crossover episode in which Peter and clan hit Springfield! Celebrate Season 13 with Seth Green (Robot Chicken), Mike Henry (The Cleveland Show) and executive producers Rich Appel (The Simpsons, The Cleveland Show), Steve Callaghan (American Dad), Danny Smith, and Co-Executive Producer Peter Shin plus other surprise guests. Ballroom 20

2:00-2:45 American Dad – Join us for an exclusive look at the new season of American Dad—soon to be in all new episodes on TBS – as well as a Q&A with fans featuring Dee Bradley Baker (Phineas and Ferb, Star Wars: The Clone Wars) and Executive Producers Matt Weitzman and Brian Boyle, and more. Ballroom 20

5:45-6:45 Salem – Join the star-studded cast including Shane West (Nikita, The League of Extraordinary Gentlemen), Janet Montgomery, Seth Gabel, Ashley Madekwe, Iddo Goldberg and Elise Eberle along with Executive Producers Brannon Braga (Star Trek, Cosmos: A SpaceTime Odyssey), Adam Simon and Josh Barry for a look back at intriguing footage from the groundbreaking first season of the series, from WGN America and Fox 21. Set in the volatile world of 17th century Massachusetts, Salem explores what really fueled the town's infamous witch trials and dares to uncover the dark, supernatural truth hiding behind the veil of this infamous period in American history. Moderated discussion will be follow-up by an audience Q&A. Room 6DE

7:00 -8:00PM American Horror Story: Coven – Who's the baddest witch in town? For the first time ever, the critically acclaimed miniseries visits Comic-Con with an exclusive look back at AHS: Coven followed by an all-star panel featuring AHS cast members Angela Bassett, Kathy Bates, Michael Chiklis, Sarah Paulson, Evan Peters, Emma Roberts, and Executive Producer Tim Minear. The panel will also treat fans to some exclusive secrets from the set of the next franchise installment, AHS: Freak Show. Room 6DE

SUNDAY, JULY 27:

12:30-1:30PM Sons of Anarchy: Get an inside look into the final season of FX's highest-rated series ever, with creator Kurt Sutter (The Shield), executive producer/director Paris Barclay (NYPD Blue) and the full cast: Charlie Hunnam, Katey Sagal, Kim Coates, Mark Boone Junior, Tommy Flanagan, Theo Rossi, Dayton Callie, Jimmy Smits, David Labrava, Niko Nicotera and Drea de Matteo. Room: Hall H.
Which of these panels can you not wait for? Let us know in the comments.