No time to rest from the weekend, it's another installment of "Under The Tents", with news of some cool Game of Thrones cards and a chance to win a $3,000 Godzilla canvas print, a totally tubular TMNT guitar, some new eats in the Convention Center, no Ah-nold, and…if it's always been your dream to look like Marge Simpson, your dreams will come true at Comic-Con.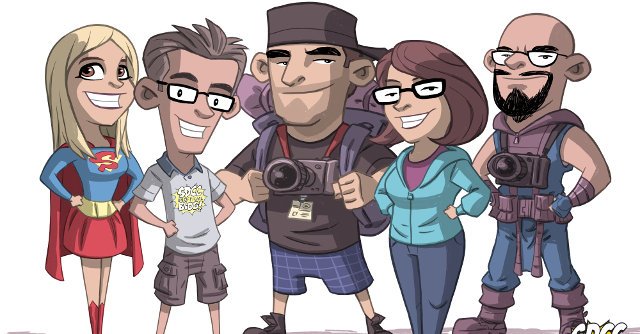 There's also just three days left to win a pen and ink commission and prize pack from artist Otis Frampton, who immortalized the SDCC Unofficial Blog team in cartoon form, just in time for Comic-Con. Enter daily!
And don't forget to check our Offsite Event calendar, presented by Eventbrite. New events added daily. And now we can say the same for both our Announced & Confirmed Panels list, and our brand new Announced Autograph & Signing Schedules portal, updated regularly with all the announced booth and table signings at Comic-Con.
Here's the news you might have missed:
Writer/Artsist Mark Gonyea showed off his fourth 6×8 print he's created for Comic-Con, via Twitter.
Number 4 in a new series of 6×8 prints I've done for #SDCC2014. #SDCC pic.twitter.com/R7YJd8kvyV

— Mark Gonyea (@MarkOblivious) July 7, 2014
Did you know attendees devour over ten thousand nachos during SDCC? That's a lot of…indigestion. Good thing the Convention Center's Executive Chef Daryl O'Donnell has added three new choices to the menu, according to a blog post by the Convention Center.
-Chili: This is a new enhancement offered to attendees. Add it to your burgers, hot dogs, nachos and fries!
-S'mores Chocolate Bars: Your sweet tooth will be on overdrive with this chocolate bar that tastes like the sweets you enjoy around the campfire.
-Pop Rock 'n Chocolate Bar: This is the one everyone will be talking about: Pop Rock candies mixed with dark chocolate. Let your mouth decide which is more fun.
Arnold Schwarzenegger news source TheArnoldFans.com posted they have confirmation there will not be a Terminator panel at Comic-Con this year. Don't worry, he'll be back…we hope. Here's the quote from the post:
While we're talking "negative" instead of "affirmative" T-news, TAFs also has confirmation that the new Terminator will NOT have a panel or any official presenece at San Diego Comic Con later this month. However, there is a possibility for NYCC, which is in October. It's disappointing that they'll miss out on the maximum exposure to fans that SDCC provides, but understandable given they're right in the middle of filming and wouldn't be able to say or show much at all to keep the plot under wraps.
Comic book publisher Red Giant Entertainment announced it will have a panel on Sunday July 27 at 4pm, hosted by YouTube star Mark "Markiplier" Fischbach.
The Red Giant-focused panel is scheduled for 3 p.m. Sunday, July 27, in Room 4 of the San Diego Convention Center, where all attendees will receive a free Giant-Size Comics #0 issue four-pack bundle. Red Giant creators scheduled to appear on the one-hour panel presentation include CEO Benny Powell (Wayward Sons), COO David Campiti (Pandora's Blogs), Mort Castle (Darchon), David Lawrence (Magika), and Giant-Size story editor Brian Augustyn.
PSA, the largest third-party certification company for trading cards, autographs and memorabilia, will be giving away PSA-graded samples of Game of Thrones and X-Men trading cards at SDCC, along with free copies of the August 2014 issue of SMR (Sports Market Report) magazine. And visitors to the PSA booth, #5617, can enter for a chance to win the original custom-framed, acrylic-on-canvas Godzilla artwork created for the magazine's August 2014 cover, by renowned artist Arthur K. Miller, valued at more than $3,000. Here's a peak at that Godzilla art: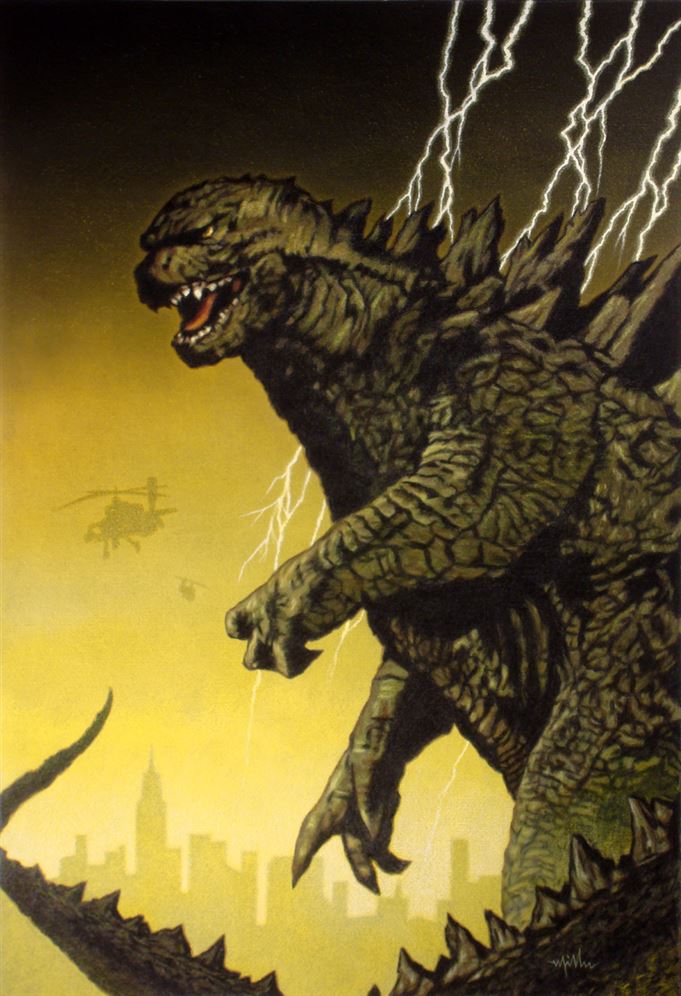 Would you be interested in a comic that was described as "Charlie's Angels meets 24 meets The Blacklist"? Then E-Comix's Pussycats is for you. Ashcan editions of Pussycats #0 will be distributed during SDCC. [Note: link NSFW]
Action Figure Xpress listed this Peavey Eastman and Laird Teenage Mutant Ninja Turtles Black and White / Glow in the Dark Rockmaster Electric Guitar as an SDCC exclusive. For $275 you can pre-order this guitar today and go "cowabunga" with the Heroes in a Halfshell when you pick it up at the AFX booth on the exhibit floor. And you can even get it signed by Kevin Eastman at booth #1529.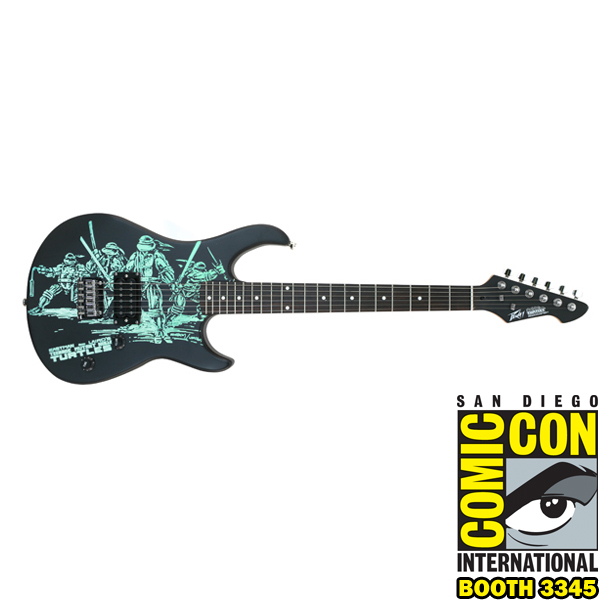 Did you know M·A·C Cosmetics recently announced a collaboration with The Simpsons to create a Marge Simpson-inspired collection? Of course you did. The collection won't be in stores until September, you'll be able to purchase line for one day only during Comic-Con, at the M·A·C Cosmetics Gaslamp store located at 234 Fifth Avenue.
Fans are invited to visit the store for this one day only opportunity to purchase the collection and also receive a Marge makeover from the ten piece collection that includes nail stickers ($16.50), eye shadows ($44), lipglasses ($16.50), and lashes ($18.50).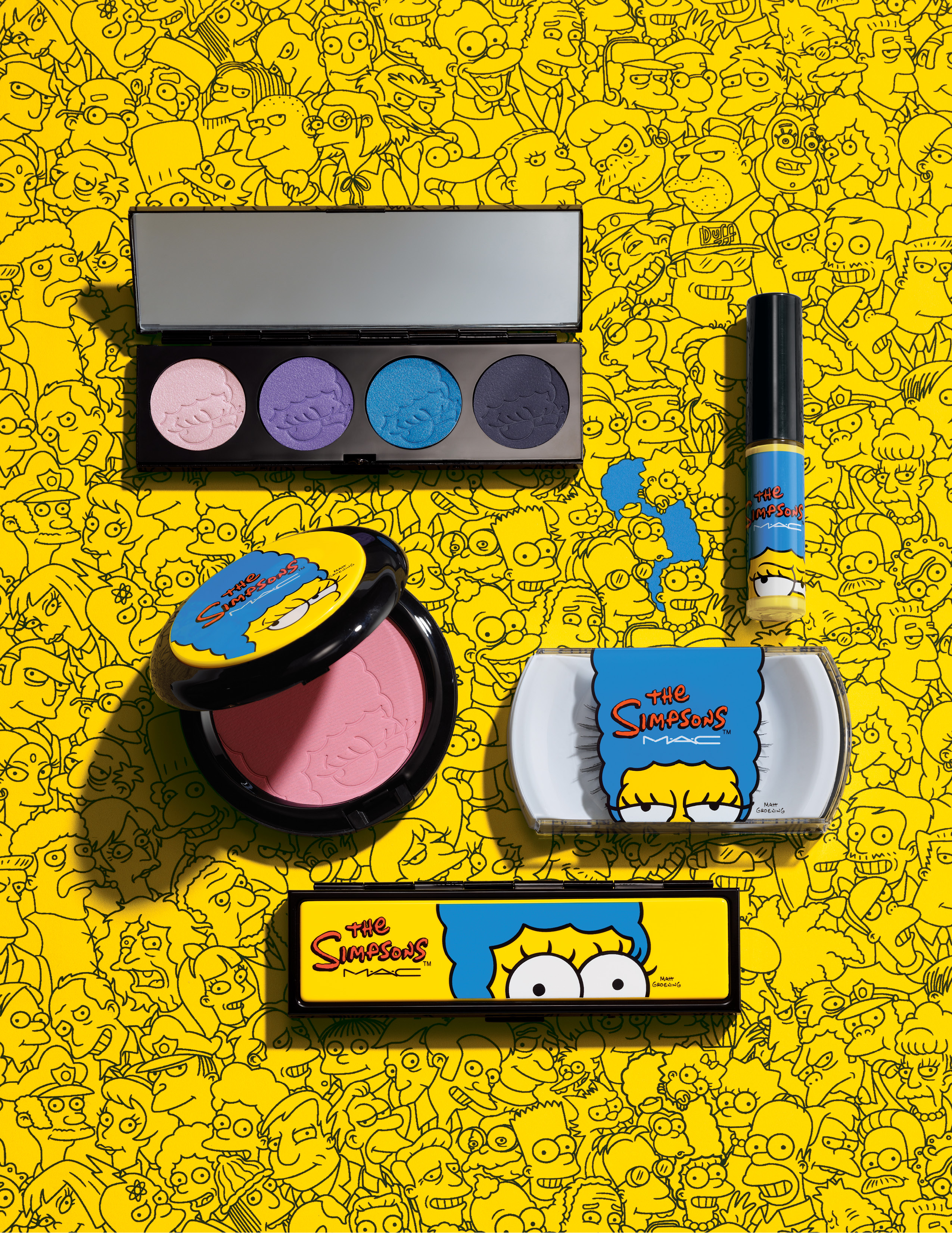 Anything we missed? Let us know in the comments, drop us a line or tweet us at @SD_Comic_Con.