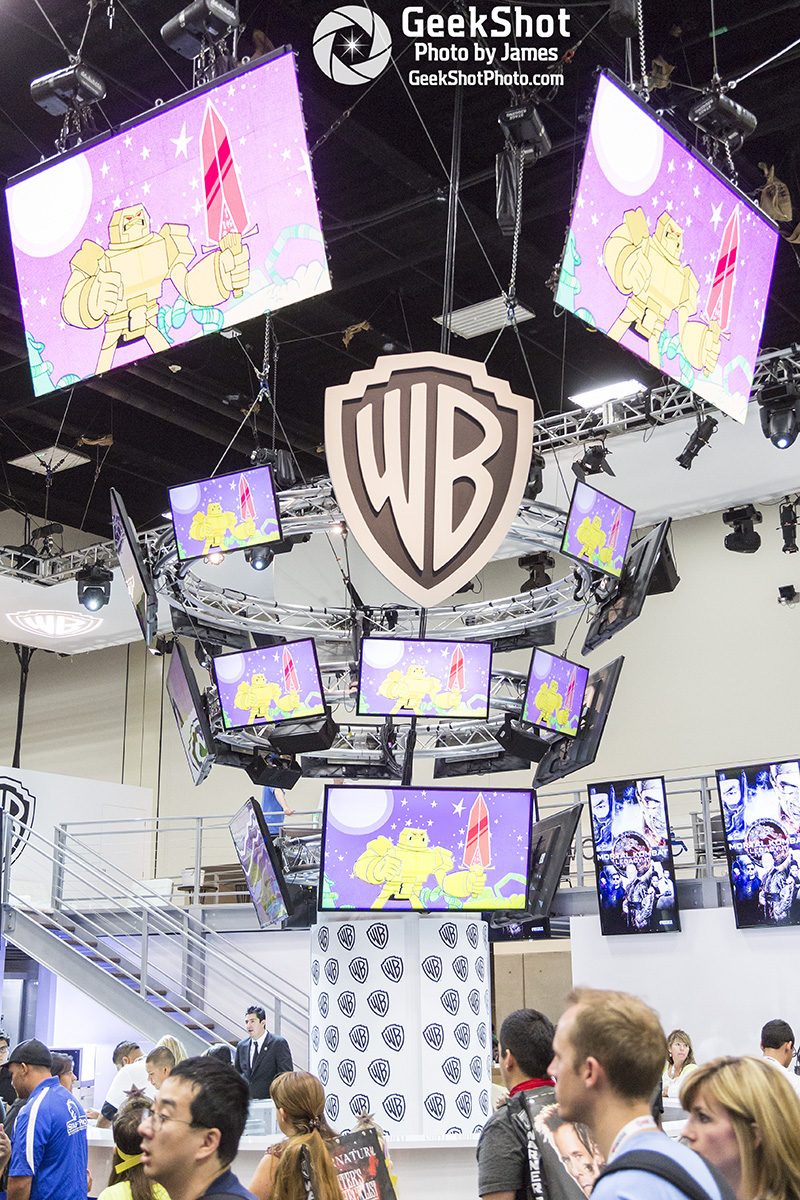 San Diego Comic-Con starts tomorrow, so Warner Bros. is cutting this announcement a little close – but it's something we've all been waiting for: the signing schedule. This year, the Warner Bros. booth will feature talent from Game of Thrones, Mad Max: Fury Road, The Hobbit, Arrow, The Vampire Diaries, Supernatural, and many more. The full schedule can be found below.
As previously announced by Comic-Con International, in order to attend the Warner Bros. autograph signings, fans will need to head to the Sails Pavilion on the morning of the signing to try for their chance at drawing a winning ticket. You can read more on that process in our Random Ticket Drawing in the Sails Pavilion Guide.
Additionally, WB has announced that you can stop by booth #4545 for an intense Oculus Rift Experience for the upcoming film Into the Storm. The 4-D immersive experience puts fans directly into a recreated scene from the film. Also at the booth will be an "epic-sized" LEGO Smaug from The Hobbit constructed of 83,433 bricks, a personal appearance from some of Sesame Street's most familiar faces on Sunday from 2PM-3PM (including Cookie Monster, Bert, Grover and Murray Monster), an exclusive Soft Kitty giveaway for The Big Bang Theory fans, and more.
Here's the full autograph schedule:
STARS & SIGNINGS AND MORE!
From Thursday through Sunday, a cavalcade of talent — including producers and stars from Warner Bros. Television shows, HBO, Warner Bros. Animation, Warner Home Entertainment and Warner Bros. Pictures — will be signing for fans at the Warner Bros. booth.  Talent to be announced. The signing schedule is as follows:
THURSDAY, JULY 24, 2014
3:30pm-4:00pm          Into the Storm
4:45pm-5:30pm          Childrens Hospital
FRIDAY, JULY 25, 2014
10:15am-11:00am      iZOMBIE
11:45am-12:30pm      The Originals
2:15pm-2:45pm          The 100
3:30pm-4:30pm          Game of Thrones
5:00pm-5:45pm          Mike Tyson Mysteries
5:30pm-6:30pm          Batman: Assault on Arkham
6:15pm-6:45pm          Banshee
SATURDAY, JULY 26, 2014
11:15am-11:45am      Mad Max:  Fury Road
11:45am-12:30pm      Arrow
12:30pm-1:00pm        The Hobbit:  The Battle of the Five Armies
1:30pm-2:00pm          Constantine
2:00pm-3:00pm          True Blood
2:45pm-3:30pm          The Vampire Diaries
4:00pm-4:45pm          Gotham
5:00pm-5:45pm          Person of Interest
5:45pm-6:15pm          The Flash
SUNDAY, JULY 27, 2014
10:30am-11:15am      Teen Titans Go!
11:30am-12:15pm      Supernatural
12:00pm-12:45pm      Scooby-Doo! Frankencreepy
12:30pm-1:15pm        The Following
12:45pm-1:15pm        Tom and Jerry:  The Lost Dragon
Will you be stopping by for a Warner Bros. signing? Let us know in the comments.