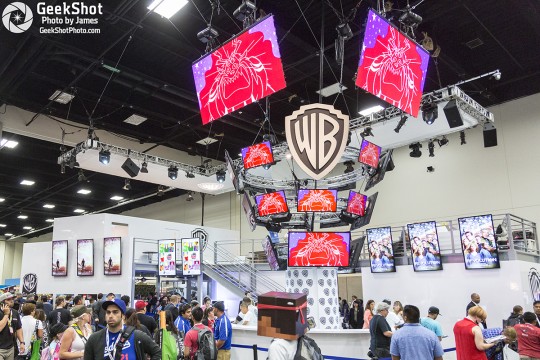 It's now July, which means that Comic-Con is this month. Are you prepared? Well, alright, no one is probably ever completely prepared, but your best option for ensuring you make the most of the behemoth that is Comic-Con is keeping up with the important information. But don't worry! We've got you covered. Here's what you can expect over the few weeks until San Diego Comic-Con:
Official Programming & Autograph Schedules
With July comes the biggest piece of the Comic-Con puzzle: panels. The official programming schedule is typically released from Comic-Con International exactly two weeks before the convention, meaning that we should be getting Thursday's schedule on July 10, Friday's schedule on July 11, Saturday's schedule on July 12, and Sunday's schedule on July 13. We'll be doing our annual Schedule Breakdown in both posts and on the SDConCast, complete with our top picks and important news about panels you might have missed. Until then, you can see our complete list of Announced & Confirmed Panels as of now by clicking here.
Along with the programming schedule comes the autograph schedule for the Sails Pavilion, typically released just a few days after the programming schedule. It's important to note that the signing schedule CCI releases only includes autographs physically taking place in Sails — individual booths will post their own schedules, and we'll be posting those on our site.
Exclusives Announcements
Similarly, Comic-Con International also releases a compiled list of most of the exclusives available at San Diego Comic-Con, which should be released soon as well. However, with booths adding last-minute editions, we'll still be covering all of the biggest exclusives from the biggest companies, including Dark Horse, Gentle Giant, Funko, IDW, Capcom, more Hasbro, and even more.
Nerd HQ Conversations for a Cause Schedule
Once we get the programming schedule for San Diego Comic-Con, the schedule for Nerd HQ's Conversations for a Cause is never far behind (so at some point after July 13). The popular offsite created by Zachary Levi always waits for the official schedule to first be posted (in part to confirm what guests will already be in the area), and then slowly unleashes their own panel schedule and ticket sales. We'll be covering all the news, though panels sometimes go on sale during the convention, so make sure you keep an eye on both The Nerd Machine and us for all updates.
More SDConCast
Although the new season of the SDConCast is already in full swing, we have an exciting schedule of upcoming guests to talk exclusives, the programming schedule, and offsites all month. In addition, each week we'll continue to keep you up to date on all the latest news, to help ensure you're as prepared as possible for July.
Weekly Newsletter
You may have noticed that there's a lot of San Diego Comic-Con news. The easiest way to keep up with everything is to sign up for our brand-new, weekly Comic-Con news round-up newsletter. Every Sunday, we'll be sending you all of the SDCC news you might have missed over the last week, to help keep you up to date on the exclusive, panel, offsite, and other news you care about. If you haven't signed up already, you can do so by clicking here.
Giveaways
We're excited to announce that we'll be offering more giveaways for our readers both leading up to San Diego Comic-Con and during (see the next item on this list). Stay tuned for more announcements, including one this week.
Enchantment Under the SDCC
There's a lot of parties at Comic-Con, but our top pick should be pretty obvious. You may already know that The San Diego Comic–Con Unofficial Blog's annual Preview Night event, the 2nd Annual Enchantment Under the SDCC, will be returning on Wednesday, July 23, 2014. The event will be back at Henry's Pub in San Diego's Gaslamp Quarter, same place as last year. That means, unfortunately, it will be a 21+ event — sorry for our under-aged readers hoping to attend this year. We've already announced that Udon will be a sponsor for this year's party, and we're still working on signing up more great sponsors and giveaway providers to make this the best way for everyone to kick off their convention week. Stay tuned for more info!
San Diego Comic-Con
That's right, the most important thing happening in July? The actual convention, San Diego Comic-Con, starting on Preview Night on July 23, and running through Sunday, July 27. Just make sure you're prepared beforehand, so that you can spend your convention seeing as much as you can, rather than trying to plan during SDCC.
More News, More Features
There's only a few more weeks to Comic-Con, but there is so much more news to come, that we didn't cover above — Warner Bros. bag designs, all sorts of booth, offsite event, panel, and other information to be announced fast and furiously all month long, and we'll be on top of it all to be your number one source for all-things SDCC!
In addition, we'll have more tips, regular columns and other great content to help make this year's SDCC your best ever, whether it's your first or your fifteenth year attending.
Is there anything in particular you would like us to cover or want to know more about for SDCC? Let us know in the comments, drop us a line or tweet us at @SD_Comic_Con.