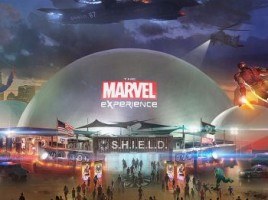 Along with the Marvel's Avengers S.T.A.T.I.O.N Exhibit in New York City, Marvel has also licensed its name and characters to Hero Ventures for The Marvel Experience. Billed as the world's first hyper-reality tour, Hero Ventures announced the first dates and locations of the Experience at New York Comic Con's Marvel booth today. A preview in Phoenix starting this December will be followed by a world premiere in Dallas with a red carpet event on January 9, 2015. The tour will then stop in San Diego and San Francisco before heading back East, with more locations still to be announced.
Here's the current schedule and a synopsis of what attendees can expect, from their website:
Phoenix, AZ – December 12, 2014 to January 3, 2015
Dallax TX – January 9 to February 1, 2015
San Diego, CA – February 7 to 22, 2015
San Francisco, CA – February 27 to March 22, 2015
The Marvel Experience is a first-of-its-kind, hyper-reality attraction that covers over two acres and encompasses seven colossal Domes, a life-size Avengers Quinjet, the world's only 360-degree, 3-D stereoscopic full-Dome attraction and a state-of-the-art 4-D motion ride.

As agents of S.H.I.E.L.D. in training, guests of The Marvel Experience will swing with Spider-Man, smash with Hulk, fly with Iron Man and more, all in preparation for an epic battle alongside Marvel's biggest Super Heroes in a fight against Red Skull, M.O.D.O.K. and an army of evil Adaptoids. The Marvel Experience incorporates next-generation interactive technology including augmented reality, multi-person gaming and RFID progress tracking so you can see yourself in action. Everything happens with bleeding-edge technology and advanced computer animation. There's nothing else like it. Not only does the audience get to join the adventure, in the end they may even become heroes themselves.

"The Marvel Experience is even more exciting than the great rock shows I have been associated with," comments Michael Cohl, an Executive Producer of The Marvel Experience, in addition to his role as promoter.

"And with this dynamic new way to experience entertainment, you're actually in the middle of the action from start to finish," says Hero Ventures CEO, Rick Licht. "While I'm sure kids will eat this up, we know that there is an extensive Marvel fan base over the age of 25 – and we've created this event with them in mind. The grown-ups are going to absolutely love The Marvel Experience!"

"There's so much to be excited about here and a great many elements that literally don't exist anywhere else," said Quesada. "Fans will love seeing iconic Marvel Super Heroes in action against the backdrop of this first ever Hyper-Reality Tour. Nothing else compares!"
Tickets go on sale Friday, October 10 through Ticketmaster. [UPDATE 1] Pricing looks to be about $40 for General Admission tickets, with children 6-12 at reduced rate, and 5 and under free.
[UPDATE 2] VIP packages are also be available, in two tier levels. The lower-priced S.H.I.E.L.D. Special Operative VIP Package clocks in at $99 each, and includes access to the Marvel-Themed VIP Lounge (which includes light fare food, a cash bar, charging station, coat check, a VIP bathroom, and more), priority access throughout the experience and the Simularium Theatre, a limited edition screen print signed by the artist, a Spider-Man Climbing Wall Photo, a customized merchandise item to commemorate your heroic day, a premium parking spot, and an on-site Experience Concierge to help you. Perhaps most importantly, VIP ticket holders are not tied to a specific entry time — so if you're worried about making your time slot, this could be the way to go.
A higher tier S.H.I.E.L.D. Level 9 package is also available for $179, and includes all of the perks of the lower-tier VIP package, as well as an "official S.H.I.E.L.D. Badge with case" and a return pass to the show, so you can return again at any point.
Both VIP Packages, as well as normal tickets, can be purchased on The Marvel Experience website.
With the Experience stopping in San Diego in February, does that rule out a visit during San Diego Comic-Con? Not necessarily – currently, the tour is only scheduled through the end of March, meaning there could potentially be time for a return to San Diego four months later, for Comic-Con. We'll keep our fingers crossed.
Will you be checking out the Marvel Experience? Leave a note in the comments below!