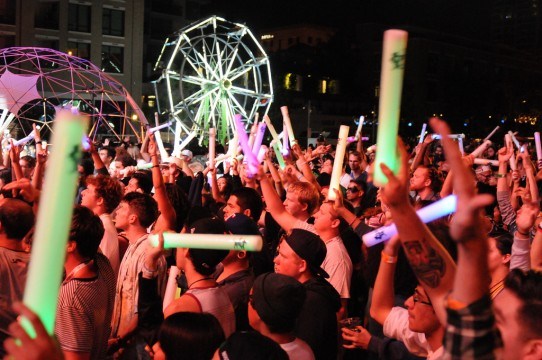 When it comes to Comic-Con, it's never too early to start planning.
Which is exactly what MTV and MTV2 have done, with MTV announcing in a press release this morning that MTV and MTV2 will once again be hosting the MTV2 Fan Fest Featuring the MTV2 Fandom Awards (formerly the MTV Fan Fest & mtvU Fandom Awards) during San Diego Comic-Con. Next year's event is marked for Thursday, July 9, 2015, with the special set to air on TV that Sunday, July 12, 2015.
The first ever mtvU Fandom Awards held this year gave fans the chance to award their favorite movies and TV shows in a number of categories, including "Best Fandom Forever", "OMG Moment of the Year", "Ship of the Year", "Breakout Fandom of The Year (Most Popular New Fandoms)", and more.
Fans voted online prior to the show, which was held in Petco Park during SDCC, where a slew of talent in town for the convention stopped by to both give and accept awards in front of thousands of Comic-Con attendees. Last year's event saw appearances on stage from Channing Tatum, Orlando Jones, Dan Harmon, Steven Yeun, and more, along with host Tyler Posey.
For the past two years, MTV has taken over Petco Park for one of our favorite free offsite events during San Diego Comic-Con each year. There's no word yet on what 2015's event will entail or even if it will be held at Petco Park, but in the past, it's featured free food, free rides, live performances by Linkin Park, and more — making it a great destination for San Diego Comic-Con attendees after the first full day at the convention. You can read our review of last year's event to get a better idea of what to expect for 2015.
Although it's only November, this isn't the first event to announce that it will be heading to San Diego Comic-Con 2015. Conan O'Brien announced back in April that he will be heading to Comic-Con with his talk show CONAN in the Spreckles Theatre to host an entire week of shows, though no further details are known.
What do you think of the return of MTV2's Fandom Awards? Let us know in the comments.