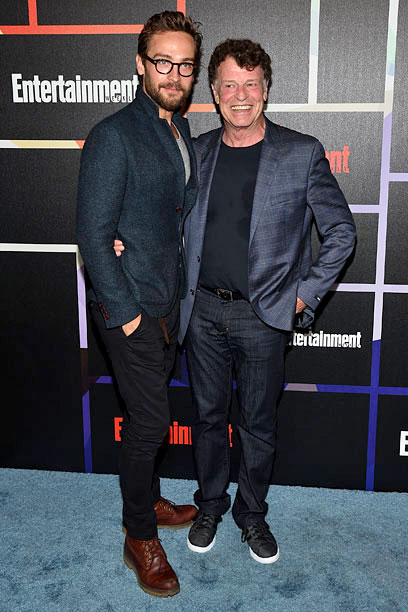 Do you have San Diego Comic-Con badges secured for 2015?  Then set your sights on planning how you will spending your nights… Parties!
For years, Entertainment Weekly's annual Comic-Con party has been the most coveted invite-only event of the con. Actors, creatives, and media love nothing more than to let down their hair and shake their tail feathers after a long day of work.
Attendance no longer requires being a VIP, having the ability to leap a building in a single bound, or scaling a building in spandex. Continuing with tradition, this year a lucky fan and guest just might have the ability to take in the sights and rub elbows with the Comic-Con elite.
Charitybuzz now has up for auction two tickets to the Entertainment Weekly 2015 SDCC Party being held Saturday, July 11, 2015. Charitybuzz is a great cause that brings events such as this to the fans, and the proceeds benefit needy charities and causes.  Here is the description from the auction page:
2 TICKETS TO ENTERTAINMENT WEEKLY'S 2015 COMIC-CON PARTY ON JULY 11 IN SAN DIEGO

These are the hottest tickets you'll want to have at next years Comic-Con International!

On Saturday, July 11, 2015 you and a guest will attend Entertainment Weekly's star-studded Comic-Con Party in San Diego, CA. A relaxed gathering of several hundred stars, producers, executives and media folk. This annual party is known as the highlight of the four day fan fest, so you don't wanna miss it.
This once in a lifetime fan experience is not to be missed, and even more so for the passionate SDCC fans.  With that being said, it won't be cheap.  As of time of publication, the bidding is up to $5,250 with two days left until bidding ends on Thursday, December 11, 2014 at 2:03 PM EST.  Let's hope all of our Christmas wishlists aren't finalized and don't spend your hotel money!
Though most Comic-Con goers will never see the inside of this party, the opportunity to bid, help a charity, and dream the dream is enough.  And for everyone else, here is a gallery of who and what you could be missing in the amazing EW 2014 portrait series.
Will you be bidding?  Let us know in the comments.  And if you are looking for a plus one, you know where to find me.