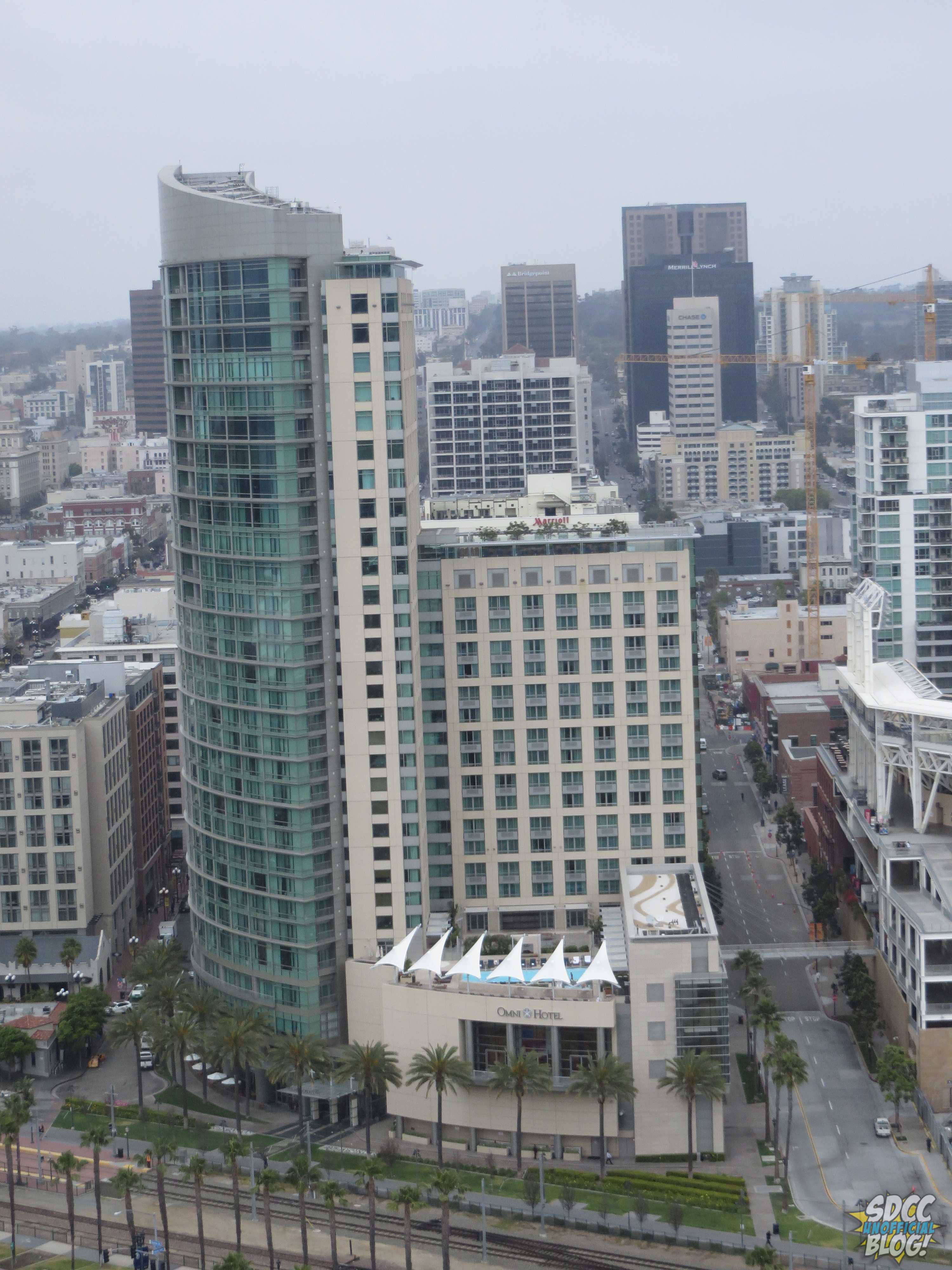 There's only one thing that's more stressful than getting a badge to San Diego Comic-Con – and that's scoring a hotel. As any San Diego Comic-Con attendee will tell you, a lot of the Comic-Con experience depends on location. Are you close enough to walk to the convention center, or do you need a car (and thus, Comic-Con International reserved parking)? Do you stay out of the Gaslamp area because it's substantially cheaper, or do you find roommates to cover the sometimes $300+/night room reservations downtown?
It's a lot to consider, and this is even the best case scenario, assuming that you have much of a choice in where you'll be slotted.
Comic-Con International offers hotel rooms at a specific convention rate, which is lower than the hotels could (and in some cases, do) charge on their own without any sort of rules or regulations. A recent report by the San Diego Convention Center Corporation revealed that CCI holds 59,228 nights at area hotels during the convention – but when those rooms are going to around 130,000 attendees, exhibitors, press, and even those who flock to the area without a badge – there's simply not enough available real estate downtown to hold everyone who wants to stay in the Gaslamp district.
So instead, each spring, CCI holds the Hotel Sale, or as we call it, Hotelpocalypse. Attendees enter their top six choices to the contracted company Travel Planners, and hotel preferences are taken into consideration by the timestamp of completed forms. If you take more than a minute or two to fill out all of the required information once it goes live, you can forget getting a hotel downtown.
"In 2013 we struck out at Hotelgeddon, so we reserved a room at the Hilton Bayfront at a rate that was literally double what they posted through Travel Planners," Friends of Comic-Con International user DRWHO42 said. "With that said if we could book a room for a rate slightly higher than [Travel Planners] it would not be a problem so long as we have a close hotel."
The problem is, any remaining Gaslamp hotels with rooms know that they can charge $600+/night, and that some attendees will pay it.
It's an incredibly stressful process – which is why some attendees late last year thought that they had hit the Comic-Con holy grail.
In November, an attendee reported to several other users on the San Diego Comic-Con chat forum Friends of Comic-Con International that they had found a 4.5 star hotel on Hotwire during Comic-Con, for only $206 night. Hotwire didn't list the name of the hotel, only that it was a "convention area hotel". Using other sites to compare features of hotels in the area, users were able to figure out the hotel was the Omni San Diego Hotel – located just across the street from the convention center, in prime Comic-Con real estate.
"After a bit of research using BetterBidding I was able to guess that the hotel was most likely the Omni," user Sarah Fields said. "I took the plunge and booked it, and received a confirmation from Hotwire after paying that the hotel was indeed the Omni. I posted my results in the forum to help out other people."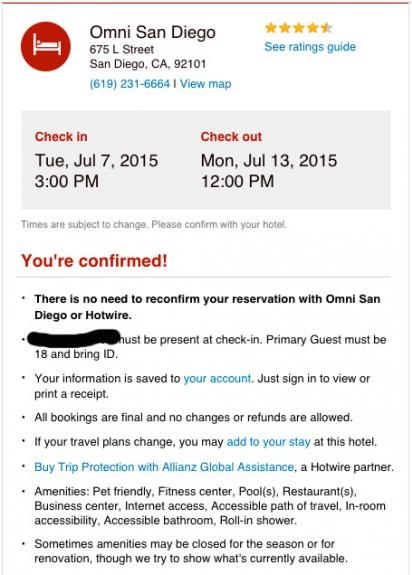 At least ten other people also booked the "convention area hotel" at the discounted rate. $206/night is high for the Omni on a normal week, but it's significantly less than the $259-$269/night the hotel went for in the discounted Comic-Con International 2014 block.
"Comparing to last year's Travel Planner rate for the Omni – which I believe was around $250 a night – I figured I would save around $250-$300 before taxes and local tourism fees. I managed to score badges for my teenaged niece and nephew, so I figured the money saved on the hotel could help out with the cost of bringing them. So even though I wouldn't consider $207 night a deal for a hotel in any other situation, for Comic-Con it seemed like a good way to save a couple hundred bucks," said Kelly Kell.
The rate climbed up slightly over the week when users were able to book the hotel, but always at a discounted rate compared to previous year's CCI block hotel rates.
"By the time I booked on November 16, it was up to $212/night, but for the Omni?!" Yuta Hsu, another Friends of Comic-Con International user, said. "Of course, the caveat was it was payment in full with no refunds, and even though it seemed too good to be true, I found the chance to get the Omni at that price too good to pass up. I also felt I wasn't alone in taking this deal since other forum members took it too, so if anything were to happen, at least I'd be in good company. I promptly received an email confirmation and was excited."
For a short time, it seemed like the attendees who had booked the special rate had just gotten incredibly lucky. Each reservation through Hotwire showed as confirmed, and a reservation number was included on each reservation. However, that number wasn't what most thought that it was.
"I checked my reservation with the Omni a few days after the Hotwire transaction was processed," DRWHO42 said. "I called the hotel to check the reservation to find out the reservation number Hotwire gave me is a different number all together. I called Hotwire and they told me that my reservation with the Omni was guaranteed and there would not be a problem – they said they transfer the reservation in bulk at a later date but they could not tell me when they would do that."
This became a recurring trend for those who had booked their Omni room through Hotwire. If you called the Omni, they had no record of the reservation – but Hotwire insisted that it wasn't a problem.
"By November 18, a couple of the other people that booked tried to get a reservation number from the Omni to no avail. I called the Omni hotel, Omni reservations, and Hotwire on November 20, and was told that my name wasn't in the Omni system, but as long as I had a Hotwire itinerary number I should be okay. Others were told the same, so though I was slightly concerned, I was hopeful," explained Hsu. "Every few days throughout December a forum member would call to try and get a reservation number without success. The story was always the same: Omni didn't have them in their system, and Hotwire said the reservations aren't sent to the hotel until a few weeks before the stay so we should wait until June. I didn't like that story, but figured I wouldn't worry about it until after the holidays."
But the story didn't sit right with most attendees – they had paid for a non-refundable booking, and the hotel couldn't even confirm their reservation?
"I was still holding out hope though that Hotwire had a small block of hotel rooms reserved with Omni and that this was just people being paranoid. However, I really started to worry when people couldn't get an actual reservation confirmation with the Omni even after several weeks of securing the booking," Kell said.
Eventually, Hotwire explained the discrepancy by telling those who called that the rooms were part of a block of rooms booked through a third party wholesale organization called Tourico. It was explained that Tourico books large blocks of rooms at the Omni, similar to Comic-Con International's hotel block with Travel Planners, and that the exact names on the rooms wouldn't be distributed to the Omni until only a few weeks before the convention, in June.
One user, TardisMom, even reported speaking to a representative at Tourico who promised to have an Omni confirmation number for her within 48 hours, or promised that they would refund her money.
In the end, Tourico was unable to provide a confirmation number within 48 hours.
There's a simple explanation for this, though. Tourico was unable to provide a confirmation number, because the Omni never had any rooms to give them. We have confirmed with the booking representative for the Omni San Diego Hotel that during San Diego Comic-Con, all of their rooms are blacked out for the convention block. There's simply nothing else to offer, at exorbitant, discounted, or other rates.
Hotwire has reportedly been issuing some refunds to those who request them, but others still report being told that if they simply wait until June, it will all work out – and that each time they call, they have to explain the entire situation to the new customer service representative.
"I understand that over-bookings and computer glitches happen," Fields said. "But the fact that it has taken me almost two months to get Hotwire to even realize they had a problem has been awful customer service. When I started getting told that I had a support ticket out with 'no estimated resolution time' for several weeks I was very frustrated.  At that point I had pretty much figured out I did NOT have a room at the Omni, but trying to get Hotwire to also realize that still hasn't happened.  They could see in their system how many times I had called (there were notes on my account), and they still refused to give me anything other than the standard answer to 'just wait' even after I would tell them that the Omni had stated they were fully booked. Everyone seemed to think that since the reservation was in July that I didn't need to worry about it yet even after I explained how it was a big event weekend and the city would be mostly sold out by then."
"Though I am pleased that they refunded my money, I think the whole thing is shady and I'll probably never do business with a 3rd party site again," Kell said. "I'd much rather have the piece of mind of dealing with the hotel directly. I feel that the deal should never have been offered if they did not have the rooms to offer and that they should be more proactive in contacting their customers about a potential problem with their reservation. Had it not been for the forum, I wouldn't have known there was an issue and would have shown up the Omni thinking everything was fine," Kell said.
Hotwire and Tourico could not be reached for comment by the time of press.
Additionally, a similar situation has happened with Booking.com offering attendees reservations at the Hard Rock Hotel at discounted rates, though those attendees report that they didn't have to pre-pay, and so most are planning on getting a hotel through the Comic-Con International Hotel Sale happening later this year, and then see what happens with their Hard Rock reservations closer to date of arrival.
San Diego Comic-Con is the largest convention that the city hosts each year (as the San Diego Convention Center Corporation recently reported), and the logistics of keeping over 50 hotels and all of their own booking contractors all on the same page has to be a disaster. Mistakes happen – and that's understandable.
What's not understandable is that Hotwire hasn't been proactive is resolving this situation. If there really are no rooms to give out, as the Omni explained, then it's time to start issuing refunds and contacting those who booked through the error, before they find out after the general hotel sale and are locked out of getting any downtown hotel.
As much of a headache as the Comic-Con International Hotel Sale is for attendees – it's looking more and more likely that it's better than the alternative.
Update January 14: We're hearing that Hotwire is currently contacting those who purchased an Omni reservation through their system for San Diego Comic-Con to offer alternative accommodation. It's unclear at this time if Hotwire is only proactively calling those who requested a refund or let the company know that they were aware of an issue, or if they are contacting everyone with a faulty reservation.