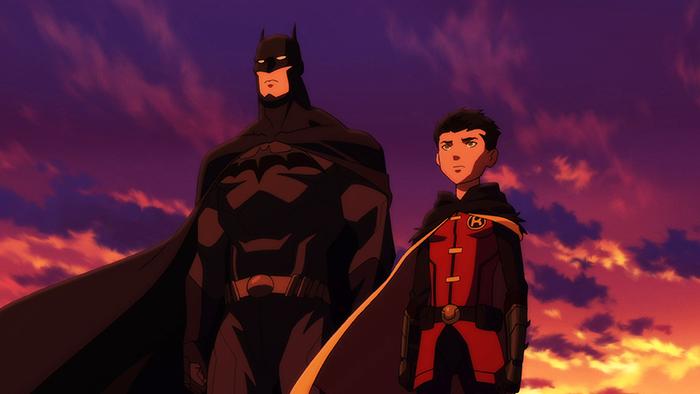 There's good news for DC Animation fans heading to WonderCon this spring: The Hollywood Reporter has revealed that Batman vs. Robin, the new animated feature film produced by Warner Bros. Animation, DC Entertainment and Warner Bros. Home Entertainment, will be making its world premiere during WonderCon Anaheim 2015.
The original movie features a huge roster of voice talent, including Jason O'Mara (Terra Nova) returning as the voice of Batman, Stuart Allen (Bad Teacher) as Robin/Damian, Firefly alum Sean Maher as Nightwing, David McCallum (NCIS) as Alfred, Jeremy Sisto (Suburgatoy) as Talon, and Grey Griffin as Samantha. Also joining the cast is the recently announced Al Yankovic as the Dollmaker, a Batman villain who is the son o a cannibalistic serial killer.
The voice also includes Kevin Conroy, who has voiced Batman for 21 years in projects like the classic Batman: The Animated Series and the Arkham video games, and more, as the voice of Thomas Wayne, Bruce Wayne's father.
Last year DC pulled out all of the stops for the world premiere of the animated Son of Batman. That panel included O'Mara, Allen, and Maher, as well as voice actor Xander Berkeley, Executive Producer James Tucker, character designer Phil Bourassa, and director Ethan Spalding. So expect at least some of the cast to turn up at WonderCon, in what is sure to be a great panel.
After the film makes its world debut at WonderCon, it will be released worldwide this spring.
[UPDATE March 9]
Comic-Con International has released the details on the panel. You'll be able to catch the world premiere on Friday, April 3 at 6PM, followed by a panel featuring voice actors Jason O'Mara, Stuard Allan, James Tucker, Jay Olivia, Eisner Award-winning writer J.M. DeMatteis, character designer Phil Bourassa, dialogue director Andrea Romano, and moderator Tiffany Smith.
Are you excited to see Batman vs. Robin at WonderCon this year? Let us know in the comments.