When the WonderCon schedule was released last week, there was one obvious question mark: The Warner Bros. movie panel, scheduled for Saturday, April 4, at 1PM-1:30PM, in the largest panel room, the Arena. At the time, the details of the panel were simply "TBA", but the schedule has now been updated to reveal just what WB will be bringing to WonderCon – San Andreas and footage for Mad Max: Fury Road.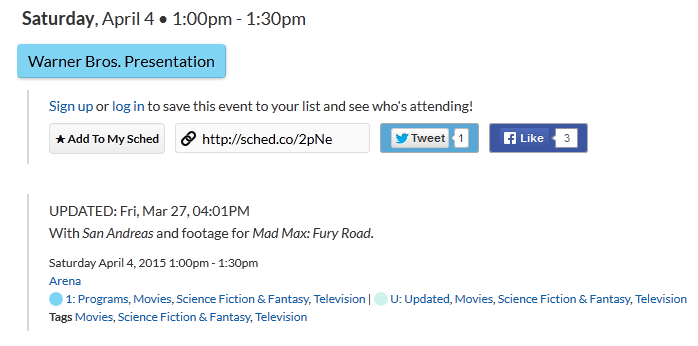 San Andreas, which follows the aftermath of an earthquake in California, will see Dwayne "The Rock" Johnson fighting to rescue his estranged daughter. It also stars Carla Gugino, Ioan Gruffudd, Paul Giamatti, Kylie Minogue, Colton Haynes, and others, and releases to US audiences on May 29, 2015.
When the panel was originally announced, it had a start time of 12:30PM. By moving that start time to 1PM, and slotting only 30 minutes for the panel (though granted, there's a "Trailer Park" of movie trailers scheduled directly after, which does give some wiggle room if it goes long), it doesn't spell great things for a large portion of the cast showing up for San Andreas. However, if WB does bring The Rock to WonderCon, or even one or two of the other cast members, fans are still likely to be excited.
That's a lot to fit into 30 minutes, especially when Warner Bros. is also promising footage for Mad Max: Fury Road. When we reached out to a representative at the studio, we were told that it will be a "first look" – so it's possible that fans will be treated to exclusive footage, ahead of the film's May 15, 2015, scheduled release date.
Attendees will also be able to stop Hall B on Saturday morning at 9:30AM for a ticket drawing to attend an autograph signing for San Andreas, that will take place later on Saturday afternoon.
Are you excited about WB's WonderCon film presentation? Let us know in the comments.