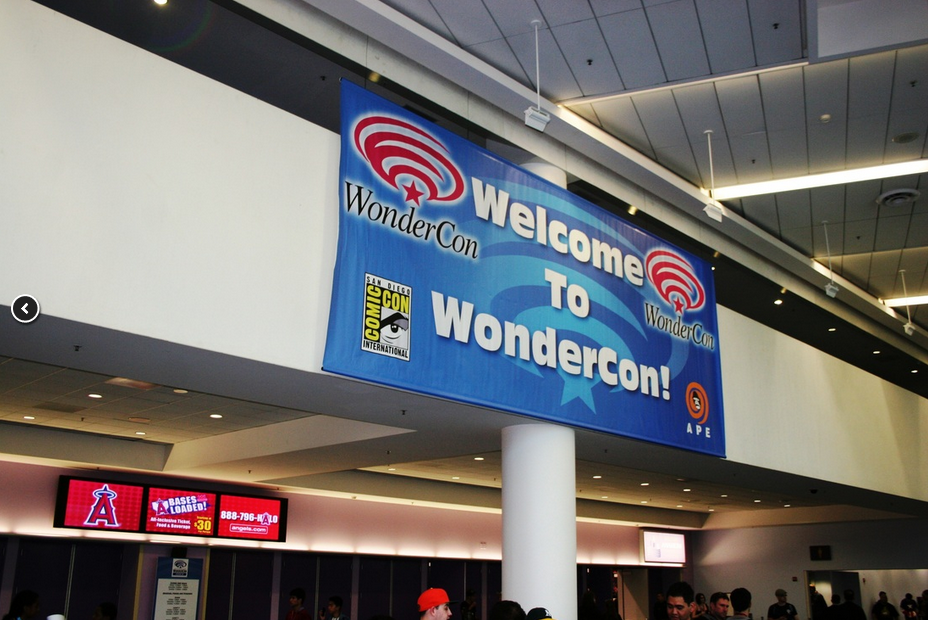 WonderCon Anaheim, Comic-Con International's sister show to San Diego Comic-Con, is just a couple of weeks away. Earlier today, we all got the whole convention schedule (surprise!), and it's filled with fan-favorites from comics, television and… not much film. It's not the media-crazy event that is SDCC – some say it's more akin to what SDCC used to be – but there's more than enough interesting programming to fill most of the day and still get you time on the Exhibit Floor, assuming you weren't counting on movies. Did we mention just how weak the movie programming is this year?
We've combed the schedule for our favorite panels to help you plan your weekend. With that said, bring on the highlights!
Friday, April 3
The convention kicks off Friday at noon with "Going Back to the Future", a look at the Back in Time documentary about the cultural impact of everyone's favorite time-traveling film, with a Q&A with documentary producers. Over in the Arena at the same time, you can also catch The 16th Annual Animation Show of Shows, featuring animated short films from all over the globe, as led by curator Ron Diamond.
With very little Marvel presence, DC and other comics publishers are picking up the slack. At 12:30, head to Room 300DE for a future of Batman and the "Bat Family"; at 2PM in Room 211, check out the Spotlight on Batman and X-Men legend Neal Adams; at 5:30PM proceed to Room 208 for BOOM! Studios: From Page to Screen, where CEO Ross Richie will discuss upcoming film and TV projects based on their properties.
For TV fans, the convention starts off with a bang, though you may have some tough decisions to make. Do you go to the Arena from 2:30PM-5:30PM for special screenings of The Flash, Gotham, iZombie, and Teen Titans Go! – or do you check out the screening of the premiere episode of M. Night Shyamalan's Wayward Pines at 2:45 in Room 300AB (with a Q&A to follow, though no guests have been announced yet)? And that's not all. There's also The Last Man on Earth, the new FOX series, with star Will Forte in attendance to discuss the series along with directors and producers Chris Miller and Phil Lord, at 4PM in Room 300AB, and an inside look at Salem in Room 300AB from 6PM-7PM with Shane West and producers. There's also "Surviving The Walking Dead: Understanding Behavior in a World Without Rules", featuring Michael Cudlitz (Abraham Ford on the AMC series), and forensic scientists, as they analyze the minds of heroes and villains on The Walking Dead.
The main event of the day, though, is definitely the world premiere of the DC animated film Batman vs Robin, which kicks off at 6PM in the Arena. The screening will be followed by a Q&A with cast that includes Jason O'Mara, Stuart Allan, Sean Maher, James Tucker, Jay Oliva, J.M. DeMatteis, and more.
Saturday, April 4
On Saturday, things get started a bit earlier, with the first panels at 10AM. If you're a fan of Superman, you'll definitely want to check out "Superman: The Richard Donner Years Celebrity Reunion", which sees Margot Kidder, Sarah Douglas, Valerie Perrine, Diane Sherry, Marc McClure, Jack O'Halloran, Aaron Smolinski, David Michael Petrou, and Ilya Salkind sharing a stage at 10AM in Room 300AB.
TV continues to be the king of WonderCon, with everything from an 11AM screening and Q&A for Teen Titans Go! at 11AM in Room 300AB, to TNT's The Last Ship at 12:30PM in Room 300DE (with cast Adam Baldwin, Rhonda Mitra, John Pyper Ferguson, Charles Parnell, Travis Van Winkle, and Jocko Sims), to the exclusive premiere of upcoming CW series The Messengers right after, at 1:30PM, to Falling Skies at 5PM in Room 300AB. For our money, though, the most exciting TV panel is Orphan Black, at 6PM in Room 300AB, along with cast members Jordan Gavaris, Dylan Bruce, Maria Doyle Kennedy, Evelyne Brouchu, and Kristian Bruun (basically, everyone but Tatiana Maslany).
After last year's Saturday Arena schedule (which included first looks at The Maze Runner, Dawn of the Planet of the Apes, Into the Storm, Lucy, and more), we have to admit: We're a little underwhelmed. The biggest panel room starts off with a Warner Bros. Presentation at 12:30PM, and while there are some exciting options for what this could entail (including Mad Max: Fury Road and The Man from U.N.C.L.E.), it's currently all "TBA" – and you know how we feel about that. That ends it for big films in the Arena, with the rest of the day taken up by Warner Bros.' iZombie and Gotham (both of which have all the stars you'd expect, and do look very exciting), and concludes with Blumhouse Productions offering a look at two of their upcoming horror films, Unfriended and Insidious: Chapter 3. If you're planning on sticking around in the Arena all day, note that there's so little going on, they've even added a Trailer Park, the now-traditional time-filler from Comic-Con. There's a vague possibility that something else could be added before Warner Bros., as 12:30 seems like an odd start time, but with as light as the schedule is, we wouldn't count on it.
Video game lovers, don't miss "The World of Capcom" at 10:30AM, featuring several product managers of the company, as they discuss all your favorite franchises, like Resident Evil and street Fighter, and also promise a surprise or two.
In the wonderful world of comics, we've got our eye on BOOM! Studios' new Bill & Ted comics talk at 5:30PM in Room 208, the Spotlight on Captain America: The Winter Soldier and Criminal writer Ed Brubaker at 5PM in Room 207, and "Marvel: The Next Big Thing" at 4PM in Room 300AB.
One of our biggest recommendations at any convention is to be sure to stop by and see other, smaller panels, that peak your interest. On our list of interest includes the 10:30AM panel in Room 208, "Stop-Motion Animation on a Shoestring", a panel about the Her Universe Fashion Show and how you can submit your design for San Diego Comic-Con taking place at 11AM in the Elite Ballroom in the Anaheim Marriott Hotel, "Felicia Day Talks Geek & Sundry, Her New Book, & More!" at 11:30AM in Room 300DE, and our panels from The Thrilling Adventure Hour entertaining you from 9:10PM in Room 208.
Sunday, April 5
The weekend wraps up with Sunday, and it's relatively light on panels.
You could claim Netflix is coming, if you squint at the DreamWorks panel "Dragons, Dinos, and More!", which will feature the soon-to-premiere Netflix/DreamWorks Animation series Dragons: Race to the Edge, as well as the new series Dinotruz. In other TV news, there's also The Flash at 1:30PM in the Arena, and though lead Grant Gustin won't be in attendance, Danielle Panabaker, Candice Patton, Carlos Valdes, and executive producers Greg Berlanti and Andrew Kreisberg definitely will.
If you haven't tired of seeing Chris Hardwick literally everywhere the past few years, you can catch him at 11AM in the Arena, giving his annual talk about The Nerdist. Other options for the day include the always-amusing Warner Archive's "More Than Sidekicks"; TheOneRing.net staff's annual panel, this time looking at "The Secrets Behind The Hobbit"; an encore screening of Batman vs. Robin at 2:45PM in the Arena; and Dr. Horrible's Sing-Along Blog at 3PM in Room 300AB.
As always, the convention will close with the WonderCon Anaheim Talk Back, a sort of town hall meeting where attendees can discuss anything they feel should be addressed with Comic-Con International staff.
Of course, there are tons more awesome panels at WonderCon Anaheim we couldn't list, so be sure to check out the entire programming schedule. And sign up for MySched, mark your favorite panels and see which ones your friends are going to.
We'll be breaking down the schedule further, including our suggestions for wait times, on our annual WonderCon Schedule Breakdown, soon.
Which panels are you looking forward to most? Let us know in the comments.