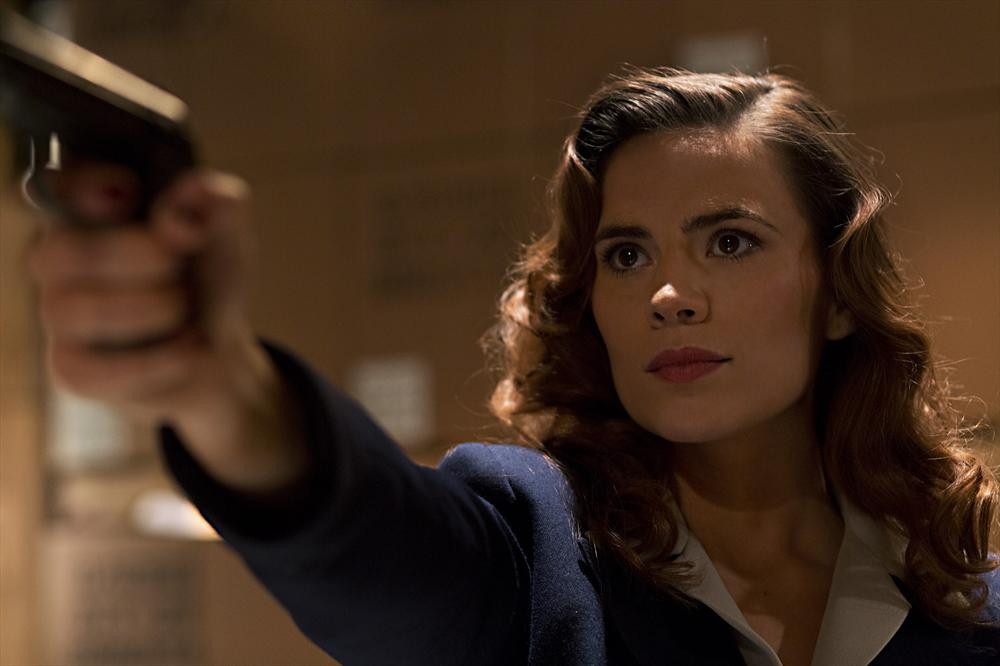 Television series comprise a huge chunk of the schedule for San Diego Comic-Con — and every year it seems like they become a larger and larger piece of the pie. The lines for Ballroom 20 are starting to rival even those of Hall H, and they won't be getting any shorter any time soon.
As the anticipation builds for the official announcements from networks and CCI as to which television shows will be on the panel schedule, we like to take time out earlier in the year to speculate which shows have the best chances of appearing at SDCC. We'll be breaking this into three segments, including the Cable Networks and Family Networks, but we're kicking things off today with the main five basic broadcast channels — ABC, CBS, CW, FOX, and NBC (as well as one bonus network – brought to you by viewers like you).
It's important to note that while we've broken out the schedule by which network a series airs on, these aren't necessarily the entities that physically own the shows, and thus bring them to Comic-Con. So, for instance, The Big Bang Theory is actually a Warner Bros. production, that merely airs on CBS, so Warner Bros. is the one who brings it to the convention. FOX owns Minority Report, but not Lucifer, so it would only be responsible for bringing the former along. Confusing? We know. That's why we've laid it out like this — but don't panic if your favorite shows aren't on any announcements the networks and studios make in the next two months.
So what do we think you'll be seeing at Comic-Con this summer? Let's take a look:
ABC
For us, the biggest question about ABC's San Diego Comic-Con line-up isn't even what they'll be bringing – our money is on pretty much an exact replica of last year's line-up, featuring Once Upon a Time, Marvel's Agents of S.H.I.E.L.D., and Agent Carter. No, the biggest question mark is simply, will S.H.I.E.L.D. and Carter split a panel again, or will they be getting separate hours in Ballroom 20?
Yes, Marvel Studios is supposedly skipping Hall H – but we've got no reason to believe that that necessarily applies to the television side of things. After all, Marvel's TV shows need a lot more promotion than the film division, and they'll be better able to round up their stars and to have actual news to share. Since Agent Carter isn't slated until the spring again, we wouldn't be surprised to see a split panel again – but we're rooting for separate hours this year.
Beyond that, there is the possibility that ABC could decide to bring its underdog series Galavant, the medieval musical which stars Comic-Con favorite Tim Omundson, as well as Joshua Sasse, Vinnie Jones, Mallory Jansen, Karen David, and Community's Luke Youngblood. ABC didn't bring the series last year, but their booth was modeled after the castle from the series – so they obviously think there is some crossover potential within the Comic-Con audience.
If ABC does decide to bring a fourth series, though, we'd place our bets on the newcomer The Muppets. Last year, ABC's fourth panel was for The Toy Story That Time Forgot, so playing to a potential younger audience at SDCC isn't something that ABC is against. Plus, it's the Muppets. We would line up for that in a heartbeat (you hear us, ABC?).
For those hoping for the long-desired return of Castle, we probably wouldn't hold our breath. Even with star Nathan Fillion in town the last several years, ABC hasn't shown any desire to promote the series at Comic-Con, and we've got no reason to think they'll change their minds. Sorry, Castle fans.
https://www.youtube.com/watch?v=pfJkusicBa4
CBS
CBS tends to keep pretty much the same roster at Comic-Con the last few years — which means attendees can probably expect Person of Interest, Under the Dome, and The Big Bang Theory (though possibly only the writers again) this year. They also premiered the pilot of Scorpion last year, and even though it's one of CBS' breakout hits of the year, it's not necessarily genre enough to assume that it will be back, similar to Elementary.
Instead, our money is on this year's "It Fits If You Squint" series being Limitless, based on the 2013 film about a man who experiences drug-enhanced abilities, and uses them to solve weekly cases for the FBI. It stars Jake McDorman and Dexter's Jennifer Carpenter, plus it's executive produced by Star Trek's Alex Kurtzman and Robert Orci. All of that probably gives it just enough geek cred to sneak in to the convention, and very possibly win the Thursday morning CBS pilot screening. If that isn't the order of the day, we wouldn't be surprised by Rush Hour either. It's got a cult following, it's made by Warner Bros. who tends to bring every show they can, and it's got some Comic-Con heavy hitters working behind the camera.
The one CBS series we definitely think will be at SDCC? Supergirl. Does this one even need explanation? It got a series order long before Upfronts so CBS is very keen on the series, and it's a Warner Bros. superhero show. This one is a lock (though we still think the CBS Thursday morning pilot will go to Limitless, with Supergirl getting a much better timeslot, and one of the Preview Night screening spots).
https://www.youtube.com/watch?v=Lm46-envrHo
CW
In terms of sheer quantity, CW tends to rule San Diego Comic-Con's television landscape. And this year should be no different, as The CW should be bringing back The Vampire Diaries and its spinoff series The Originals, as well as Arrow, The Flash, Supernatural, The 100, and iZombie. Less certain, but still a good bet, is Reign. Less of a good bet is Beauty & The Beast, but never say never. That's already a pretty full schedule, but then there's also the new shows.
This year, the CW only picked up two new series, and they're both solid contenders for Comic-Con. The first, and most obvious choice, is the Flash and Arrow spinoff, Legends of Tomorrow. The series, which stars Arthur Darvill, Brandon Routh, Caity Lotz, Victor Gaber, and Wentworth Mller, will follow Darvill's Rip Hunter as he's tasked with assembling a rag-tag group of both heroes and villains to confront an unstoppable threat – that threatens not only the planet, but all of time itself. It's going to be at Comic-Con. Just, trust us on this.
The other series, Containment (formerly Cordon), comes from The Vampire Diaries' Julie Plec, and features a group of citizens living in Atlanta when a deadly epidemic breaks out and a large city quarantine is quickly enforced, leaving those stuck on the inside to fight for their lives. It's not sci-fi (that we know of), but it's dystopian, and we think it fits more than enough to appeal to Comic-Con crowds.
We'd also be very surprised if the two newcomers didn't also take up two of the four spots in WB's Preview Night screenings.
https://www.youtube.com/watch?v=4MubNoWQiSc
https://www.youtube.com/watch?v=qE983cTD4Mg
FOX
FOX has the potential to bring the most interesting line-up this year (and maybe even the largest), given just how many genre shows it ordered this year. We fully expect Bones, Sleepy Hollow and Gotham to return — as well as the long-running Animation Domination series, which includes The Simpsons, Family Guy, and Bob's Burgers (with American Dad having migrated over to TBS, and likely still to play back-to-back with these other series in Ballroom 20, but we're saving that one for the Cable Shows of SDCC).
But let's get to the new stuff. FOX ordered a whole lot of new TV this year, and several of them seem like they'd fit right in with the SDCC crowd. There's Lucifer, which we think is a shoo-in, as it follows the Lord of Hell himself as he resigns his throne and abandons his kingdom for the gorgeous, shimmering insanity of Los Angeles. It's based on the Neil Geiman, Sam Keith, and Mike Dringenberg comic – and is our bet for the fourth and final WB Preview Night pilot screening. Fox also has Minority Report, based on the Tom Cruise film, which stars Stark Sands, Meagan Good, and Wilmer Valderrama. Then there's also The Frankenstein Code, which stars Pacific Rim's Rob Kazinsky as a morally corrupt retired cop who is given a second chance at life when he's brought back from the dead.
The property most attendees are hoping for though is The X-Files. This one could be a little tricky, as it was a straight-to-series order that isn't slated until midseason, so there may be no footage to show – but honestly, FOX could bring out Gillian Anderson and David Duchovny, and coast on goodwill alone. It worked in 2013 for TV Guide when they did the same.
FOX, more so than the other networks, also seems poised to potentially bring some of its comedies along. We've already seen some speculating that we could get a panel for the new Ryan Murphy series Scream Queens, the horror anthology show that stars Emma Roberts, Jamie Lee Curtis, and Lea Michele. We think the safer bet though is The Last Man on Earth, which already got a WonderCon panel earlier this year.
https://www.youtube.com/watch?v=_fLl-DMzxrk
https://www.youtube.com/watch?v=qNq25SEUTPQ
https://www.youtube.com/watch?v=cQ_AIyP67eY
NBC
For NBC, we fully expect Grimm and The Blacklist to be back. We also feel pretty confident about Hannibal too, given that the new season will still be on-going during Comic-Con, and attendees love Bryan Fuller (doesn't everyone, though?).
Then, of course, there's Heroes Reborn, which NBC is so excited about promoting at San Diego that they even started running an ad promoting its presence back in April. With Nerd HQ officially on, expect star Zachary Levi in attendance, as well as hopefully plenty of returning stars.
Beyond that, with Constantine gone, Community shipped off to the island of Yahoo Screen, and no other obvious new genre fare, anything else is a guessing game. If they bring anything else, it's likely to be Blindspot, which NBC seems to be betting big on. The series features a beautiful woman, with no memories of her past, who is found naked in Times Square with her body fully covered in intricate tattoos, and the FBI agents who have to solve the complex mystery. It could have some deeper genre elements.
https://www.youtube.com/watch?v=C6zVQXpUe_0
https://www.youtube.com/watch?v=cuVNZBHWi3c
Other
Will Sherlock be back, courtesy of PBS? That is the question on several attendees minds, as the network brought the series previously in 2013, then skipped out in 2014. We're hopeful this year will see the return of Doctor Who, and thus showrunner Steven Moffat, which increases the odds for a look at the Sherlock Christmas special coming later this year. Martin Freeman may still be busy filming Captain America: Civil War, and Benedict Cumerbatch seems to have about 100 irons in the fire — but they did the panel once without the two stars, and they could easily do it again if they chose.
Television Graveyard
We'd also like to take a moment to reflect back upon our dearly departed shows that won't be gracing the stages at San Diego Comic-Con this summer, either because they were canceled, or simply ended their run. Here are the broadcast shows that you won't be seeing at SDCC again, at least until that ten year reunion (or until Hulu, Netflix, Yahoo Screen, or some streaming service that hasn't been invented yet inevitably picks it up):
Constantine (NBC)

The Following (FOX)
Glee (FOX)
The Messengers (The CW)
Resurrection (ABC)
Which of these shows are you excited about seeing at Comic-Con? Let us know in the comments.