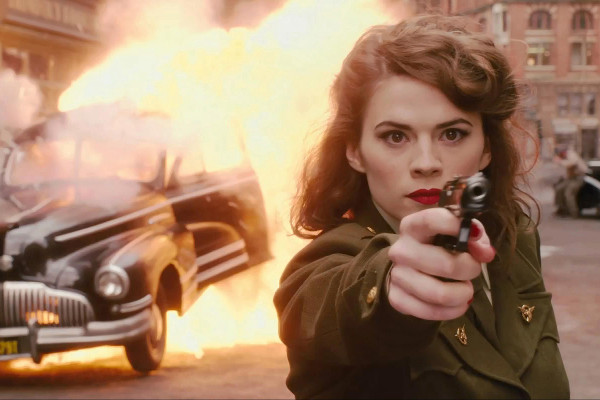 It's time to play the music, it's time to light the lights – as ABC is heading back to San Diego Comic-Con.
TVLine is reporting that Marvel Television will be hosting a panel on Friday, July 10 at 3PM in Ballroom 20, that will once again be split between Marvel's Agents of S.H.I.E.L.D. and Agent Carter. Jeph Loeb, Marvel's Head of Television, will moderate Marvel's Agents of S.H.I.E.L.D. executive producers Jed Whedon, Maurissa Tancharoen and Jeff Bell, along with stars Clark Gregg, Ming-Na Wen, Brett Dalton, Chloe Bennet, Iain de Caestecker, Elizabeth Henstridge, Henry Simmons, Adrianna Palicki, Nick Blood, and Luke Mitchell.
If that wasn't crowded enough, the panel will also feature Agent Carter EP's Tara Butters, Michele Fazekas, Chris Dingess, and Louis D'Esposito, as well as stars Hayley Atwell and James D'Arcy.
The Friday date is different than what had been rumored by Con Man producers, who claimed their panel was set for Hall H between DoctorWho and Marvel. Although this effectively knocks ABC's Marvel TV out of the running for that time slot, if it exists, there is still the possibility of a Netflix Marvel panel.
Although ABC still hasn't unveiled their complete panel line-up, we have confirmed with ABC that The Muppets will have a panel at Comic-Con this year as well. No word yet on cast or the day of the panel.
[UPDATE] There will also be an autograph signing for Marvel's Agent Carter on Saturday, July 11 at 10AM-11AM at the Marvel Booth #2329, and an autograph signing that same day for Marvel's Agents of S.H.I.E.L.D. from 2:30PM-3:30PM at the Marvel booth.
Just like in previous years, you will need a ticket to attend the signing. To obtain an autograph ticket you must be at the Marvel booth as doors open on Saturday morning. Tickets will be distributed via lucky draw.
How do you feel about the split panel? Are you pumped for The Muppets? Let us know in the comments.