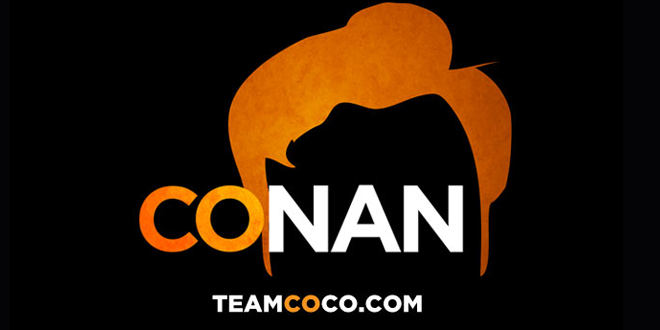 Hopefully you were one of the lucky few to score tickets to Conan O'Brien's Conan tapings this year, because it's going to be an amazing line-up this year, with guests from The Hunger Games: Mockingjay Part 2, Game of Thrones, The Walking Dead, and more.
Plus, this announcement also confirms that Jennifer Lawrence, Josh Hutcherson, and Liam Hemsworth will all be in town for The Hunger Games panel – possibly with Lawrence pulling doubly duty on a Fox X-Men panel.
The episodes will be taped at the Spreckles Theatre Wednesday, July 8 – Saturday, July 11, and will air on TBS at 11PM ET/PT the same night.
The following is a rundown of the week's guests:
Wednesday, July 8
Elijah Wood
Chris Hardwick
Thursday, July 9
The stars of The Hunger Games: Mockingjay Part 2:
Jennifer Lawrence
Josh Hutcherson
Liam Hemsworth
Friday, July 10
The stars of Game of Thrones:
Alfie Allen
John Bradley
Liam Cunningham
Natalie Dormer
Conleth Hill
Hannah Murray
Sophie Turner
Carice Van Houten
Maisie Williams.
The stars of The Walking Dead:
Norman Reedus
Lauren Cohan
Stephen Yuen
Danai Gurira
Saturday, July 11
Special surprise film cast to be revealed in San Diego during Comic-Con