We try to avoid anything that's pure speculation, but there are several signs pointing towards what could be a very different year at San Diego Comic-Con for Funko, and it's enough evidence that we're willing to put this out into the ether of the world wide web. So let's jump right into the rumor mill: We think  that Funko will be turning Conan O'Brien and Bryan Fuller into special Comic-Con Pop!'s.
Conan O'Brien, as pretty much everyone knows by this point, will not only be bringing his talk show Conan to Comic-Con but is also invading Hall H as he moderates Lionsgate's epic The Hunger Games: Mockingjay Part 2 and The Last Witch Hunter panel. But then yesterday he unveiled a video about his SDCC appearance that featured Conan looking very similar to the popular Funko Pop! vinyl figures.
That in itself is clever marketing, but that's not all. We've also confirmed with San Diego MTS that one of this year's trolley wrap designs features O'Brien. Instagram user ryespops captured an image of the design, which features O'Brien Funko-ified as himself, a zombie, as Batman, and more.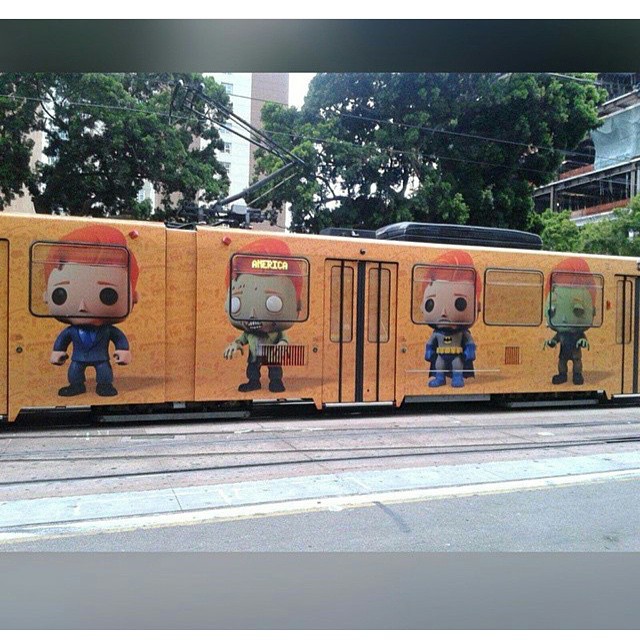 Here's where it gets interesting, though. Fellow Instagram user good_man_pops reposted the photo, with this description:
#ConanObrien @originalfunko #Funko #Pops are coming! They are to be given away at his live show from #sdcc July 8-11! Maybe they'll make them available to the rest of us and yes these are happening, I saw them in person at Funko HQ last week! 🙂 #Conan #Coco #TeamCoco
If true, this is a huge change of pace for Funko, which typically only rolls out variant Pop!'s to the convention, rather than completely new molds and characters. Based on the trolley design wrap, we could be looking at several different variants of the O'Brien Pop! as well.
O'Brien may not be the only one getting the Funko Comic-Con treatment, though. In a Facebook Q&A, Hannibal creator Bryan Fuller also mentioned that he'd be turning into a Funko Pop! at SDCC this year. At the time, we weren't sure if he was joking, but it turns out the Hannibal Twitter account had hinted at it happening before — and if O'Brien is getting the Pop! treatment, it makes sense that he might not be alone.

Psst… If you were to guess who our next @OriginalFunko doll would be… Who would you guess? Bedelia? @BryanFuller?

WHY, you ask? Uh…

— Hannibal (@NBCHannibal) May 7, 2015
Whether or not Fuller's Funko Pop! is related to Conan — perhaps some of his Comic-Con show guests are also getting limited edition Pop!'s? Maybe Funko is rolling out some kind of "Comic-Con legends/icons" series for the convention? — all remains to be seen.
It's important to note that none of this is confirmed. When asked if they were working with Conan, Funko had no comment at this time.
Would you be excited about Conan O'Brien and Bryan Fuller Funko Pop!'s? What other SDCC icons would you like to see get the Funko Pop! treatment? Let us know in the comments.