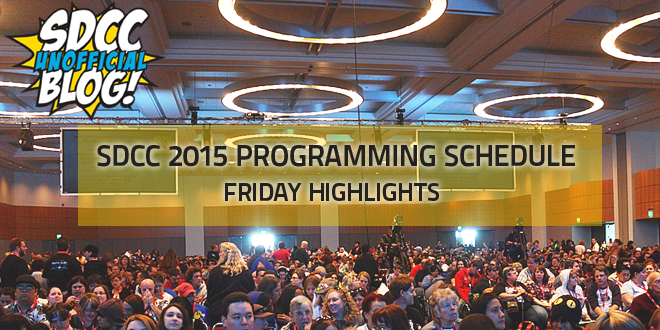 It's two weeks away from Comic-Con, and CCI is releasing the programming schedule for Comic-Con 2015 in its annual fashion. We'll be bringing you the highlights of each day as they're announced.
We'll also be discussing our thoughts on this year's lineup, including our top picks, in a special series of live podcasts this weekend. The first of which will cover Preview Night, Thursday's and Friday's lineup, and will be on Friday June 26 at 9:30PM ET/6:30PM PT.
With that said, let's dive right into Friday.
When we asked our readers what time they thought the Star Wars: The Force Awakens panel would be, most of you believed it would be first thing in the morning. For better or worse, that turned out to be wishful thinking, as the panel is situated right at 5:30PM in Hall H, which means that fans of The Walking Dead and the new spinoff Fear the Walking Dead, as well as Game of Thrones, will all be fighting for space in those hallowed halls on Friday. Also in Hall H is the return of Entertainment Weekly's Brave New Warriors panel, where attendees can find Zachary Levy, Jordan Gavaris, Sam Heughan, Kevin Durand, Michael Cudlitz, and more. The day will also close out with the annual evening with Kevin Smith, as he discusses his upcoming film, Yoga Hosers, at 7:15PM.
On the non-Hall-H-TV side of things, attendees can look forward to an awesome day of programming in Ballroom 20. Things kick off at 10AM with Inside The Big Bang Theory Writer's room, which usually has some special guests, followed by Falling Skies farewell panel, The 100, Minority Report, the split panel for Agents of S.H.I.E.L.D. and Agent Carter, The Originals, iZombie, and the world premiere of Justice League: Gods & Monsters. That's an insanely packed day, full of some awesome offerings.
There's plenty of other TV around the rest of the convention as well. Orphan Black gets a much-needed room upgrade as it heads to 6BCF (which holds 2,160!), the annual Cartoon Network/Adult Swim takeover of Indigo Ballroom returns with everything from Adventure Time to Robot Chicken and Mike Tyson Mysteres, and MTV is bringing two new series with both aScream and The Shannara Chronicles. Plus, there's also History's Vikings at 3:30, Ash vs. Evil Dead at 6, and for those who are still mourning the loss of The Last Airbender and The Legend of Korra, join co-creators Mike DiMartino and Bryan Konietzko as a look back at the series and the future in comics at a joint Nickelodeon and Dark Horse Comics panel at 10AM in Room 25ABC. There's also Cosmos: A Spacetime Odyssey in 6DE, with Seth MacFarlane, Ann Druyan, and Neil DeGrasse Tyson.
For fans of comics, Friday is another strong day (though maybe not quite as strong as Thursday). Possibly the biggest comics panel of the day is Marvel: Secret Wars, which kicks off the day at 10AM in Room 6DE as the team answers all your questions. Then, join Image Comics at 11AM for a chat with some of their best writers, a look at the history of Archie over the past 75 years at 1PM, a peek inside IDW's Ghostbusters franchise (and "learn about new products and plans firsthand from Sony Pictures Consumer Products") at 2PM, and get a peek into what's next for Star Wars publishing with back-to-back panels in 7AB. We'd also suggest heading to 6DE for DC Entertainment's One-on-One with chief creative officer Geoff Johns, as he's the real man with all the answers. Plus, you can come "draw cats" with Katie Cook at 3PM. How can you turn that down?
Although we fully expect DC to take center stage in tomorrow's panel schedule release, DC Entertainment: From Page to Screen will give attendees a look on Friday inside DC's TV, video games, home movies, and more at 4:15PM.
You can also catch a look back at the mega-popular 1980's franchise The Care Bears from then to now in Room 8 at 5:30PM, find out what's going on with Assassin's Creed at 2PM in 6BCF, catch up with The Welcome to Night Vale crew at 8PM in Room 9, and get some insight into Hasbro's Star Wars line at 12PM in 7AB. And then there's also the Horton Grand Theatre, which requires a ticket from up in Sails that can be drawn each morning, but that's going to feature such panels as a Nerdist Music, Nerdist Podcast Network Podcast Jam (sense a theme?), and The Visit with Blumhouse's Jason Blum and M. Night Shyamalan.
There's a few head-scratching things on the schedule today – for instance, we're curious what teleportation device Mark Waid is using to get from 6BCF at 12:45PM to Room 4 at 1PM – and then he must loan that same teleportation device to David Hasselhoff, as he moves from Kung Fury at 7 in 6BCF to Sharknado 3 at 7:15 in 6A. It's magic!  We're also pretty sure Rick & Morty is supposed to be in Indigo Ballroom, not Room 2 (this has been fixed). As CCI updates the schedule, make sure you check out the "Updated" portion of MySched, as changes are already taking place.
You can view the full Friday programming schedule on the MySched website.
What will you be lining up for on the first full day of Comic-Con? Let us know in the comments.