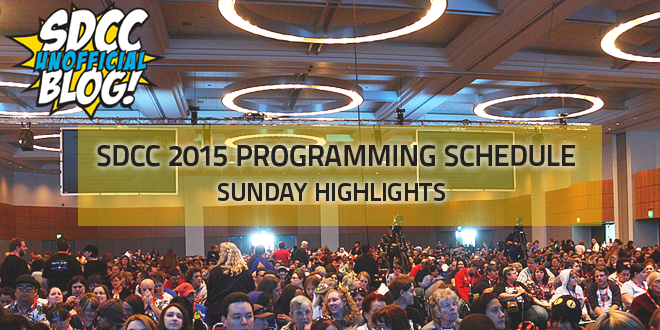 Baring any last minute schedule changes, we now have the full San Diego Comic-Con 2015 programming schedule.
We'll also be discussing our thoughts on this year's lineup, including our top picks, in a special series of live podcasts this weekend. The first of which covered Preview Night, Thursday's and Friday's lineup, and the second segment — in which we break down Saturday and Sunday — will be on Sunday, June 28 at 4PM PT / 7PM ET.
With that said, let's dive right into Sunday.
As always, TV and comics are king at Comic-Con, with the former once again taking over Hall H all day. With Doctor Who now on Thursday and Sons of Anarchy gone, the line-up looks a bit different to other years — which is never a bad thing. The day will kick off with The Vampire Diaries, followed by Supernatural, the split American Horror Story and Scream Queens panel, Heroes Reborn, and a massive FX block of Sex&Drugs&Rock&Roll, The Strain, and a sneak peek of The Bastard Executioner.
Outside of Hall H, there's also a final farewell to Phineas and Ferb in 6BCF, LEGO Ninjago in 7AB, and Sanjay and Craig in 6DE — all of which are also perfect for Kids Day at Comic-Con.
Sunday is also a great day for jumpstarting your kid into a love for comics, or fanning the flames that are already there. Our picks include The Enchiridion and Marcy's Super Secret Scrapbook – which features several Adventure Time voice actors and illustrators for a look at the anticipated new Adventure Time book – as well as Manga Tutorial for Kids, to add an interactive element into their day.
There are plenty of other amazing comics panels to attend all day, including the Spotlight on Secret Wars' Jonathan Hickman as he makes a rare appearance, the Eisner-award winning Gabriel Ba and Fabio Moon on Different is Cool, and Marvel: Women of Marvel to learn about the creative process at the comics powerhouse and how women influence Marvel. Chip Zdarsky is one of the most popular, and irreverent creators in comics today and he gets a spotlight where he can talk Howard the Duck, Sex Criminals & much more crazy in Chip Zdarsky: A Life. Fans of The Oatmeal should also take note of the Spotlight on Matthew Inman over in 28DE.
Other standouts on the schedule include From Comics to Animation with some of the biggest names in both, the world premiere of Warner Bros. Home Entertainment's LEGO DC Comics Super Heroes: Justice League: Attac of the Legion of Doom in 6BCF, a celebration of Sixty Years of Gumby in 29AB, and a look at the culinary geek world in Fangirl Foods with Ace of Cakes chef Duff Goldman.
Everything winds down at 5PM, but for your final stop, consider the Comic-Con Talk Back at 3:30PM, the annual town hall like meeting where CCI's upper echelon are present to hear your concerns, answer your questions, and give you insight into the convention.
You can view the full Saturday programming schedule on the MySched website.
What will you be lining up for on the first full day of Comic-Con? Let us know in the comments.