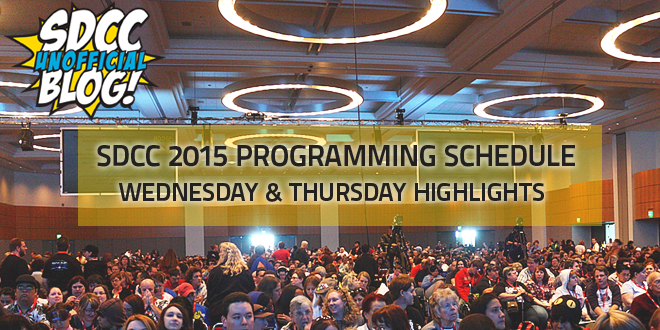 It's two weeks away from Comic-Con, and CCI is releasing the programming schedule for Comic-Con 2015 in its annual fashion. We'll be bringing you the highlights of each day as they're announced.
We'll also be discussing our thoughts on this year's lineup, including our top picks, in a special series of live podcasts this weekend. The first of which will cover Preview Night, Thursday's and Friday's lineup, and will be on Friday June 26 at 9:30PM ET/6:30PM PT.
Since we already know the Wednesday sneak peek pilot screening schedule, it's a simple choice: Catch some cool television pilot episodes, or fight the crowds on the exhibit floor for that must-have exclusive? Having said that, bring on Thursday!
There aren't too many surprises on the schedule, so let's just dive right into TV, which takes up a huge portion of the schedule. It's split between several rooms, with Doctor Who and Con Man (which gets 90 minutes!) over in Hall H, all the CBS TV shows, Teen Wolf, and a surprise Sherlock over in Ballroom 20. Although neither Benedict Cumberbatch or Martin Freeman are listed for Sherlock, showrunners Steven Moffat, Sue Vertue, and actor Rupert Graves are, so that's something. Over in Indigo, you can swing by for some smaller TV panels, including TV Land's look at Teachers, Comedy Central's Drunk History and Moonbeam City (with Rob Lowe), and Crackle's stop-motion SuperMansion, which features Bryan Cranston, Seth Green, Jillian Bell, and more. We'd be there in a heartbeat, if it weren't for one small thing. Although we suspect this isn't really a Netflix-sponsored panel, J. Michael Straczysnki will be on hand to discuss Sense8 over in Room 5AB at 5PM. We'll be there with bells on.
There's also Gravity Falls in 6A, Syfy's Dark Matter in 6BCF, and The Last Ship in 6A.
On the movie side, Thursday is a pretty slim day. Of course, there's The Hunger Games: Mockingjay Part 2 (though no cast is listed yet), and we also already know this panel will feature a look at The Last Witch Hunter (sans Vin Diesel). There's also a panel for Open Road Films that kicks the day off in Hall H at 10:45AM, and while it's the dreaded "TBA", our best guess is that this could be a look at Max Steel.
Into comics? There's a lot going on on Thursday, and it's all great. Check out the Peanuts 65th Anniversary Panel over in 5AB, Dark Horse Presents with some amazing talent on hand in 23ABC, Robert Kirkman's Skybound Comics in 7AB to hear The Walking Dead creator talk about what his brand has in store, the Spotlight on Jim Lee in 6DE, powerhouse Grant Morrison in Indigo discussing the rise of Indian superheroes and his latest comic launch, and a look inside Sue DeConnick and Matt Fraction's Milkfed over in Room 2. Also worth mentioning is Titan Comics' The Blacklist panel, in which Heroes Reborn supervising producer Seamus Kevin Fahey will give attendees a sneak peek at the new Heroes comic, and The Blacklist show writer Nicole Phillips discusses the upcoming The Blacklist comic. Seriously, this is a great day all around for lovers of comics.
In the wonderful world of video games, you can catch Blizzard at 2:15 in 6BCF, and in big news, Call of Duty's Black Opps III Zombie Mode will be making a reveal of the "star-studded cast" for the game. Capcom will also be giving fans the rundown for what's next for their games at 5PM in 7AB.
There are plenty of other exciting things happening all day. For instance, NASA has two panels this year, Turning Science Fiction into Science Fact and Journey to Mars, where attendees can hear "celebrity-moderated" discussions between some of NASA's best and brightest. You can also relive your youth with Power Rangers Dino Charge Unleashed: Behind the Suit, in which several Power Rangers Dino Charge cast members will be discussing the classic franchise. Or relive the pastel with the Miami Vice 30th Anniversary Retrospective with original cast members including Edward James Olmos. You can also catch Toy Break: Independent Toy Design in 32AB and DC Collectibles in Room 9.
TV and movie soundtrack fans also have multiple choices with the 3rd Annual Musical Anatomy of a Superhero or Behind the Music: Crime, Death, and Resurrection. But pop music fans can re-live their youth with Backstreet Boys Nick Carter, Howie Dorough, and A.J. McLean on the Nick Carter Goes West: From Boy Band to Zombie Western panel.
We'd also be remiss if we didn't at least mention the new panel venue this year – the Neil Morgan Auditorium at the San Diego Central Library, where you can find podcasting panels like The Comixologist Traveling Podcast Party, and This Week in Marvel: Live!
You can view the full Thursday programming schedule on the MySched website.
What will you be lining up for on the first full day of Comic-Con? Let us know in the comments.