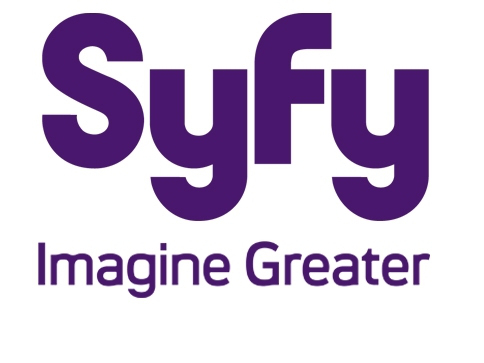 Syfy is returning to San Diego Comic-Con, with almost entirely new programming for the convention. Attendees will be treated to panels on Dominion, Sharknado 3: Oh Hell No!, Childhood's End, 12 Monkeys, The Expanse, and Z Nation.
Of those series, Dominion is the only one that has been to Comic-Con before (although there was a panel for Sharknado 2 last year).
The network is kicking off the convention on Thursday with a screening of the first two episodes of season two of Dominion in Room 6DE from 8:15PM-10PM. Only producer Vaun Wilmott is scheduled to appear.
On Friday, they kick up their presence a bit with Sharknado 3: Oh Hell No!, and stars Ian Ziering, Tara Reid, Cassie Scerbo, David Hasselhoff, and director Anthony C. Ferrante, as well as writer Thunder Levin. The panel will be in Room 6A from 7:15PM-8:15PM.
Then on Saturday, attendees can stop by the Indigo Ballroom at 11AM for Childhood's End, the upcoming six-hour miniseries, to catch a glimpse of stars Mike Vogel, Julian McMahon, Daisy Betts, and Yael Stone as they discuss the series. Then, stick around for 12 Monkeys at 12PM, with Aaron Stanford, Amanda Schull, Kirk Acevedo, Barbara Sukowa, Emily Hampshire, and Todd Stashwick as they look to season two of the series.
A few hours later at 4PM in the Indigo Ballroom, fans can stop by for a screening of the upcoming series The Expanse, followed by a panel with Thomas Jane, Steven Strait, Shohreh Aghdashloo, Cas Anvar, Dominque Tipper, and Wes Chatham.
Finally, at 5:30PM in Indigo, Z Nation will cap off Syfy's appearance with stars DJ Qualls, Kellita Smith, Keith Allan, Russell Hodgkinson, Nat Zang, and Anastasia Baranova.
From the press release, here's a full description of the panels:
THURSDAY, JULY 9

DOMINION

SCREENING: 8:15pm – 10:00pm | Room 6DE

All hell is breaking loose as the battle between angels and mankind continues in a second season of Syfy's hit show Dominion. Join executive producer Vaun Wilmott for an exclusive screening of the first two episodes of Season 2. See episode 2 one week before it premieres on Syfy!

FRIDAY, JULY 10

SHARKNADO 3: OH HELL NO!

PANEL: 7:15pm – 8:15pm | Room 6A

Join stars Ian Ziering (Fin Shepard), Tara Reid (April Wexler), Cassie Scerbo (Nova Clarke) and David Hasselhoff (Gil Shepard), director Anthony C. Ferrante and writer Thunder Levin for a fin-tastic behind-the-scenes journey into the global pop culture sensation followed by a Q&A session. Moderated by Damian Holbrook of TV Guide Magazine.

SATURDAY, JULY 11:

CHILDHOOD'S END

PANEL: 11:00am – 12:00pm | Indigo Ballroom, Hilton Bayfront Hotel

Based on the Arthur C. Clarke classic novel, the upcoming six-hour miniseries stars Mike Vogel (Bates Motel), Julian McMahon (Nip/Tuck), Daisy Betts (Last Resort), and Yael Stone (Orange is the New Black). The cast will be on hand along with screenwriter Matthew Graham (Doctor Who) to discuss how they brought the iconic novel to the screen for the very first time.

12 MONKEYS

PANEL: 12:00pm – 1:00pm | Indigo Ballroom, Hilton Bayfront Hotel

Join executive producers Terry Matalas and Travis Fickett, and stars Aaron Stanford (James Cole), Amanda Schull (Dr. Cassandra Railly), Kirk Acevedo (Ramse), Barbara Sukowa (Jones), Emily Hampshire (Jennifer Goines) and Todd Stashwick (Deacon) of Syfy's critically-acclaimed series as they dissect the mysteries of the first season and hint at the twists and turns coming in Season 2. Moderated by Natalie Abrams of Entertainment Weekly.

THE EXPANSE

SCREENING AND PANEL: 4:00pm – 5:30pm | Indigo Ballroom, Hilton Bayfront Hotel

Join the cast members Thomas Jane (The Punisher), Steven Strait (Magic City), Shohreh Aghdashloo (The House of Sand and Fog), Cas Anvar (Olympus), Dominique Tipper (Vampire Academy) and Wes Chatham (The Hunger Games: Mockingjay) and executive producers Mark Fergus, Hawk Ostby and Naren Shankar for a first-ever, exclusive screening of the series premiere before it airs on Syfy in December! The Expanse is set 200 years in the future after mankind has colonized the solar system. The show is based on The New York Times bestselling book series.

Moderated by book author James S.A. Corey (Daniel Abraham and Ty Franck).

Z NATION

PANEL: 5:30pm – 6:30pm | Indigo Ballroom, Hilton Bayfront Hotel

Dust off the Z-Whackers and join cast members DJ Qualls (Citizen Z), Kellita Smith (Warren), Keith Allan (Murphy), Russell Hodgkinson (Doc), Nat Zang (10K) and Anastasia Baranova (Addy) and executive producer Karl Schaefer of fan-favorite zombie show, Z Nation, as they provide a behind-the-scenes look at what fans can expect to see this fall when Season 2 premieres on Syfy. Moderated by Z Nation writer-producer Craig Engler.
Which Syfy panels are you excited for? Which show do you think will be taking over the Hard Rock Cafe this year? Let us know in the comments.