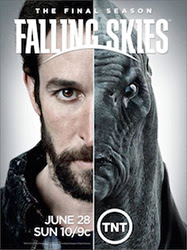 TNT has just barely squeaked by with relevant news for their panel line-up, considering that details for The Last Ship were revealed this morning by Comic-Con International, but they're also bringing along Falling Skies, an Oculus Rift experience, and more.
Let's start with the new stuff: Falling Skies is headed to Ballroom 20 on Friday, July 10 from 11:15AM-12:15PM, along with actors Noah Wyle, Moon Bloodgood, Will Patton, Drew Roy, Sarah Carter, Connor Jessup, Colin Cunningham, Doug Jones and co-executive producer Olatunde Osunsanmi. As the show is set to end later this year, this is your chance to see goodbye to the series, watch sneak-peek video clips of the final season, and more.
Fans of The Last Ship can find the series in Room 6A from Thursday from 1:45PM-2:45PM with Eric Dane, Rhona Mitra, Adam Baldwin, Travis Van Winkle, Jocko Sims, Marissa Neitling and executive producer Hank Steinberg.
But you can also get your fix at The Last Ship Oculus Rift experience, which will be an immersive activation that transports attenees into the show's fictional universe as they board a cargo ship taken over by the Immunes (immune survivors of the deadly plague that has nearly destroyed the entire population of the planet) and retrieve the last remnants of the primordial strain. Although there's no official word on just where this virtual reality experience will take place, our guess is at the TNT Booth #3629, as the hours listed mirror the convention hall hours:
The Last Ship Oculus Rift Experience
Preview Night, Wednesday, July 8: 6 p.m. – 9 p.m.
Thursday, July 9 – Sunday, July 12: 9:30 a.m. – 7 p.m.
Will you be setting a course for any of TNT's Comic-Con plans? Let us know in the comments.