Monday will officially mark one month until San Diego Comic-Con, but there's a lot still to be revealed about the convention. Could William Shatner be making an appearance at Nerd HQ? Will there be a return of Oculus Rift virtual reality experiences at this year's con? Who is bringing exclusive variant comics covers this year? We look at those questions and more in today's edition of Under the Tents.
Here's a look at the news you might have missed:
Melbourne Comics tweeted that they will be at SDCC this summer. They are creators, collaborators and celebrators of all things comics from Melbourne Australia.
@opfuk @apesncapes OOHH! Thanks for the info, will definitely have a look see (And team up 😀 We're heading to #sdcc to spread the word

— Melbourne Comics (@MelbComics) May 29, 2015
The Ninjabot has posted on Twitter another one of their fantastic prints available for sale at SDCC 2015. This is a mashup of Batman and the Joker in Lucha Libre masks.
One of our latest, and my favorite(Stef), prints! True mash-up between the two of us :)! Available @#SDCC #LuchaLibre http://t.co/q6JlBZdiCA

— Arnel Baluyot (@theninjabot) June 5, 2015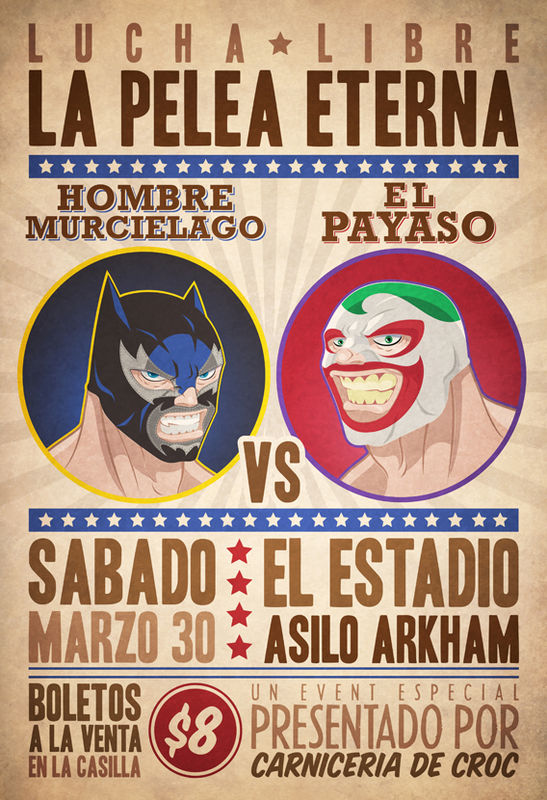 NECA has responded to a tweet that they should have "Bale Batman" to show at SDCC, and expect it to go on sale for the holidays.
Hope to show at sdcc. Holiday release https://t.co/NLR4MCrYjN

— NECA (@NECA_TOYS) June 5, 2015
Eric Powell posted on Instagram a preview of his display for his The Goon Comic-Con booth. We reported earlier on their massive Goon exclusive book for the convention.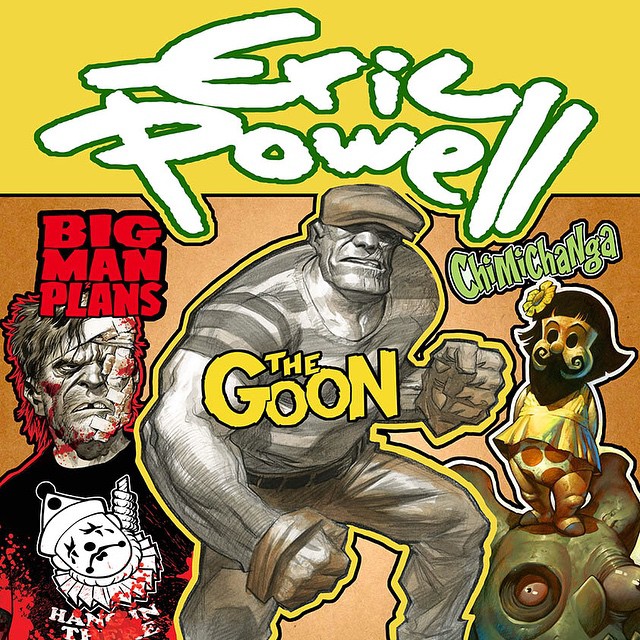 The official Star Wars website posted a very emotional story about Kevin Doyle, of the 501st Legion, who will be dressing as a Stormtrooper and walking the 630 miles to and from his home to San Diego Comic-Con in honor of his recently deceased wife, Eileen Shige. Shige was an artist and they were very much at home at Comic-Con. The walk is for charity as well as to raise awareness about pancreatic cancer.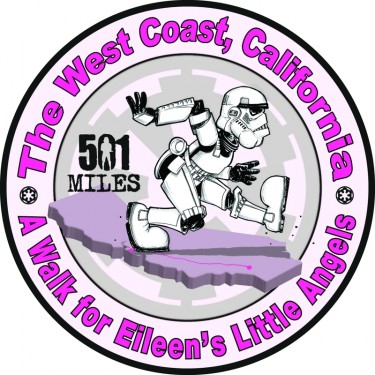 Could be we getting William Shatner at Nerd HQ this year? The actor recently asked the Twittersphere what's going on with the convention, and Zachary Levi — actor and Nerd HQ main man — responded that his people have reached out to Shatner's to come do a panel. Fingers crossed.
Mr. William Shatner, sir, my people have reached out to your people to please come do a panel with us. Pleeease! 🙂 https://t.co/obhsZt2YL0

— Zachary Levi (@ZacharyLevi) June 5, 2015
AAA Anime Inc, anime, hobby, and pop culture distributors, posted on their website they will be at Comic-Con.
Looks like the Year of Oculus Rift is extending into 2015 as well! Jess Marfisi, who works in animation and illustration, posted on Twitter that she got to play an Oculus Rift game that will be coming to Comic-Con and it was a "cool experience." Any guesses as to what property it could be for?
At work today I got to play test a cool game on an Oculus Rift that's gonna debt at SDCC and like dang what a cool experience

— Jess Marfisi (@jessdrawz) June 5, 2015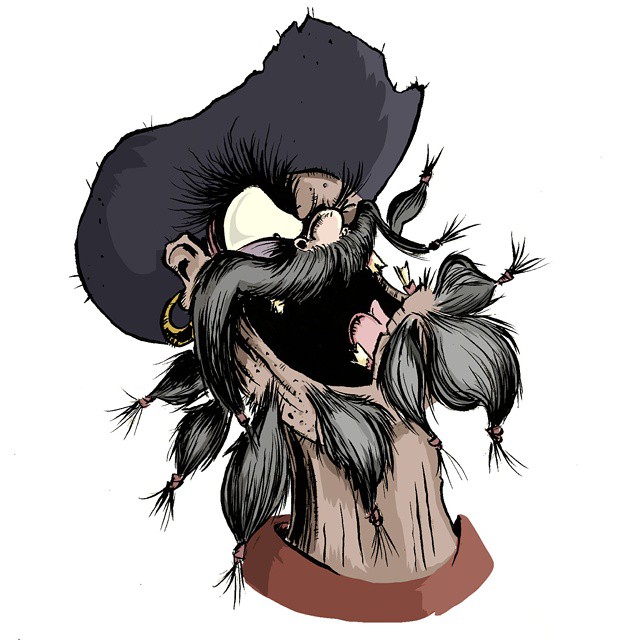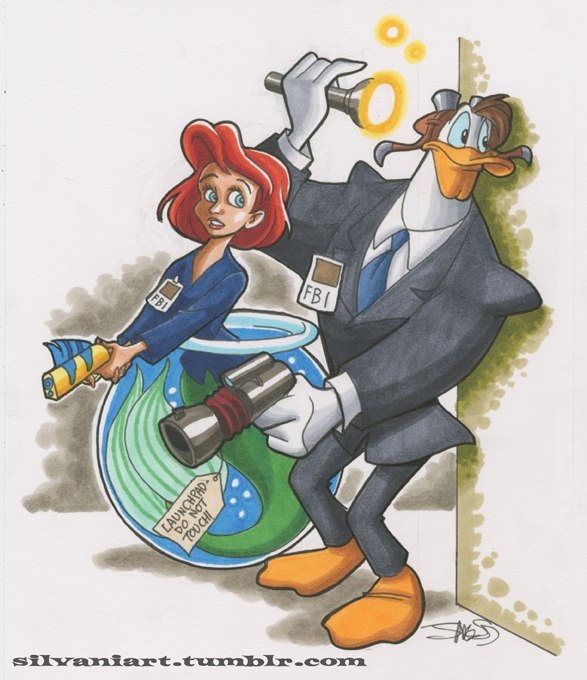 Artist Steve Gordon's commission list for Comic-Con is already filling up — so if you're interested, find more information on his Instagram page.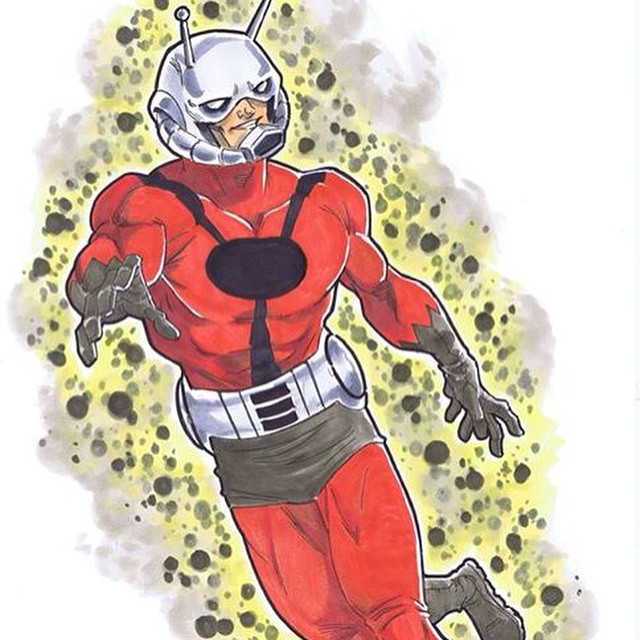 Artists Bobby Chiu and Flynn Ringrose recently gave some advice to artists working conventions on the Creative Bloq, and also revealed that they'll both be at the Schoolism Booth during Comic-Con.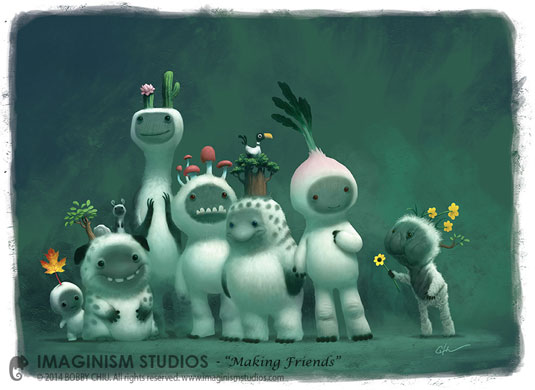 Shout Factory's Brian Ward revealed on Twitter that he'll be doing two panels during Comic-Con, though no word yet on the details of those panels.
Doing two #SDCC panels! I do #SDCC for work, so I rarely get to see much of the con. When I get to be on or moderate a panel, I'm thrilled.

— Brian Ward (@BWard028) June 5, 2015
Artist Cesare unveiled another of his Curio and Company tarot cards — an extra card, with the Curio name on the back, that he'll be signing during Comic-Con.
@CurioandCompany #tarot deck – Extra card with Curio name on the back – I'll be signing them at #SDCC#CesareAsaro pic.twitter.com/9WMUgdNdUL

— Cesare Asaro (@imonkeyaround) June 5, 2015
Adi Granov Illustration will be at SDCC this year in Booth #5557, along with Mark Brooks. For commission information, you can visit his Facebook page.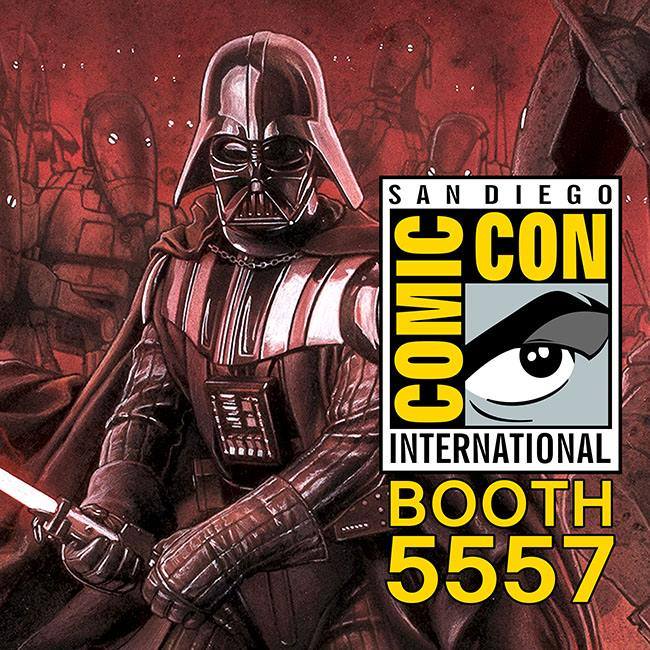 CHEW is going to be out in full force at Comic-Con this year, with another exclusive: CHEW #50, by Jon Layman and Rob Guillory. According to Bleeding Cool, the gold foil variant cover will be $10, and is limited to 750 copies.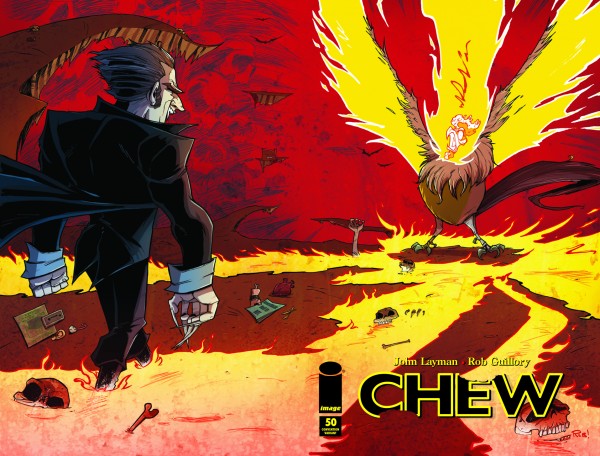 Artist Alexis Ziritt showed off a teaser on Instagram for an upcoming exclusive from Shop Called Quest at Booth #4531.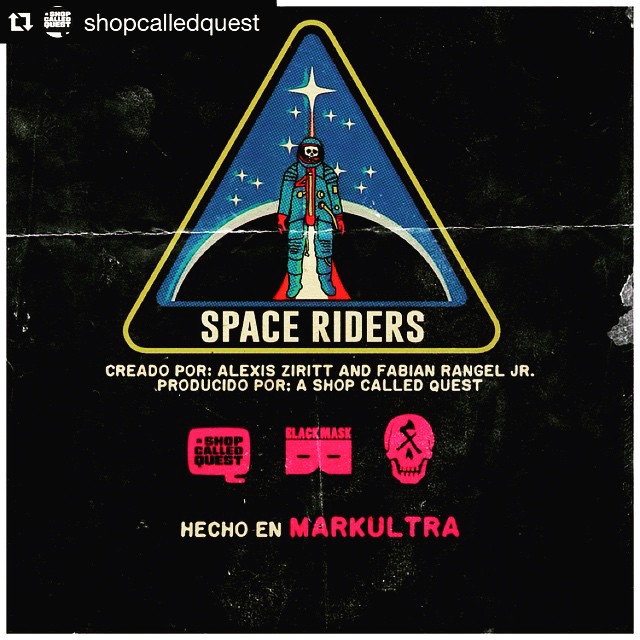 Can't get enough Tanya Tate? She'll also be on a panel with the First Comics News team during the convention.
https://twitter.com/TanyaTate/status/606923465350725632
Illustrator Leen Isabel mentioned on Twitter that she'll be promoting Nguyen Dong's Hiraku Volume 2 at the convention.
One of the awesome comics we're promoting at SDCC this year! Get yours! https://t.co/TIQNQ2kaJk

— Leen Isabel // Oil Painter (@leenisabel) June 5, 2015
Artist Sara K. Diesel has been chosen as this year's Kevin Workman Foundation sponsored artist, and she'll be heading to Comic-Con.
Freelance artist Sara Pitre-Durocher's Comic-Con exclusive IDW covers for The Combiner Hunters have been unveiled — and will be given out at the IDW booth to anyone who purchases Hasbro's recently announced Transformers Combiner Hunters exclusive set.
Tor Books, a sci-fi and fantasy publishing company, posted a photo on Instagram of their team boxing up books for SDCC. Looks like it's going to be a big year for them.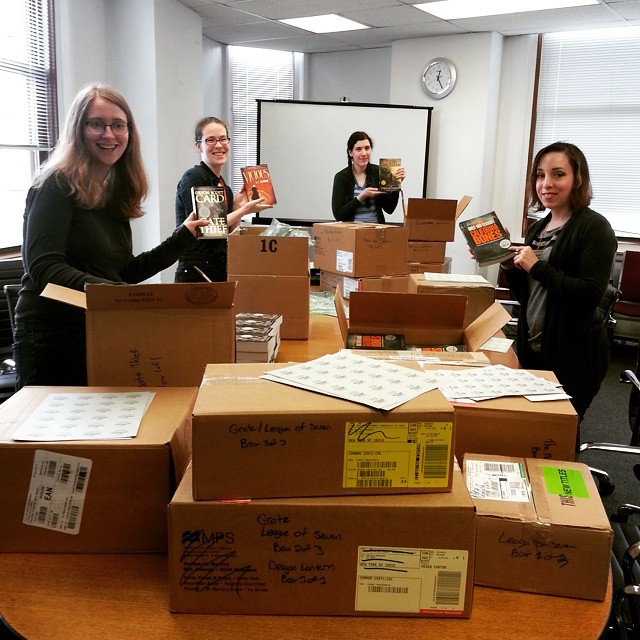 Are you dying to see Kotobukiya's 2015 Comic-Con offerings? You don't have much longer to wait, as the company promised on a recent blog entry that not only will they be back at their usual booth during SDCC, but they'll be revealing their limited edition and convention only exclusives next week.
And this week, we've got so much news on Patrick Ballesteros, we're just going to call this final section the Patrick Ballesteros News Hour.
After teasing a Supernatural 25 Cent Wonders piece, Ballesteros has come through, with a piece called "Lil Idgits".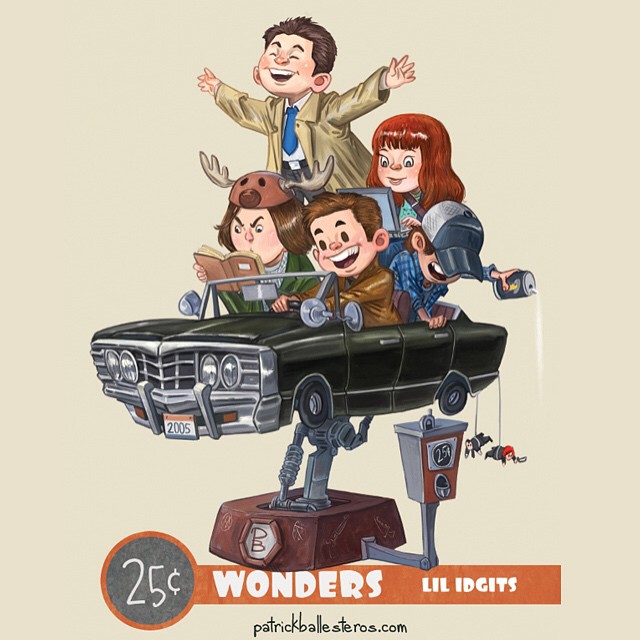 And another, titled "Need a Lift", features Superman and a bevvy of monstrous foes.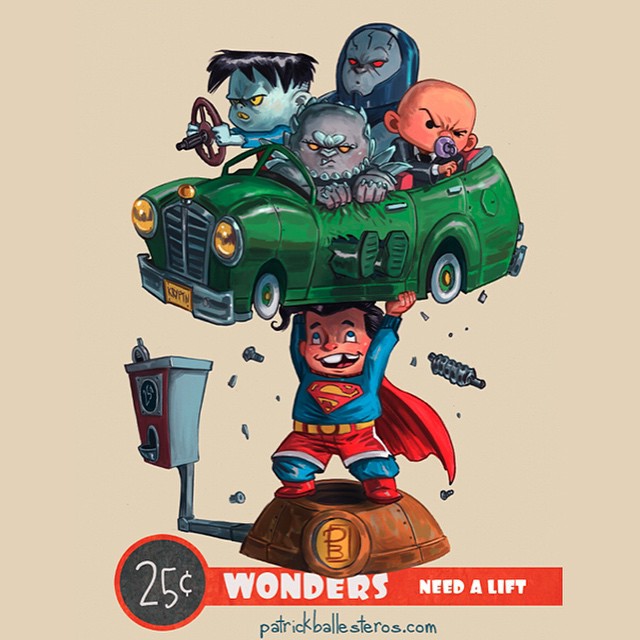 He also posted a sneak peek of an upcoming print, featuring some kind of mash-up with Disney's Stitch. If you've got a guess as to the theme, you can put your prediction on his Instagram page.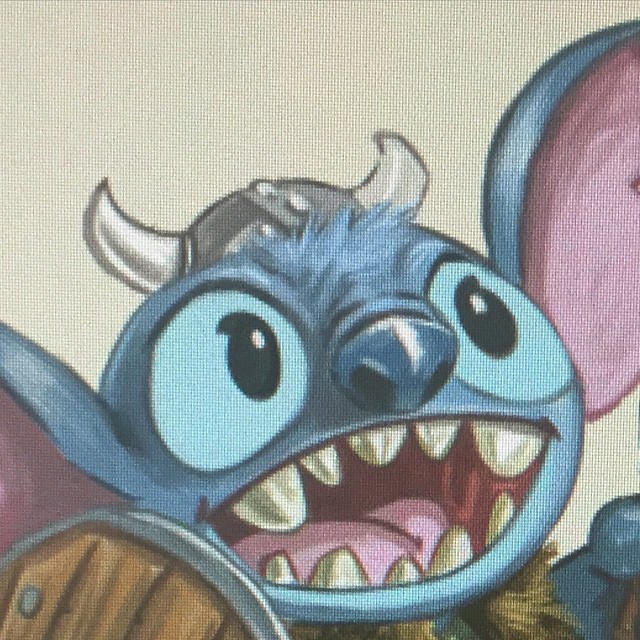 Ballesteros will also have a vinyl toy at this year's Comic-Con, based on one of his original designs. No word yet on specifics, but we're excited.
Anything we missed? Let us know in the comments, drop us a line or tweet us at @SD_Comic_Con.