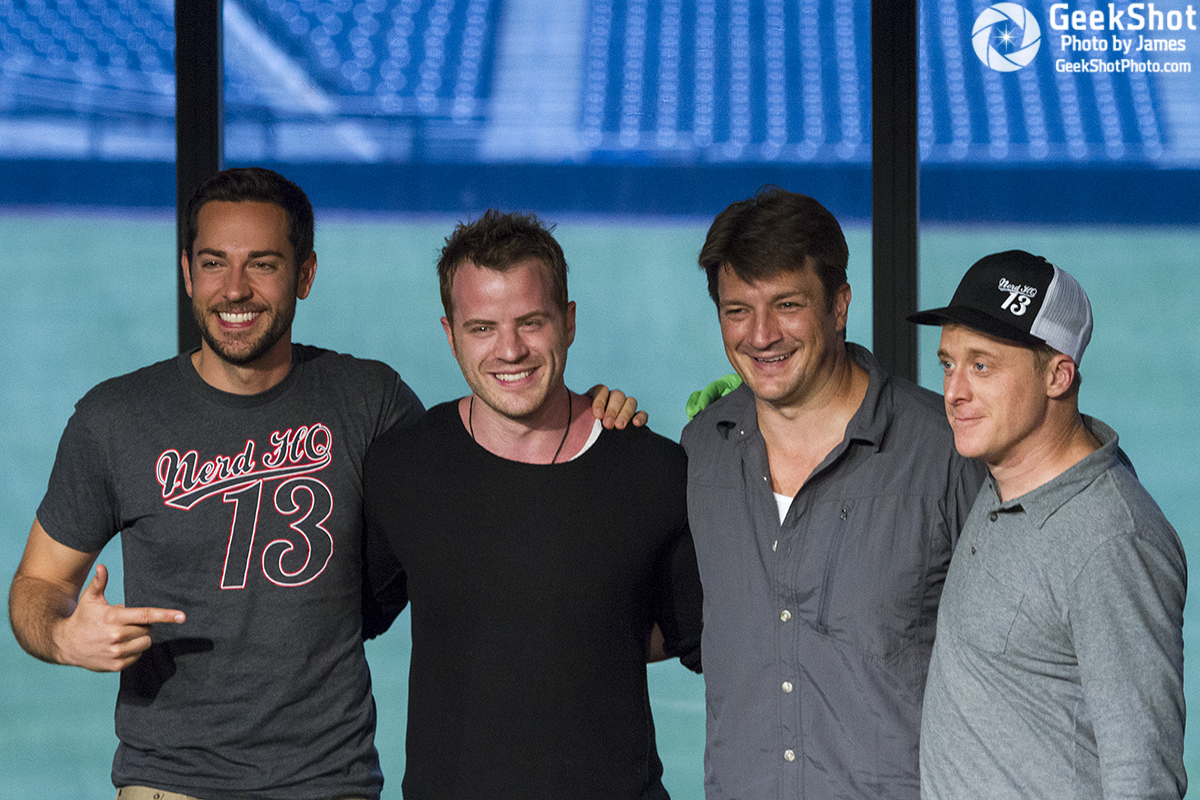 The Nerd Machine announced their first wave of panels for their 5th annual "Conversations for a Cause" at Nerd HQ, which will be changing venues this year to the New Children's Museum.
The schedule includes Nathan Fillion, cast members of Agent Carter, Agents of S.H.I.E.L.D., The Maze Runner, Falling Skies, Orphan Black, and much more.

As with years past, we can likely expect panels to be added as we get closer to the convention, and we will update this post accordingly. In fact, in years past, Conversation panels were added DURING the convention itself, so be sure to keep an eye out.
Tickets for this first wave of Conversations went on sale Thursday, July 2. The second wave will release Wednesday, July 8 through BrownPaperTickets.com, for $22 each, at 6AM PT. They will release four panels for sale every 15 minutes. There's a limit of two tickets per panel per order. As always, proceeds from these Conversations go to support Operation Smile.
From the Nerd Machine website, here's a look at this year's schedule:
Thursday, July 9
10AM- Zachary Levi
12PM – Battlebots (On Sale July 8) – Alison Haislip, Chris Cowan, Donald Hutson, Peter Abrahamson, Greg Munson, Fon Davis
1PM – Dead Rising: Jesse Metcalfe, Dennis Haysbert, Zach Lipovsky, and guests
2:15PM – William Shatner
3:30PM – Yvonne Strahovski
5PM: Hitman: Agent 47 – Zachary Quinto, Rupert Friend, Hannah Ware
6:30PM – Supermansion – Bryan Cranston, Seth Green, Keegan Michael Key, Jillian Bell
7:30PM – Julie Plec and Friends
Friday, July 10
10AM – Sherlock – Steven Moffat, Sue Vertue, Rupert Graves
11AM – The Visit – M. Night Shaymalan, Jason Blum
12PM – Virtual Reality, Project Morpheus, and the Future of Gaming (On sale July 8) – Geoff Keighley, Dr. Richard Marks (Director of PlayStation Magic Lab, Sony Computer Entertainment), Ben Throop (Frame Interactive), John Drake (Director of Portfolio Strategy, Sony Computer Entertainment), and more
2PM – Con Man – Alan Tudyk, Nathan Fillion, Nolan North, Michael Trucco, Alison Haislip, PJ Haarsma, Tricia Helfer
3PM – Elijah Wood
4PM – Falling Skies – Moon Bloodgood, Will Patton, Drew Roy, Colin Cunningham, Conor Jessup, Sarah Carter, Doug Jones, Olatunde Osunsanmi
5PM – Stephen Amell
6PM – Bad Ass Women (On sale July 8)
Saturday, July 11
10:45AM – Doctor Who – Jenna Coleman, Steven Moffat, Michelle Gomez
12PM – Nathan Fillion
1PM – Mr. Robot – Christian Slater
2PM – Orphan Black – Jordan Gavaris, Dylan Bruce, Kristian Bruun, Ari Millen
4:45PM – Colony – Josh Holloway, Sarah Wayne Callies, Ryan Condal, Carlton Cuse, Peter Jacobson
6PM – Mystery Panel (On sale July 8)
7PM – The Maze Runner: The Scorch Trials – Dylan O'Brien, Ki Hong Lee, Thomas Brodie-Sangster, Rosa Salazar, Giancarlo Esposito, Wes Ball (Director), James Dashner (Book Author)
Sunday, July 12
11AM – Marvel: Partners in Prime Time – Chloe Bennett, Clark Gregg, Hayley Atwell, James Darcy
12PM – Joss Whedon
1PM – Nathan Fillion
2:30PM – Supernatural
5:15pM – Heroes Reborn – Zachary Levi, Jack Coleman, Francesca Eastwood, Gatlin Green, Robbie Kay, Rya Kihlstedt, Judith Shekoni
See also: Zachary Levi & David Coleman Discuss Nerd HQ 2015 Move & Plans 
What are you most looking forward to at Nerd HQ this year? Let us know in the comments.