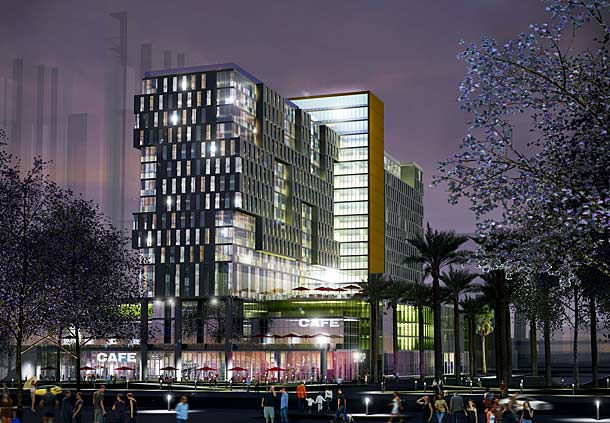 Expansion is coming to San Diego — just maybe not in the ways that San Diego Comic-Con attendees had anticipated.
Hotels will soon be popping up around downtown San Diego, like the Pendry hotel which we reported on earlier this year. The Pendry, which is being built on J St. between Fifth and Sixth Avenues, is tentatively slated to open in fall of 2016 and will feature 316 much-needed hotel rooms. That's too late for Comic-Con 2016 — but it's not the only hotel springing up in the area.
To the west, a 17-story, 400-room dual-branded Springhill Suites and Residence Inn by Marriott will be opening up in late February on the corner of West Broadway and Pacific Highway on Lane Field. The same group developing that hotel also just revealed to The San Diego Union-Tribune that they're planning another hotel next door, which will be operated by the global chain InterContinental.
That area puts it closer to Horton Plaza than, say, Petco Park, but it's still within walking distance of the San Diego convention center — and it's much needed space for convention-goers looking to stay downtown.
The lease for the InterContinental hotel site will go before San Diego port commissioners on Tuesday, and if approved, could break ground in early 2016 for a 2018 opening.
There's no word yet on if any of these new hotels will be part of Comic-Con International's hotel block, which receives a discounted rate (and look, paying $350 a night when the hotels would like to charge $2000 is sadly still a discount, even if our wallets disagree). There appears to be no availability for Wednesday-Saturday nights at either the SpringHill or Residence Inn, though whether that's because it's blocked off by CCI or through attendees who have already taken advantage, is unknown.