Well, that was eventful.
For better or worse, several thousand Comic-Con attendees have their badges for 2016 — and several thousand more don't yet.
Preregistration for San Diego Comic-Con 2016 — the badge sale for eligible returning general attendees — took place this morning. The process included use of the EPIC Registration Waiting Room, which has been in place since Comic-Con 2014, but it didn't go as smoothly as other years. Still, it was far from a failure.
So just how did the sale go?
The Waiting Room
The EPIC Registration waiting room opened promptly at 8AM PT, giving attendees one hour in which to enter before the room would randomly sort attendees to buy their badge. In the last two Preregistration sales, Comic-Con has given attendees two hours in which to enter (though the time in which you enter doesn't matter, so long as you're in by 9AM PT), but this one-hour timeframe was also used in Open Registration for 2015.
For whatever reason, the process, which has been pretty streamlined up until now, had way more issues and errors and glitches than usual. Attendees reported everything from error messages, to being kicked out of the room, to being told their devices weren't authorized, and more.
So far the waiting room page refused to accept my code. And now it won't let me into the waiting room. So… sounds like the usual. #SDCC

— NERDOPHILES (@nerdophiles) November 14, 2015
https://twitter.com/snievesftw/status/665561251381166080
I can see that this is going to go well. #SDCC #SDCCPreReg pic.twitter.com/rXkqdpOwLM

— I Don't Like Sand (@CalmDownAnakin) November 14, 2015
Well, we were in, but just got this. #SDCC pic.twitter.com/uiPzTTD6p0

— SDCC Unofficial Blog (@SD_Comic_Con) November 14, 2015
@SD_Comic_Con so this keeps happening… I'll be in the waiting room then suddenly it kicks me out pic.twitter.com/k4TRarmDDJ

— kiwi (@sk8r_moon) November 14, 2015
Several hundred attendees also reported being sent to this page, where clicking "Continue" worked sometimes, and sometimes just held on the screen.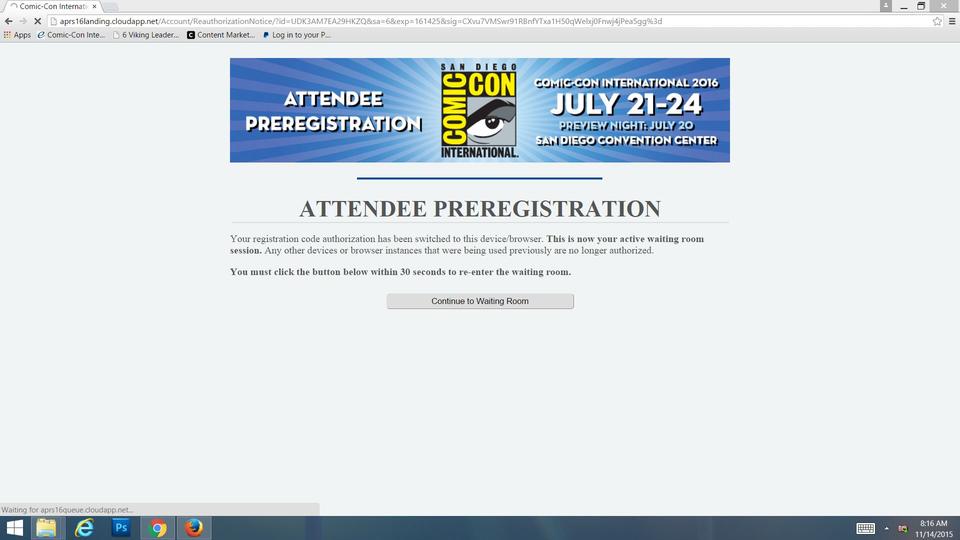 https://twitter.com/AndysBurrito/status/665563094958014464
After about half an hour, Comic-Con International let attendees know that they were working to resolve the issue.
We are communicating with EPIC Registration in trying to resolve this issue. We will have an update in 10-15 minutes. #SDCCPreReg

— San Diego Comic-Con (@Comic_Con) November 14, 2015
And finally, at 8:54AM — with a whole six minutes to spare before the waiting room would close — CCI announced that EPIC had resolved the issue, and the sale would continue on as planned at 9AM.
EPIC Registration has resolved the issue. We are good to go on schedule. #SDCCPreReg

— San Diego Comic-Con (@Comic_Con) November 14, 2015
This was probably the worst scenario we've seen with the waiting room since its implementation, and although it seems that for most attendees the issue sorted itself out in time (even if just barely), it may be a case for going back to two hours for the waiting room time.
The Sale
Shortly after 9AM, those in the waiting room were randomly assigned a placement in line. Just like for 2015 Preregistration, this process took about 10 minutes, and once the sorting was done, attendees were already getting through to the purchase page. Unlike the actual waiting room process, this went very smoothly, if a little slower than previous years.
My sis just got three badges for her and her boys.@Crazy4ComicCon @SD_Comic_Con #SDCC

— Tiffany (@star_warner) November 14, 2015
https://twitter.com/HarmonPanda/status/665577957612609536
Wow. That was the fastest I was ever randomly selected. 4 Days with Preview Night is a go!! #SDCC #SDCCPreReg

— Keisha Dupree (@xstarsgoblue25x) November 14, 2015
#SDCC I can't believe I got in so early. I finally have a PREVIEW NIGHT BADGE. Facepalm.

— artemis90 (@artemis90) November 14, 2015
We only saw a handful of issues once the sale actually started:
@SD_Comic_Con #SDCC I was selected to buy tickets around 12:15 and when I logged in the page never loaded to actually buy tickets frustratin

— Joe Ambro (@joe_ambro) November 14, 2015
https://twitter.com/Destrocion1/status/665596592234205184
With things moving a little slower this year — likely to help curb whatever issue plagued EPIC earlier in the day, it took a little longer for badges to sell out. While Preview Night was gone in 23 minutes last year, this year it took 39. Similarly, while it took Friday and Saturday 39 minutes for 2015, this year it took 55 and 57, respectively.
@andrea_kate_ preview night sold out

— Amy Greig (@morseamy) November 14, 2015
@SD_Comic_Con #Badges! #sdcc Saturday is sold out

— Monica Duckett (@Aerocatz) November 14, 2015
@SD_Comic_Con #sdcc #badges Friday is sold out

— Monica Duckett (@Aerocatz) November 14, 2015
Less than 77 minutes in, all badges for Preregistration were completely sold out — a little more than the 50 minutes it took last year.
Sold out. And I never got in. I hate you right now #SDCC. #SDCCPreReg

— 😷akaKrystelle😷 (@krystellemt) November 14, 2015
Comic-Con badges have sold out for Attendee Preregistration! Open Online Reg will be in early 2016. #SDCCPrereg https://t.co/bu38IRPnfu

— San Diego Comic-Con (@Comic_Con) November 14, 2015
Overview & Next Steps
So what happened with the waiting room today? We may never know, but hopefully it was something that both Comic-Con and EPIC can learn from, and improve upon for Open Registration.
Speaking of, Open Registration — the badge sale available to anyone with a Member ID — will take place in early 2016. During this sale, all badge types will be available (so just because a badge sold out today, doesn't mean it's gone forever). So long as you didn't purchase all four days plus Preview Night, you'll be able to participate to pick up any days you weren't able to get today.
Badges will be mailed to the U.S. addresses you entered into the system today, though they likely won't be mailed until late June/early July.
Were you able to get what you wanted today? Let us know in the comments.