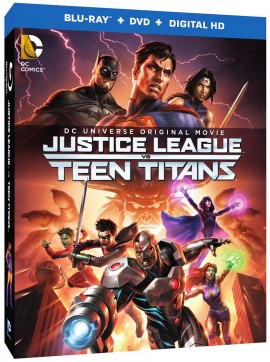 There's good news for DC Animation fans heading to WonderCon this spring: Comic-Con International has announced that the Warner Bros Home Entertainment animated film Justice League vs. Teen Titans will be holding its world premiere at WonderCon in Los Angeles this year.
The film, which will premiere at some point during the March 25-27 convention, features the popular Teen Titans crossing over with the Justice League when Damian is sent to learn teamwork by training alongside the Teen Titans. But things get even more complicated for the group as Raven's satanic, world-conquering father Trigon escapes from his inter-dimensional prison.
Justice League vs. Teen Titans features a large voice cast, including Jon Bernthal (Trigon), Taissa Farmiga (Raven), Jason O'Mara (Batman), Stuart Allan (Robin), Jerry O'Connell (Superman), Christopher Gorham (Flash), Rosario Dawson (Wonder Woman), Sean Maher (Nightwing), and many more.
Although there's no word yet on which cast members will be making the trek to the Los Angeles Convention Center, last year's Warner Bros. Home Entertainment panel for Batman vs. Robin featured O'Mara, Allan, and Maher – as well as producer James Tucker, director Jay Olivia, Eisner Award-winning writer J.M. DeMatteis, and more. So expect at least some of the cast to turn up at WonderCon, in what is sure to be a great panel.
After the film makes its world debut at WonderCon, it will be released on digital download on March 29, 2016, and on DVD and Blu-ray on April 12, 2016.