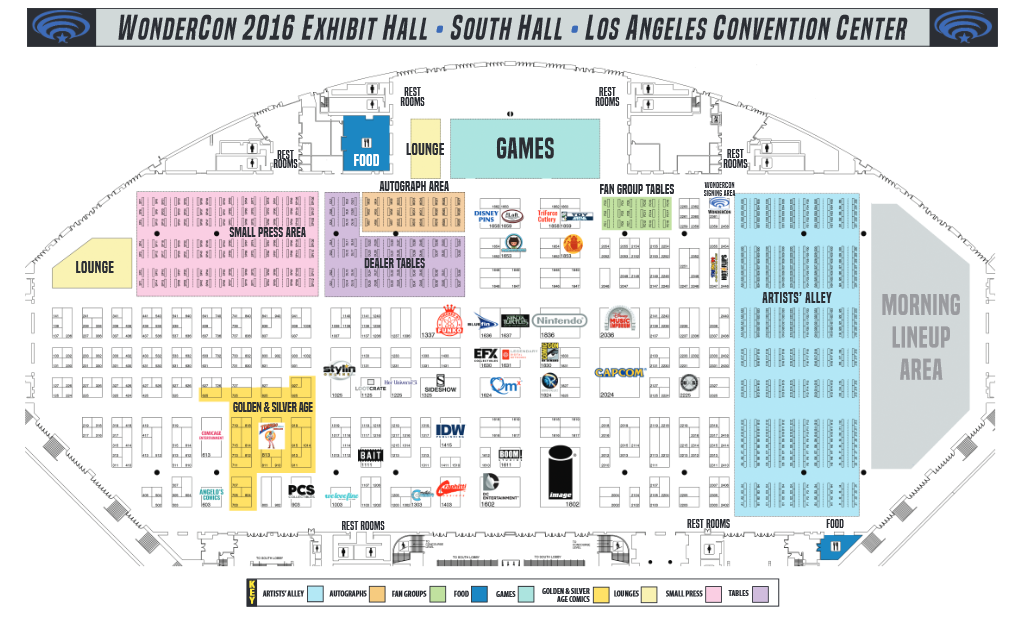 With WonderCon 2016 just over four weeks away, CCI has released the official list of Exhibitors that will be attending this year's convention, along with information on fan tables, autograph, artist alley and small press areas — and the map of where you can find everyone. With the convention now being held at the Los Angeles Convention Center, it's a different layout than years past – with the exhibit hall being located in the South Hall.
There are just over 400 exhibitors listed for WonderCon 2016, covering comics, merchandise, video games, and film.
On the comics front, although Marvel isn't returning again this year (and sadly Dark Horse is off the list), DC Entertainment is back in, as are BOOM! Studios, and IDW Publishing.
For movie fans, there's good news – both Lionsgate and Paramount Pictures have booths, which is a very good sign that they'll be bringing some of their upcoming movies to promote at WonderCon LA. For Lionsgate, although it feels early, it could be a chance to finally unveil some information about the upcoming 2017 Power Rangers feature – or they could focus on Now You See Me 2 which has a very con-friendly cast in Mark Ruffalo, Jesse Eisenberg, and Daniel Radcliffe; the new Jason Statham action flick Mechanic: Resurrection; or Criminal, which stars Kevin Costner and Gary Oldman in a story about a dead CIA operative's memories, secrets, and skills being implanted into a former death row inmate.
On the Paramount side of that equation, things get a little more exciting. On their slate, they've got Teenage Mutant Ninja Turtles: Out of the Shadows (which seems the most obvious choice), Star Trek Beyond (Paramount debuted a trailer for the 2009 Star Trek at WonderCon, so it's possible!), and even Ben-Hur.
Toy fans can stop by Fugitive Toys, Super7, Toy Tokyo, Kotobukiya, and even Powered by Funko – which is presumably their subscription boxes, which they've said will be available at WonderCon.
There's also Nintendo and Capcom for gamers, the popular subscription box service Loot Crate, and some of our favorites – Hero Complex Gallery, Her Universe, We Love Fine, Con Man Productions, and The Aquabats. Plus, there's a ton of great artists in Artist Alley, and lots to see in the Fan Tables section and Small Press.
Check out CCI's site for links to all the areas above, as well as a map of the Exhibit Floor for you to start charting your course for March 25-27.
What are you looking forward to most? Let us know in the comments.