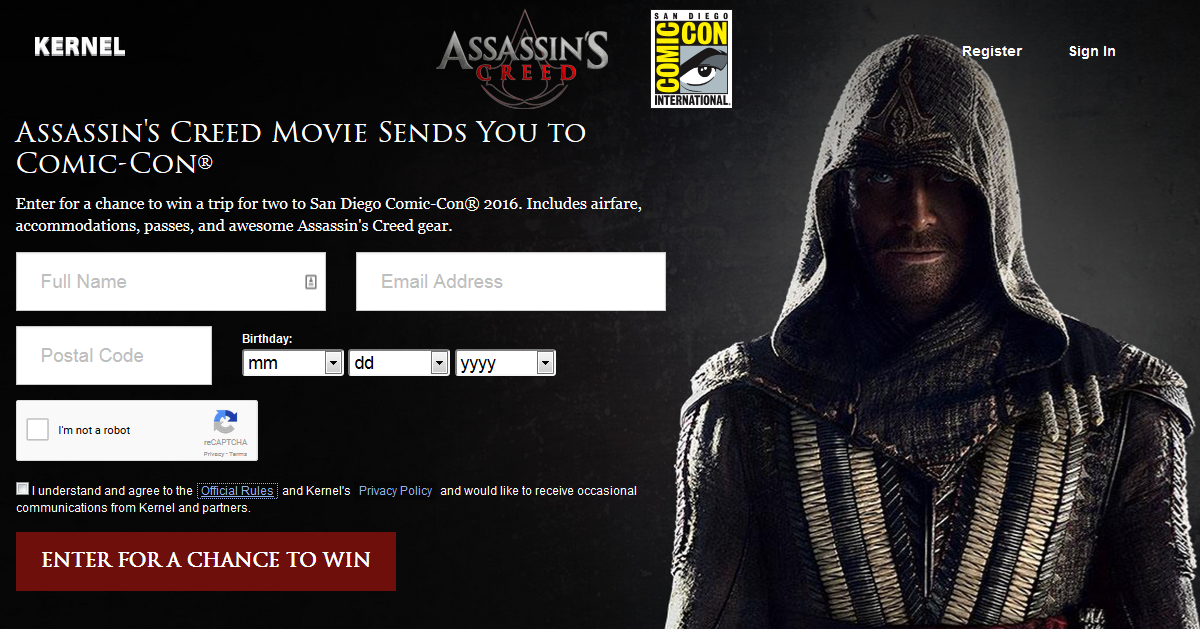 If you were one of the unlucky hopefuls who lost out in Open Registration for San Diego Comic-Con 2016, you may feel like you've lost the battle for this year's convention – but the fight may not be totally over.
Fan engagement company Kernel, Ubisoft, and the upcoming Assassin's Creed film (based on the popular video game franchise) want to send one lucky attendee (and a friend) to San Diego Comic-Con this summer. Onegrand prize winner and their plus-one will receive two four-day with Preview Night badges to San Diego Comic-Con 2016, roundtrip airfare to and from the convention, and at least two nights of lodging in a hotel in San Diego.
The contest is open to both US and Canada residents, and you must be 18 years or older to enter. Enter now on their website between now and May 13, 2016, for a chance to win.
You can also purchase special fan engagement packages for the film from Kernel for up to additional 10 entries in the Comic-Con contest- including $15 for a movie ticket, collector's watch, script, and Aguilar and Maria temporary tattoos; $25 for a t-shirt, movie ticket, and script; $1,200 for a Spanish Crossbow scale replica of the weapon featured in the movie, or much more.
For the last two years, Ubisoft has hosted a very popular Assassin's Creed obstacle course – and with the movie coming out on December 21, 2016, this is a very good sign that we could be looking at a Comic-Con appearance. With a cast that boasts Michael Fassbender, Marion Cotillard, Michael K. Williams, Jeremy Irons, and Brendan Gleeson – that's a lot to potentially be excited about.
Will you be fighting for a place at Comic-Con? Let us know in the comments.
h/t @eserei27