It's just over a week until WonderCon 2016, and we've got lots of news about exclusives from Valiant Comics, autographs from the casts of Shadowhunters and Stitchers, word on how to get commissions from awesome artists like The Ninjabot, some bad news about Pizza Planet Truck, and even some adorable Hamilton pieces you'll be able to grab at the con.
If you haven't already bought your badge, we only have one question for you: Why not?
Here's a look at the news you might have missed:
Artist Steven Gordon revealed his last new print for WonderCon, featuring X-23.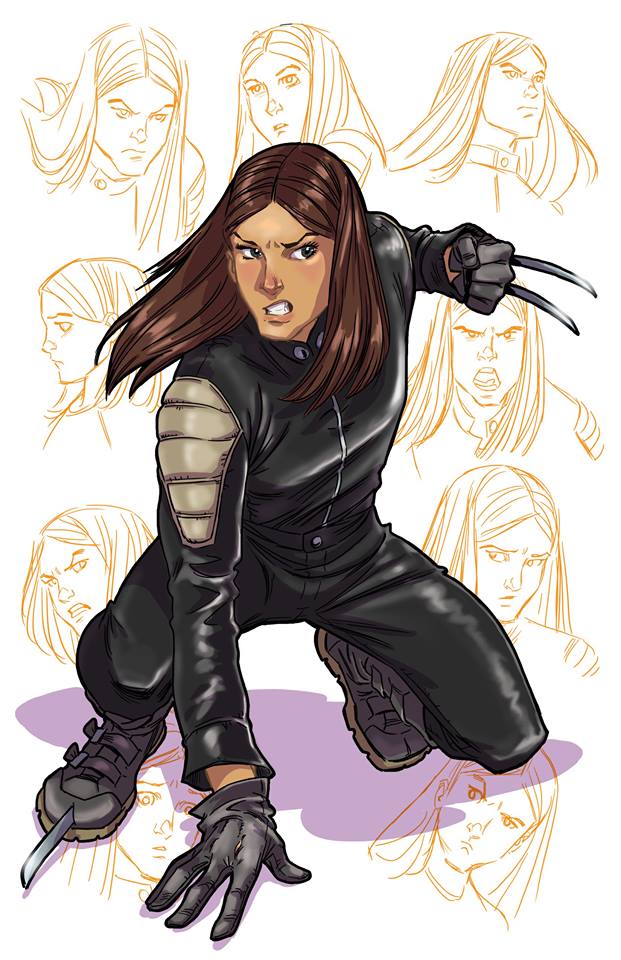 Nilah Magruder, creator of How to Find a Fox, showed off some HTFAF and Hamilton pieces she'll have at WonderCon this year, at Booth #G-26. Did we mention that there are Hamilton pieces?
https://twitter.com/nilaffle/status/709240188258557952
Disney Visual Development Artist Gabby Zapata gave fans a sneak peek of one of her latest pieces, a collaboration between her and Jaime Ugarte. The full piece will be available at WonderCon.
✨🌱Sneak Peek of a collaboration piece between @haimeh_ugarte & I! Full piece later and available for #WonderCon !🌱✨ pic.twitter.com/TESppxoOl5

— Gabby Zapata (@gabbyzapata) March 14, 2016
Zapata also revealed that she'll have some exclusive Easter egg prizes, to get into the spirit of the weekend.
💕#WonderCon 2 weeks away as well as Easter! @haimeh_ugarte & I will have exclusive fun gachapon/Easter egg prizes!💕 pic.twitter.com/BzMhYNmUoz

— Gabby Zapata (@gabbyzapata) March 13, 2016
Alina Chau unveiled on tumblr some Constellation Tales postcards that she'll have available at WonderCon.
Valiant Comics is bringing several convention-only exclusives, signings, and more to WonderCon. You can head to Booth #2004 to pick up the WonderCon exclusive A&A: The Adventures of Archer & Armstrong #1 (with art by Megan Hutchinson). They'll also have brand-new Valiant merchandise, including t-shirts featuring X-O Manowar, Bloodshot, Harbinger, Archer & Armstrong, tote bags, infant snapsuits, and more. From their site, here's a look at the merch and exclusives you can pick up:
Cartoonist and illustrator Colin Lawler still has pre-commissions open for WonderCon. If you're interested, you can find him on Twitter.
A few pre-commissions still open for #c2e2 and #wondercon. Let me know if you're interested. This was made for @lit… pic.twitter.com/42qfarcy5I

— Colin Lawler (@drawingupastorm) March 13, 2016
When the road looks rough ahead, and you're miles and miles from your nice warm bed… Unfortunately, it appears that the Pizza Planet Truck will no longer be heading to WonderCon.
Delivery Schedule Update: As of now our planned stop for @WonderCon has been cancelled.
Stay tuned for more info.https://t.co/HDdAlH5YLV

— Pizza Planet Truck (@pizzaplanetruck) March 13, 2016
Dan Goodsell, the creator of Mr. Toast, revealed some drawings that he's been working on for WonderCon.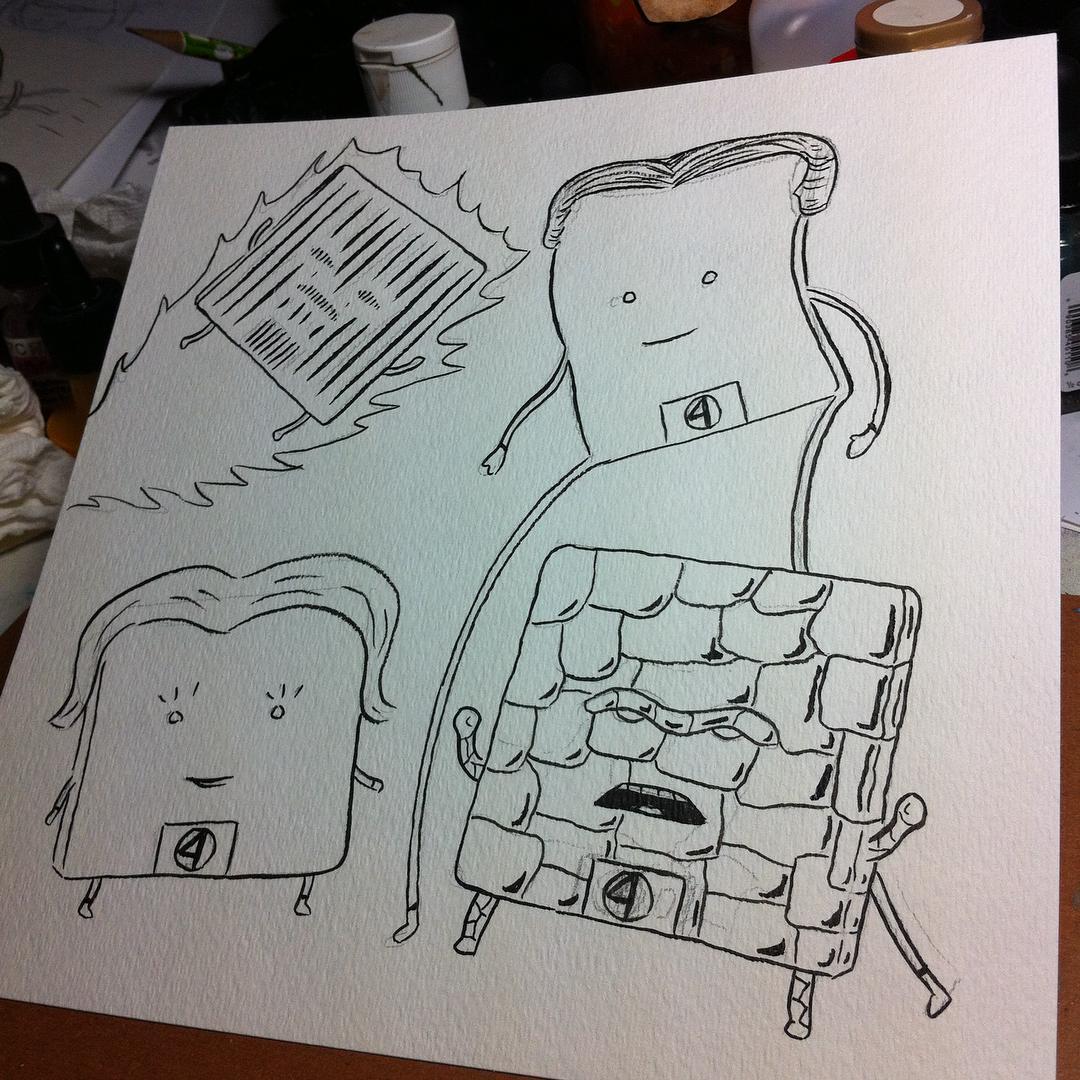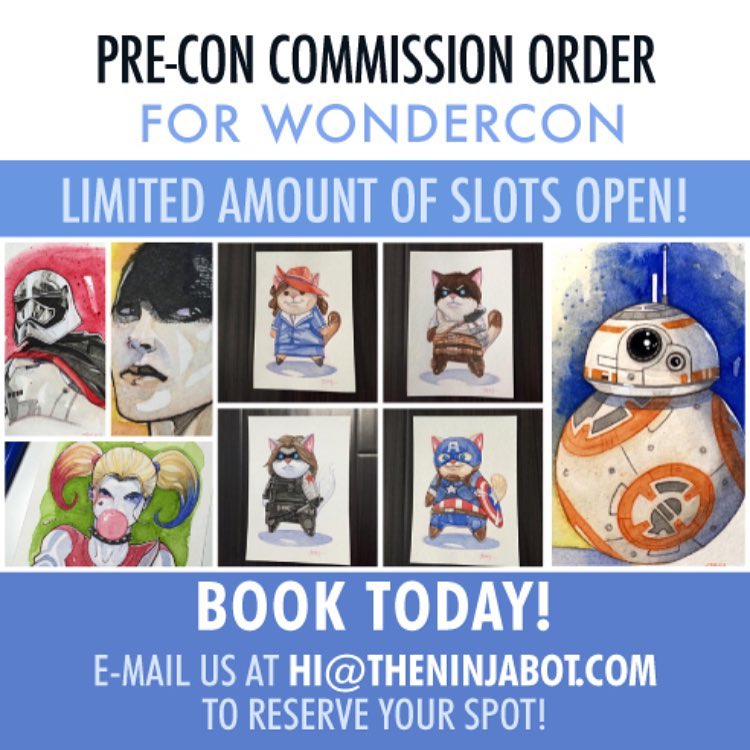 Feels great to be drawing again! Some Marvel ladies! You'll find them at WonderCon SP-12 March 25-27th! ❤️ pic.twitter.com/DjzuLOCE66

— Jessie Juwono (3am Edition) (@jessiejuwono) March 14, 2016
Want to meet the cast of Freeform's Stitchers and Shadowhunters? They'll be holding autograph sessions at WonderCon, with Shadowhunters cast members Katherine McNamara, Dominic Sherwood, Harry Shum Jr., Alberto Rosende, Emeraude Toubia, Matthew Daddario, and Isaiah Mustafa signing from 12:30PM-1:30PM on Friday, March 25, in the Exhibit Hall Autograph Area. Then at 2:30-3PM on Friday, you can get autographs from Stitchers' cast members Emma Ishta, Kyle Harris, Ritesh Rajan, Salli Richardson-Whitfield, Allison Scagliotti, and Damon Dayoub in the same area. Additionally, it was revealed that fans who attend the panels will receive a reusable tote bag and limited edition set of seven Manga style Stitchers illustrations.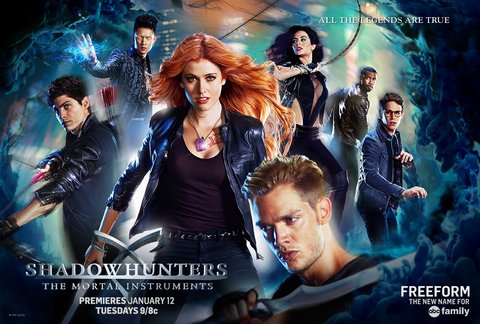 Anything we missed? Let us know in the comments, drop us a line or tweet us at @SD_Comic_Con.