[UPDATE] OnPeak has clarified how they will process hotel submissions: Going by the timestamp of when users initially were granted access to the form, and not when it was submitted. This is different from what onPeak phone representatives were telling callers this morning.
To clarify: requests will be processed based on the timestamp of when you were given access to the form, not the time the form was submitted

— onPeak (@onPeak) April 5, 2016
[PREVIOUS]
Today was a Hotelpocalypse like no other – different mostly in that it was the first foray with the new Queue-It randomized waiting room.
Compared to last year, this year was a breeze, with its almost total lack of technical issues, and not a bad form in sight. We won't really know how it worked out for most until sometime later this week, when hotel confirmations go out (Friday is the deadline, and usually when that happens) – but from a technical standpoint, this year was a winner.
However, there are a few things that have many scratching their heads. Let's look at the process today.
Attendees entered the waiting room anytime between 6AM-9AM PT. At 9AM PT, we were all scrambled into a random order, then slowly let in to access the form (which looked nearly identical to the form from previous years, give or take a downtown waitlist option).
From there, you filled out the form, hit submit, and then were greeted with this screen: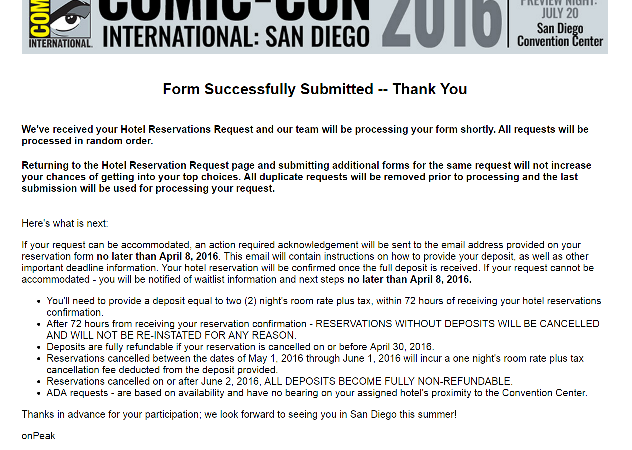 And this is where many attendees started panicking, because the words "All requests will be processed in random order" didn't go along with what Comic-Con International had said ("Users will be granted access to the online form from the waiting room in random order. Requests will then be processed based upon this order."), or what onPeak had told us (that timestamps are still in play).
Good news – onPeak clarified on Twitter that attendees had nothing to worry about with double randomization:
#SDCC requests were randomized based on when you were granted access to the form. That time determines when your request is processed

— onPeak (@onPeak) April 5, 2016
There will not be a second round randomization when processing requests

— onPeak (@onPeak) April 5, 2016
Every person we spoke to at onPeak this morning told us that they would be sorting by timestamp submission (meaning when you hit submit), rather than when you got access to that form. However, after this initial confusion, onPeak's clarifications via Twitter this afternoon have mostly cleared up how they will process submissions: By the timestamp of when users were given access to the hotel form, and not when it was submitted.
To complicate things a bit more, onPeak also tweeted this:
Any #SDCC hotel requests made on the phone today will be submitted randomly along with all online requests

— onPeak (@onPeak) April 5, 2016
How exactly will that work? We don't know. And why is it that onPeak and Comic-Con International are really only offering a small insight into the sale now, after it's over? If CCI can write about browser restrictions and cheerio bowl analogies for badges, shouldn't we be asking ourselves why hotels are any different?
As of press time, Comic-Con International had not responded to our questions.
If we learn more, we'll let you know.