Panel confirmations officially started going out over the last two days – which means that the bulk of today's edition of Under the Tents is taken up by panel confirmations (and we're definitely not complaining about that). As always, panel times, dates, and room numbers are not officially confirmed until CCI releases the full schedule two weeks before the convention.
So before you enjoy your long weekend, catch up with all the latest San Diego Comic-Con news.
Here's a look at the news you might have missed:
Although it's since been removed from his calendar, former Nickelodeon star Kel Mitchell listed a very curious entry on his upcoming event calendar (which we have a screenshot of below). It lists San Diego Comic-Con, and a The Splat: All That Reunion. For those who don't know what that is, maybe this will sound more familiar: Remember all of those awesome 90's shows you watched on Nickelodeon (Rugrats, Hey Arnold!, CatDog, All That, Are You Afraid of the Dark?, Doug, Kenan & Kel, Legends of the Hidden Temple, and about 100 others)?  Nickelodeon re-airs those shows late-nights in a programming block called The Splat: All That – meaning that a reunion would essentially be a giant reunion of all your favorite 90's childhood shows. Awesome, right? Though we've only taken a screenshot of July 21, the calendar listed several dates – which we assume would be due to not only a panel, but also autograph signings and more. When we reached out to Nickelodeon, we were told that they "can't confirm any plans at this time" – which is very much not a "no".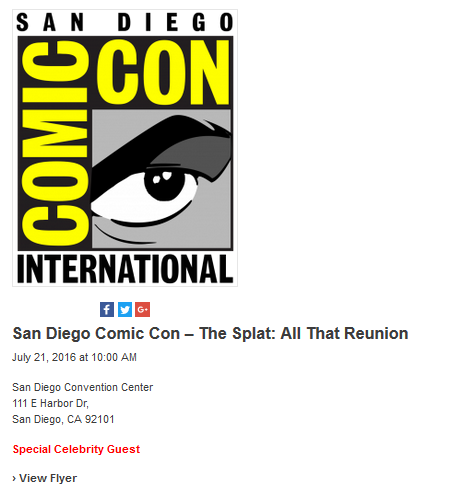 Two of our favorite cosplayers (and longtime readers), Shawn Richter and his son "Kid Coulson", will be appearing on a Cosplaying With Your Kids panel at this year's convention.
I am SUPER STOKED to announce that @KidCoulson and I are going to be on a "Cosplaying with your Kids" panel at #SDCC pic.twitter.com/EYRr4Yt1Ew

— Shawn Richter @ Our Marvel Wedding (@batcap50) May 26, 2016
And speaking of that panel – Cosplay Michael was also invited to appear on the panel, and currently has a GoFundMe campaign to attend San Diego Comic-Con. You can find out more information on Facebook.
The long-running Avatar Fan Panel also returns this year, as announced on Facebook in the AvatarLegacy.com group. With the movies getting closer, it should be an interesting panel this year.

Another long-running staple of the convention schedule is the A Song of Ice And Fire podcast/fan panel, which returns this year with panelists Amin Jarvadi, Kyle Maddock, Ashley Clegane, and Tara Lynne.
Looking forward to hosting the ASOIAF / Game of Thrones fan panel at San Diego Comic Con 2016! @kylemaddock @aGeekSaga @AshleyClegane

— Amin Javadi (@JavadiAmin) May 26, 2016
Author and game designer Neal Hallford revealed on Twitter he'll be on a Computer Gaming Industry panel this year.
Got confirmation that our Writing for the Computer #Gaming Industry panel will be back for @Comic_Con. Looking forward go seeing all of you!

— Neal Hallford (@nealiios) May 26, 2016
Then 3-D Space, a center for stereoscopic photography, art,cinema, and education, revealed that they'll be holding a panel on Thursday, July 21 about 3-D comic books.
Our 3-D comic book panel proposal is accepted for San Diego Comic-con! Details soon. See you in San Diego on Thursday, July 21st! #SDCC2016

— 3-D SPACE (@LA3DSpace) May 26, 2016
Break out the crayons, as Jamie Loftus revealed via Twitter that she'll be appearing on a panel about Adult Coloring Books.
https://twitter.com/hamburgerphone/status/735648880792997888
David Petersen, the creator of the popular Mouse Guard comic, returns with his annual Mouse Guard panel again this year. Exact date and time will be announced later (when CCI approves it, or we all stop caring what CCI wants).
Looks like there will be a Mouse Guard panel at SDCC this year! (Day/time TBA)

— David Petersen (@mouseguard) May 26, 2016
Although Outlander may not be at this year's San Diego Comic-Con, fans can still get a little taste of the show at a TV Costumes panel, scheduled for July 23 from 6PM-7PM in Room 23ABC. Someone on the Outlander costume team will be a panelist, as they revealed the information on Twitter.
I will be on a television Costume panel at Comic Con on Saturday, July 23 at 6:00 pm – 7:00 pm in room 23ABC pic.twitter.com/u3wkSVvRUz

— Terry Dresbach (Outlander Costume) (@OutlanderCostum) May 27, 2016
DisneyXD series Penn Zero will be headed back to San Diego Comic-Con this year for a panel. Co-creator Sam Levine confirmed the news on Twitter, and promised "rare season two swag" as well as sneak peeks.
https://twitter.com/sam_levine/status/736079872322199554
And speaking of DisneyXD series, it won't be the only one in attendance – as creator of star vs The Forces of Evil Daron Nefcy also revealed that they'll be getting their own panel at SDCC this year as well.
Hey everyone! Guess what? Star vs the Forces of Evil gets its own panel at comic con this year!!!

— Daron Nefcy (@DaronNefcy) May 27, 2016
Want to work at San Diego Comic-Con? A staffing company is currently hiring contract positions to work at a booth during SDCC – and you can find more information on WorkPop.
Brendan Creecy revealed via Facebook that the Webcomes Advocates panel will return to SDCC 2016.
Toymakers Symbiote Studios showed off what looks to be an oversized Catnip Bravo (their mascot) head, and hinted that it was "the beginning of something awesome" at Comic-Con this year. What could it be?
The beginning of something awesome at #SDCC2016 pic.twitter.com/chbjMCDnqq

— Catnip Bravo® (@Catnipbravo) May 21, 2016
Anything we missed? Let us know in the comments, drop us a line or tweet us at @SD_Comic_Con.