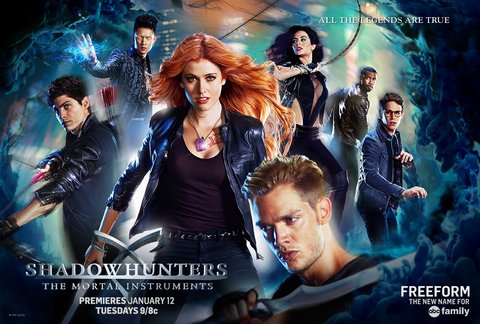 While we're at the part of the year where we've started to hear about what will be at San Diego Comic-Con (like yesterday's mega-news about a Suicide Squad Hall H panel and offsite), it's also the time of year where we hear about who and what won't be making it to this year's convention.
While we haven't been able to confirm if Freeform (ABC Family) will be attending in any capacity, we have confirmed with the network that both Stitchers and Shadowhunters won't be in attendance.
Jeffrey A. Schechter, Executive Producer of Stitchers, confirmed the original news about that series via Twitter, though he did offer that they "may" do New York Comic Con in the fall.
Sorry! No #Stitchers panel at @ComicCon San Diego. Maybe NY in the fall, but that's still a loooooong way off. https://t.co/kS7oe992bx

— Jeffrey A. Schechter (@JeffASchechter) June 1, 2016
When we reached out to Freeform, who confirmed the news about Stitchers, we also learned that Shadowhunters — based on The Mortal Instruments book series by Cassandra Clare — won't be heading to the convention either due to scheduling.
"We will not be bringing Shadowhunters to SD Comic Con this year as they will be in production up in Toronto at that time," a representative of Freeform told us.
None of this should really come as a shock to San Diego Comic-Con attendees, as the network hasn't attended San Diego Comic-Con in years — ABC Family's Nine Lives of Chloe in 2011 is the last panel that we can recall.
It's possible, though, that we could still see Freeform at the con in some capacity. They have Dead of Summer coming soon from the creators of Once Upon a Time (who would likely be in attendance anyway, which makes holding a panel that much easier), about seven camp counselors who find an ancient, evil mythology has awakened at Camp Stillwater. The series premieres in late June, so there would be footage to show at the con (always a plus!).
Are you disappointed Shadowhunters and Stitchers won't be at San Diego Comic-Con this year? Let us know in the comments.