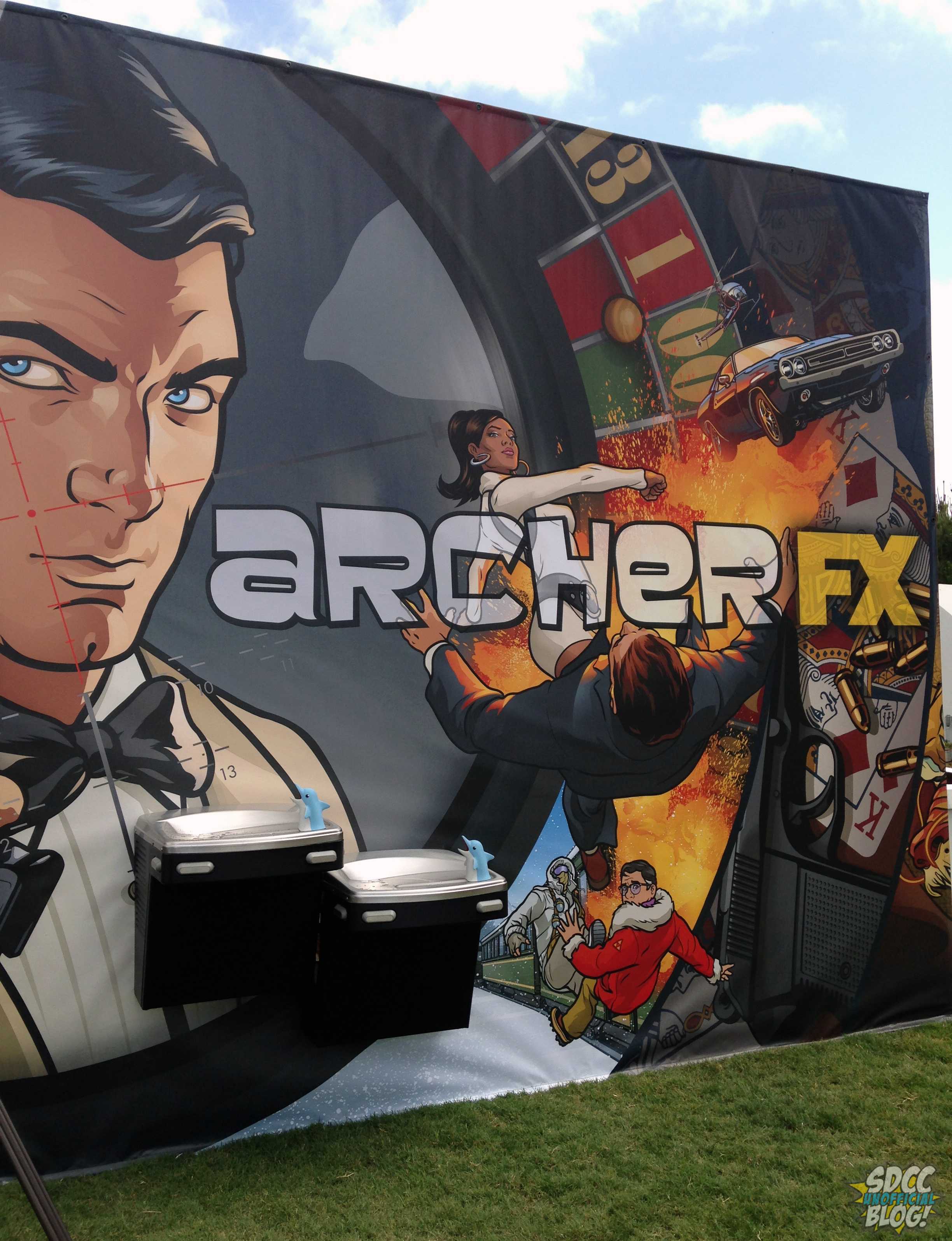 FX appears to be scaling down their San Diego Comic-Con presence this year, with no panels for American Horror Story, Sex&Drugs&Rock&Roll, or the upcoming Legion in sight. They are, however, still very much on board — and they're bringing back two favorites.
No word yet on dates or rooms for the panels, but attendees will be able to find The Strain (our guess: Hall H on Sunday again) with cast-members Kevin Durand, Ruta Gedmintas, Richard Sammel, and Miguel Gomez — as well as executive producers Carlton Cuse and Chris Hogan, for a look at exclusive footage and a Q&A.
They're also bringing back Archer, which was recently renewed for three seasons — so you can pretty much also pencil the series into your Comic-Con plans for the next few years as well. This year, they're bringing along the voice cast of H. Jon Benjamin, Aisha Tyler, Jessica Walter, Chris Parnell, Judy Greer, Amber Nash, and Lucky Yates, as well as EP's Adam Reed, Matt Thompson, and Co-Exective Producer Casey Willis.
From the press release, here are the panel descriptions:
The Strain: Screening and Q&A
The munchers are back! The Strain, FX's action-packed vampire thriller based on the best-selling books from Guillermo del Toro and Chuck Hogan debuts its third season on Sunday, August 28 at 10 PM ET/PT. The Strain is a high concept thriller that tells the story of Dr. Ephraim Goodweather who is called upon to investigate a mysterious viral outbreak with hallmarks of an ancient and evil strain of vampirism. As the strain spreads, Eph and an assembly of everyday New Yorkers, wage war for the fate of humanity itself. At SDCC, get an exclusive sneak peek of the upcoming third season, PLUS, the debut of a not-to-be-missed, Comic-Con Exclusive original video that's sure to go viral. Join Showrunner / Executive Producer / Director / Writer Carlton Cuse, Co-Creator / Executive Producer / Writer Chuck Hogan, and stars Kevin Durand ("Vasiliy Fet"), Ruta Gedmintas ("Dutch Velders"), Richard Sammel ("Thomas Eichhorst") and Miguel Gomez ("Augustin 'Gus' Elizalde") as they discuss the challenges (and fun!) of bringing this chilling world to life.
Archer: Screening and Q&A
Archer is an animated, half-hour comedy that revolves around a former spy agency turned private investigation firm and its employees who use every seedy surveillance of a suspected adulterer or investigation into insurance fraud as another excuse to undermine, sabotage and betray each other for personal gain. Come watch an exclusive never-before-seen video and then join the voice cast of H. Jon Benjamin ("Sterling Archer"), Aisha Tyler ("Lana Kane"), Jessica Walter ("Malory Archer"), Chris Parnell ("Cyril Figgis"), Judy Greer ("Cheryl/Carol Tunt"), Amber Nash ("Pam Poovey") and Lucky Yates ("Dr. Algernop Krieger"), plus Creator / Executive Producer / Writer Adam Reed ("Ray Gillette"), Executive Producer Matt Thompson and Co-Executive Producer Casey Willis as they discuss bringing this animated series to life.