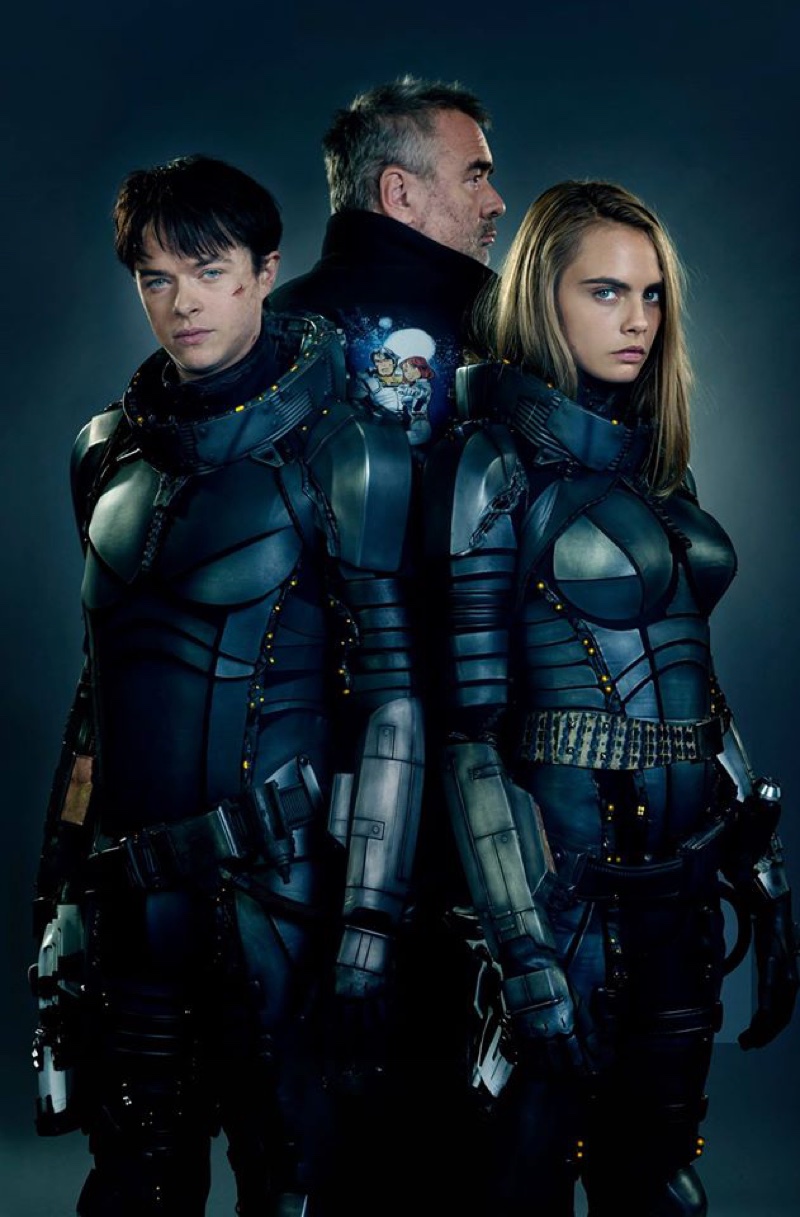 [UPDATE] The panel for Valerian will be held on Thurday, July 21 from 1PM-2PM in Hall H. Along with director Luc Besson, stars Dane DeHaan and Cara Delevingne will also appear. There will also be "potential surprise guests" to give the first public sneak peek at the film.
[PREVIOUS]
The Hollywood Reporter is reporting that the upcoming 2017 Luc Besson film, Valerian, is heading to San Diego Comic-Con.
Although Besson and his studio EuropaCorp made a splashy premiere at the European film showcase CineEurope last year, and many expected them to return in 2016 – EuropaCorp marketing manager Bruno Perez told THR that "Besson would be returning to Comic-Con again in July with exclusive footage from the shoot" for upcoming film Valerian and the City of a Thousand Planets.
Besson actually did attend Comic-Con in 2015 to show off Valerian already – just not to the masses. Instead, he gave a small gathering of journalists in town a private showing of some footage, and stated that he wasn't ready to show everyone just yet. Looks like that time is going to be next month.
Set in the 28th century, Valerian follows a duo of special government operatives played by Dane DeHaan and Cara Delevinge , as they try to maintain order throughout the universe. They embark on a mission to the breathtaking intergalactic city of Alpha, an ever-expanding metropolis inhabited by thousands of species from all four corners of the universe. Alpha's seventeen million inhabitants have converged over time – uniting their talents, technology and resources for the betterment of all. Unfortunately, not everyone on Alpha shares in these same objectives; in fact, unseen forces are at work, placing our race in great danger. The film also stars Clive Owen, Ethan Hawke, Rihanna, and John Goodman.
While Valerian just wrapped and likely won't be able to fill a complete hour of programming in (what we assume will be) Hall H, EuropaCorp also has the upcoming Shut In (a physchological thriller starring Naomi Watts and Oliver Platt) and The Lake (starring J.K. Simmons and Sullivan Stapleton, about a team of Navy SEALs searching for hidden treasure in a Bosnian lake).
In addition to last year's private screening for journalists, Besson also appeared at Comic-Con International's WonderCon Anaheim convention in 2014, to promote Lucy.
You can read the full article on The Hollywood Reporter.
Are you excited about getting a new Besson film at Comic-Con? Let us know in the comments.