You know how you can tell when SDCC is right around the corner? When the SDCC exhibitors list and map is released! In this edition of Under the Tents, we bring you news regarding commissions, exclusives, and more ways to put a hurting on your wallet next month! So save those pennies and read on!
Here's a look at the news you might have missed:
While we've shared some teasers of Fat Rabbit Farms Civil War bunny plush figures this year, here's a look at the finalized Capt. Babee and Iron Babee. They are sold as individuals or you can get the Civil War Set combo (which has both at a combo price!). There's a limited amount available online (which have almost sold out), but you'll still be able to pick them up at the convention. Fat Rabbit Farms will also be debuting their latest parody t-shirt, featuring two of their characters in a Deadpool and Spiderman costume. Here's a look at all of their offerings:
The San Diego Public Library is back with a 2016 limited edition commemorative Comic-Con Library Card! As in previous years, the Comic-Con Library Card is officially licensed by Comic-Con International and it's the only one of its kind in existence. This year's card was designed by the talented folks at ToshWerks, a local art & design studio focused on comic publication. The 2016 Comic-Con Library Card will be issued beginning Thursday, July 21 at all 36 SDPL locations. Supplies are limited. Library card registration policies will apply. Free for new users. If you are replacing your card, the fee is $2 for adults and $1 for children.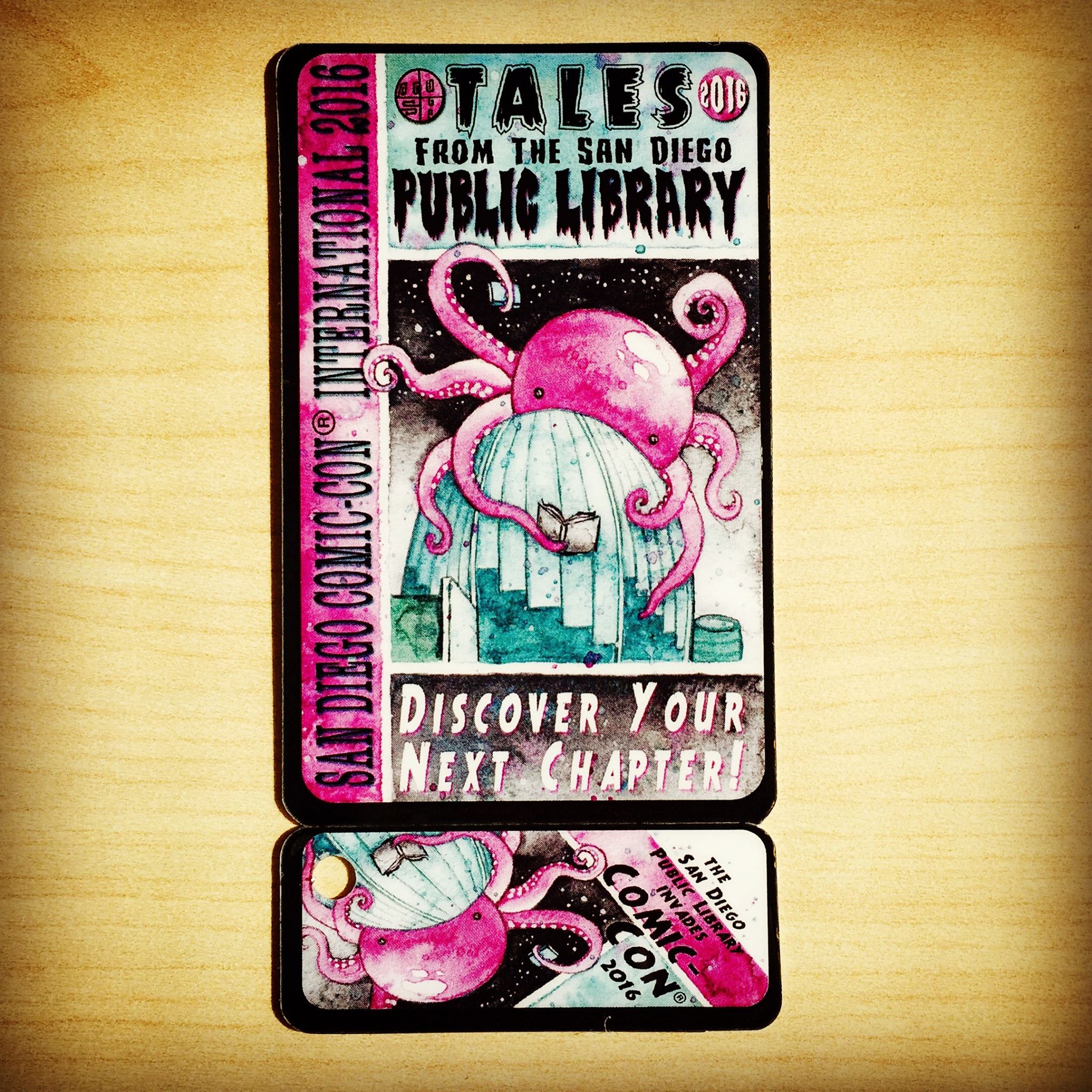 Artist Josh Warner showed off one of the prints that will be available at his Small Press table L-09. He describes it in his tweet as an homage to Rob Liefeld.
One of several prints available from HCE in #smallpress at #sdcc homage to @robertliefeld pic.twitter.com/4kBzAY5lCl

— J. Lynn Warner (@josh_L_warner) June 21, 2016
Paul Frank attending SDCC? According to a recent chat Paul Frank had with Wide Lantern at the Licensing Expo , Frank could be at SDCC in some capacity. From the article, here's a quote:
During those 20 minutes we talked about a host of things including a possibility of going to San Diego Comic-Con. Not officially as all the spaces are sold but in some off-shoot manner.
great meeting you too man!! I'll see ya down at SDCC. I think.

— Echo Kellum (@EchoK) June 21, 2016
This makes us incredibly happy, @OriginalFunko! Looking good, @Team_Barrowman… Can't wait for @Comic_Con! pic.twitter.com/DBxDWqHCqK

— #ARROWforever (@ARROWwriters) June 22, 2016
LEGO has invaded all corners of pop culture, including comics with this original sketch from Dan Veesenmeyer. The tweet from Dan shows his sketch of Crystal of the The Inhumans in LEGO form. He will have this along with a few more original pieces at his table, so be sure to check him out.
New Lego Marvel Comic cover sketch layout for #SDCC. Crystal of The INHUMANS! A fav character. pic.twitter.com/Xb8D3Qb28G

— Dan Veesenmeyer (@dveese) June 21, 2016
Who likes sales? We like sales! Stop by Things From Another World at SDCC who will have sale prices on graphic novels AND will have a few exclusives like the Batman bust in their recent tweet. They also typically have some of the best prices on Funko Pop! figures on the show floor.
At #SDCC this year we'll have GN's from 25%-50% off AND exclusives like the #Batman #BTAS bust! pic.twitter.com/02Owao1pda

— Things From Another World (@TFAW) June 22, 2016
Didn't get your hands on an SDCC badge? Plenty of companies are looking for volunteers to work their booths in exchange for badges and other goodies. Symbiote Studios is just one of those companies doing just that. Follow the instructions in their tweet if you would like to apply!
#SDCC Looking for two volunteers. Must be 18+, fun, smart, and nerdy about cute toys. We provide badge & Toys. Reply with fun photo of self.

— Symbiote Studios® | Toy Manufacturer (@symbiotestudios) June 22, 2016
Todd Stashwick of the SyFy series 12 Monkeys recently tweeted out some news that might bum you out. He won't be at SDCC this year and while this doesn't officially confirm anything, the chances of 12 Monkeys having a panel don't look too good.
I'm prepping myself for #SDCC withdrawal. First time in 6 years I won't be attending. Sigh. Nerd hard without me brothers and sisters.

— Todd Stashwick (@ToddStashwick) June 22, 2016
Looking for something unique to remember your SDCC 2016 experience? Commissions are always a cool way to do so and many artists, including Steve Bryant, have pre-commissions available. You can check out Steve's work and prices in a recent tweet about his SDCC commissions.
My commission preorder list for @Comic_Con is open! Here's my price list. More examples here https://t.co/Gpca1BsFtN pic.twitter.com/5seQHMdKxp

— Steve Bryant writes and draws comics (@SteveBryantArt) June 22, 2016
In more commission news, Tom Hodges has also opened his pre-SDCC commission list. You can find the exact details on how to get a commission from Tom on his recent tweet.
https://twitter.com/hodgesart/status/745657509428498432
Comic artist Marat Mychaels showed off his newest SDCC Pooh variant, Killer Pooh. According to his Facebook post, the variant edition will be available during the con for $25, while a limited amount will be made available for pre-sale that can be shipped or picked up at  SDCC.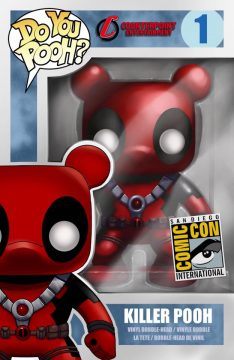 Book publisher Fantagraphics recently revealed on their site the books they will be making available at SDCC. The eight book line up of books includes Meat Cake Bible, Cosplayers, Garden of Flesh, and more. Fantagraphics will also be announcing signings and panels in the coming weeks as well!
Alex Pardee will be having a themed booth this year at SDCC according to his tweet. Swing by his booth #5503 to see his Dicks and Monsters theme this year.
This year, my #SDCC booth is gonna be all Dicks and Monsters. I can't wait. Booth # 5503 with @davecorreia and @wayshak #DicksAndMonsters

— Alex Pardee (@alexpardee) June 22, 2016
SweeTARTS and singer/songwriter Troye Sivan are headed to Comic-Con, as part of Entertainment Weekly's Con-X offsite. Considering Jolly Rancher is sponsoring MTV's Fandom Awards this year – is this the battle of the candy companies?
Toyark has the latest on an Icon Heroes San Diego Comic-Con exclusive Batman: Arkham Knight – Unmasked and Battle Damaged Batman Statue Paperweight. The 7.75″ polystone statue will be $50 and available at Icon Heroes' Comic-Con booth. From Toyark, here's a look: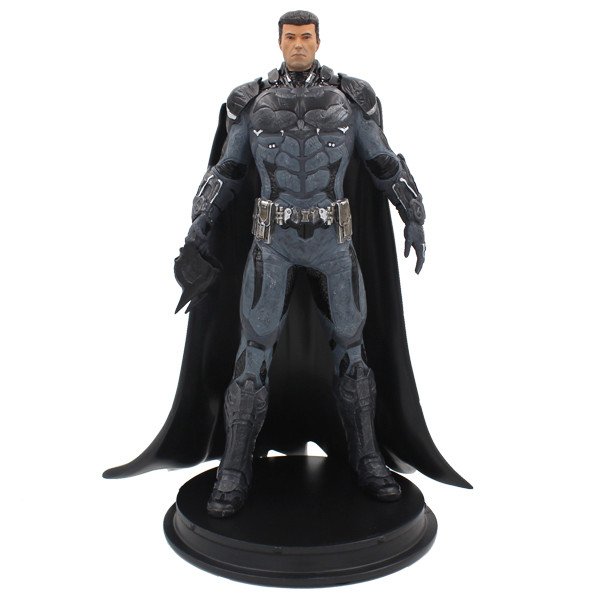 Anything we missed? Let us know in the comments, drop us a line or tweet us at @SD_Comic_Con.