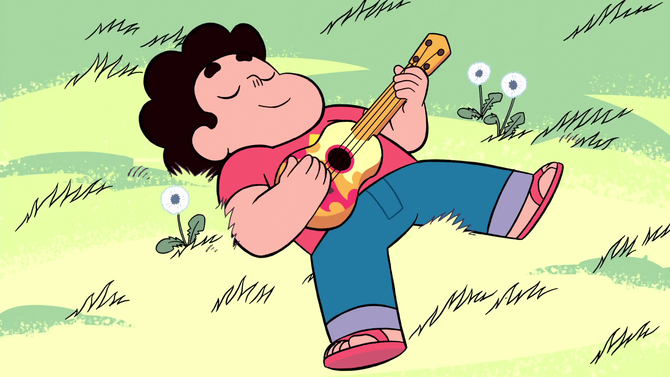 Cartoon Network is back at San Diego Comic-Con this year, with panels for Steven Universe, We Bear Bares, Powerpuff Girls, and more. Looks like Adventure Time will be represented by a Card Wars tournament, rather than a regular panel.
Steven Universe's panel will actually be a live musical, where the cast and composers of the series will perform some of the show's musical numbers. Panelists include series creator Rebecca Sugar, Esetelle, Zach Callison, Michaela Dietz, Deedee Magno Hall, and writers Jeff Liu and Ben Levin.
Signings this year include Steven Universe (Friday, 3-5:30 p.m.), We Bare Bears (Saturday, 1-2:30 p.m.) and The Powerpuff Girls (Sat., 3:30 p.m.-5:00 p.m.) — all in the SDCC Autograph Area.
Here's their full schedule:
THURSDAY, JULY 21
CARTOON NETWORK SCREENING AND COSTUME BALL
8:00p.m. – 9:30p.m. Hilton Bayfront – Room 7AB
Throw on your Finn hats, crystal gems and totally realistic flying tigers, and bearstack your way to the Cartoon Network Costume Ball & Screening extravaganza! We'll be showcasing brand new episodes and clips of your favorite CN shows and making some big announcements for stuff nobody has ever seen before, including a world premiere look at animation for the upcoming Ben 10 series. On top of it all, we invite you to come dressed up as your favorite CN character for a chance to impress your friends and win awesome prizes. It wouldn't be a ball without special guests! Joining us as totally objective and impartial judges for the costume contest are Kyle A. Carrozza (Creator of Mighty Magiswords), Spencer Rothbell (Head of Story, Clarence and Voice of Clarence) and Rebecca Sugar (Creator of Steven Universe).
FRIDAY, JULY 22
CARTOON NETWORK PRESENTS: STEVEN UNIVERSE
10:15a.m. – 11:45a.m. Hilton Bayfront – Indigo Ballroom
The series cast and musical minds behind Steven Universe will give a never-before-seen performance of the series' critically-acclaimed music, as well as exclusive previews from upcoming episodes and an extended Q&A. Scheduled to appear: Rebecca Sugar (Creator), Jeff Liu (Writer and Storyboard Artist), Zach Callison (Voice of Steven), Estelle (Voice of Garnet), Michaela Dietz (Voice of Amethyst), Deedee Magno Hall (Voice of Pearl), Ben Levin (Writer), accompanied by series composers Aivi Tran and Steven "Surasshu" Velema. Moderated by former supervising director Ian Jones-Quartey.
SATURDAY, JULY 23
CARTOON NETWORK PRESENTS: WE BARE BEARS
10:00a.m. – 11:00a.m. Hilton Bayfront – Indigo Ballroom
Join the cast and crew of We Bare Bears as they make their Comic-Con debut, discussing the hilarious new series, celebrating the fans, previewing exclusive clips and taking your questions. Hang in until the end to catch a sneak peek at the upcoming series Mighty Magiswords. Panelists include Daniel Chong (Series Creator), Eric Edelstein (Voice of Grizzly), Bobby Moynihan (Voice of Panda), Demetri Martin (Voice of Ice Bear), and Lauren Sassen (Storyboard Artist), moderated by Mikey Heller (Series Writer).
CARTOON NETWORK PRESENTS: THE POWERPUFF GIRLS
11:00a.m. – 12:00p.m. Hilton Bayfront – Indigo Ballroom
Soar into San Diego with The Powerpuff Girls! Join Blossom, Bubbles and Buttercup for their first Comic-Con appearance as cast and crew discuss the new series, premiere exclusive clips and take your questions. Panelists include Kristen Li (Voice of Bubbles), Amanda Leighton (Voice of Blossom), Natalie Palamides (Voice of Buttercup), Tom Kenny (Voice of the Mayor and The Narrator), Nick Jennings (Executive Producer), Bob Boyle (Co-Executive Producer), Haley Mancini (Writer, Voice of Princess Morbucks) and Jake Goldman (Writer). Part of the back-to-back panel extravaganza preceded by We Bare Bears at 10:00 a.m.
CARTOON NETWORK PRESENTS: THE ADVENTURE TIME CARD WARS TOURNAMENT!
10:00a.m. – 8:00p.m. (Winner takes all begins at 3 p.m.) San Diego Convention Center – Room 16A
The game you know and love has just doubled down on the fun with two all-new ways to play, and we're bringing the action to the gaming floor of Comic-Con! Grab a partner and battle against another team in the new Card Wars Doubles Tournament tabletop game. Think you're the Cool Guy? Challenge other peeps in one-on-one PvP battles in the new mobile game Card Wars Kingdom! Free play alongside other Adventure Time fans all day long, with a special winner-takes-all Tournament starting at 3 p.m. for all the Card Wars glory (and amazing prizes, which sometimes is even cooler than glory)!!! Did we mention John DiMaggio (Voice of Jake the Dog) will be there to commentate the tournament?! It's a not-to-be-missed event!