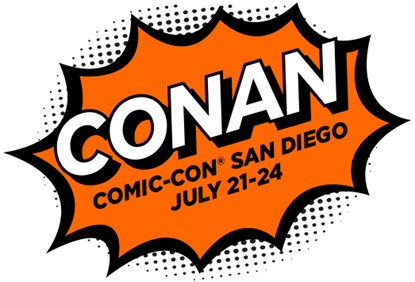 It was one of the best offsite experiences of San Diego Comic-Con 2015 — and it's back in 2016. Conan returns to the Spreckles Theatre Wednesday, July 20 – Saturday, July 23, and tickets are now available through 1iota.com.
[UPDATE July 8] TeamCoco posted that all "tickets for Conan at Comic-Con are gone, and all ticket holders have been notified." Congratulations to those who got tickets!
Wondering what to do next whether you got a ticket or not? We've got some answers.
[Previous]
Just like last year, the process is basically a lottery. You'll enter your information for each date that you want, as well as a quantity of tickets 1-4 — and if selected, 1iota will send you an e-mail to claim your free tickets. You'll need to stop by the venue on the day of your show to pick up the physical tickets and find out your seat assignment.
If you're not selected, standby wristbands will be given out at 8AM each day — but standby is not guaranteed.
Not much is currently known about this year's guests except that the cast of Suicide Squad will be there on Saturday and the cast of Silicon Valley will be there another day, but last year's guests included everyone from the cast of Game of Thrones to X-Men: Apocalypse, so expect Conan to round up some of the best of the best of this year's offerings.
Each attendee at the Conan tapings will also receive an exclusive Conan Funko Pop in this year's variants, which include Superman, Ghostbuststers, Storm Trooper, and Suicide Squad Joker.
You can register now for the Conan shows through 1iota.
Are you trying for Conan tickets? Let us know in the comments.
[UPDATE]
O'Brien revealed on his show tonight one of the other guests for his tapings: the cast and creators of Game of Thrones.
Additionally, he revealed that Conan 360 cardboard VR viewers are back — and also announced that you could get tickets now on his site, with nary a word about badge holders only or not. So, take that for what you will.
Here's a look at the full announcement: