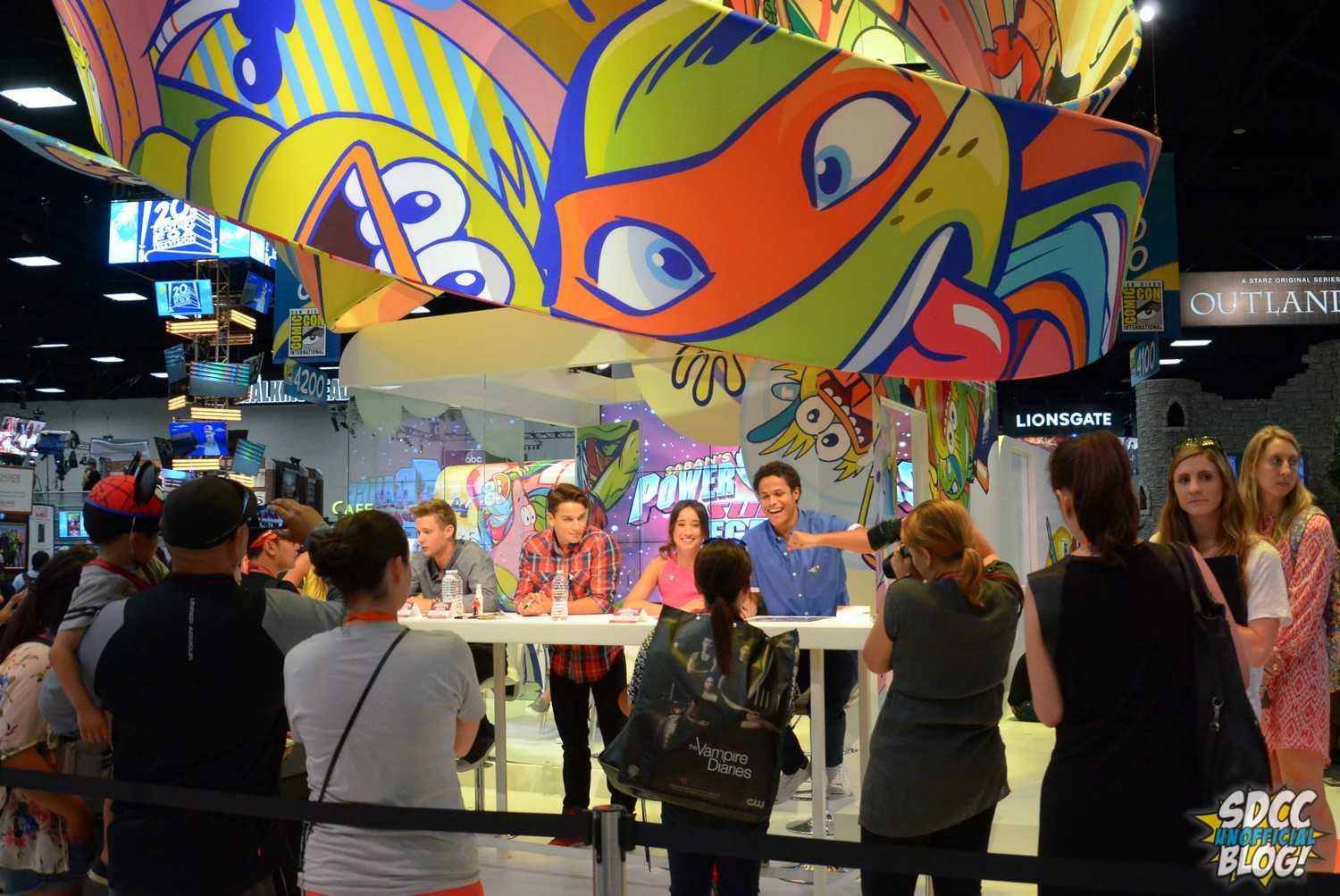 [UPDATE July 6] Entertainment Weekly is reporting that Nick is bringing a nighttime exhibition live edition of Double Dare on Friday, July 22, at 9:30PM PT where fans will be able to watch and participate as red and blue teams compete in rounds of trivia and physical challenges (like Down the Hatch, the Wringer, the Human Hamster Wheel, and the Double Dare Nose). The event will be hosted by original host Marc Summers – and will be livestreamed on The Splat's Facebook.
We've confirmed with Nickelodeon that the event is closed to the public, and attendees won't be able to attend.
[PREVIOUS] If you were a child anywhere near the 90's, your San Diego Comic-Con is about to get a whole lot more exciting.
Nickelodeon is going very retro at this year's San Diego Comic-Con, with panels dedicated to their iconic 1990's series, including All That, Hey Arnold!, Legends of the Hidden Temple, and more.
Their booth (#4113) this year will also feature 1,800 square feet dedicated to the network's heyday, featuring a Legends of the Hidden Temple virtual reality 360-experience to take you into the world of the upcoming live-action TV movie, a life-size replica of the Hey Arnold! stoop and the nose from Double Dare that are perfect for photo ops, and a retail area where attendees can purchase a variety of exclusive Nick, The Splat and '90s-themed gear and one-of-a-kind collectibles.
There will also be autograph signings throughout the weekend with the cast of All That, SpongeBob SquarePants' Tom Kenny, Teenage Mutant Ninja Turtles voice talent, Kirk Fogg from Legends of the Hidden Temple, and more.
Here's a look at their panel schedule for this year – which also includes a panel for their current series Teenage Mutant Ninja Turtles (though, curiously, SpongeBob appears to be MIA this year):
Happy Happy! Joy Joy!: 25 Years of Nickelodeon Original Animation (Thursday, July 21, 11:15 a.m.-12:15 p.m.; room 6A)
For 25 years Nickelodeon has produced some of the most innovative and memorable animation in the history of television. Nick Animation Podcast host Hector Navarro finds out how and why four of the network's most influential creators did what they did: Craig Bartlett (Hey Arnold!), Jhonen Vasquez (Invader Zim), Butch Hartman (The Fairly OddParents, Danny Phantom) and Arlene Klasky, who along with Gabor Csupo and Paul Germain, created Rugrats. Don't miss the chance to see production art from the upcoming TV movie Hey Arnold!: The Jungle Movie; animation from Hartman's new Bunsen is a Beast!; and the world premiere of Don vs Raph, a TMNT animated short written and produced by Jhonen Vasquez.
Teenage Mutant Ninja Turtles – Return to New York (Friday, July 22, 11:45 a.m.-12:45 p.m.; room 6A)
They travelled time and space to save planet Earth, and now the Teenage Mutant Ninja Turtles return home! Executive producers Ciro Nieli and Brandon Auman share sneak peeks of the epic adventures and new characters that await the Turtles when they return to the streets of NY in season four. On hand will be the extraordinary voice actors of the TMNT world: Rob Paulsen (Donatello), Greg Cipes (Michelangelo), Gwendoline Yeo (Shinigami) and Eric Bauza (Tiger Claw). Also, witness the world premiere of two never-before-seen TMNT animated shorts presented by TMNT co-creator, Kevin Eastman.
She Made That?: Nickelodeon hosts Women in Animation (Friday, July 22, 6:30 p.m.-7:30 p.m.; room 24ABC)
Join this group of innovative and pioneering female cartoon creators for a discussion on their careers and the opportunities for women in animation today. Panelists include women responsible for the original Nicktoons from the 1990s and others who are making some of today's best animation for TV and the web. The panel will include Lauren Faust (My Little Pony: Friendship Is Magic), Mary Harrington (Invader Zim, Hey Arnold!), Vanessa Coffey (The Ren & Stimpy Show, Rugrats), Rikke Asbjoern (Pinky Malinky), Margaret Dean (Women in Animation) and Maija Burnett (California Institute of the Arts).
Back to the '90s: Nickelodeon's All That Reunion and Legends of the Hidden Temple! (Saturday, July 23, 11:15 a.m.-12:15 p.m.; room 6A)
Join Nickelodeon's throwback programming block, The Splat, for a reunion of the trailblazing sketch comedy series' major players, Josh Server, Danny Tamberelli, Lori Beth Denberg and Kel Mitchell, discussing all things All That, with a few added surprises. Plus, get the first look at Nick's new TV movie based on Legends of the Hidden Temple and hear about it from returning cast members Kirk Fogg and Dee Bradley Baker, along with Isabela Moner (Transformers 5).