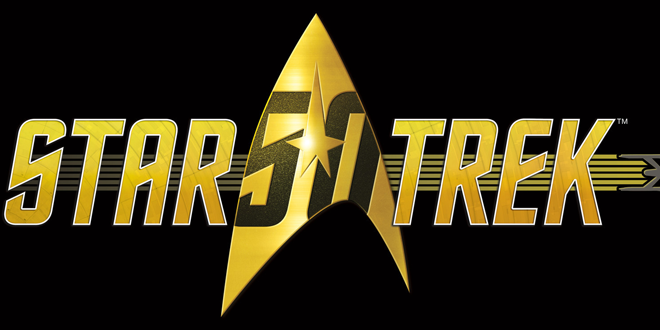 The Year of Star Trek continues with a slew of panels celebrating the 50th anniversary of the iconic franchise at San Diego Comic-Con 2016, on Saturday, July 23, fans will be treated to a Hall H presentation at 2PM moderated by Bryan Fuller.
In that special Star Trek: Celebrating 50 Years panel, William Shatner, as well as Michael Dorn ("Star Trek: The Next Generation," "Star Trek: Deep Space Nine"), Brent Spiner ("Star Trek: The Next Generation"), Jeri Ryan ("Star Trek: Voyager") and Scott Bakula ("Star Trek: Enterprise") will appear to discuss Star Trek's long history. Also expect some news about Fuller's upcoming 2017 CBS All Access series.
Stars Shatner, Spiner, and Dorn will be available for photo opportunities at the Light Speed Fine Art Booth #3945.
There will also be additional panels throughout the weekend celebrating Trek. Here's a look:
TREK TALKS: SCIENCE, SMITHSONIAN AND STAR TREK
Friday, July 22, 6:30p.m. – 7:30p.m. (Room 5AB)
From the cutting-edge labs of the Smithsonian Institution to the front-lines of the digital economy, the promises made in Star Trek are coming true.  This panel gives a glimpse at real Trek technology: the tricorder that may change medicine; laser weapon technology; and an actual tractor beam.  And fans will get a preview of the original Starship Enterprise, fully restored after 50 years and the centerpiece of the National Air & Space Museum.  This panel will be supplemented by exclusive preview clips from Smithsonian Channel's two-hour special "Building Star Trek," which will air later this year. Dr. Margaret Weitekamp, Curator at the Smithsonian's National Air and Space Museum, moderates a discussion with Dr. Sonny Kohli, Team Leader of Cloud DX, a finalist for the Qualcomm Tricorder XPRIZE®; David Grier, Professor of Physics and Director of the Center for Soft Matter Research at New York University, who is developing a real-life Tractor Beam; Dr. Rob Afzal, Lockheed Martin Senior Fellow Laser Sensor and Systems Harnessing the Power of Lasers; and Elizabeth Trojian, Executive Producer of Smithsonian Channel's "Building Star Trek."
STAR TREK: THE RODDENBERRY VAULT
Saturday, July 23, 12:30p.m. – 1:30p.m. (Room 5AB)
On September 8, 1966, a new television series premiered with a basic mission: to explore strange new worlds, to seek out new life and civilizations, to boldly go where no one has gone before. Little did anyone expect Star Trek would become one of the most adored and influential entertainment icons of the last half century. Star Trek documentarian Roger Lay, Jr.; Rod Roddenberry, CEO of Roddenberry Entertainment and son of Star Trek creator Gene Roddenberry; CBS's Phil Bishop; and Star Trek alumni Mike and Denise Okuda will reveal never-before-seen clips and photos from some of Star Trek's most beloved episodes.
TREK TALKS: STAR TREK & NASA BOLDLY GO
Saturday, July 23, 6:00p.m. – 7:00p.m. (Room 5AB)
Star Trek has influenced many of us to fall in love with the infinite possibilities of space exploration. The various television series and films have also made an indelible impact to NASA. NASA scientists, engineers and astronauts often cite Star Trek as inspiring them to pursue careers in their fields.  (Nichelle Nichols even helped NASA recruit astronauts in the 1980s.)   How does NASA's vision of the future mimic the world of Star Trek and where does it differ?  What technologies in the Star Trek world have paved the way for real technologies being developed by NASA?   Robert Picardo, who portrayed The Doctor on Star Trek: Voyager, will moderate a panel which includes Astronaut Kjell Lindgren, NASA Johnson Space Center; Amber Staughn, Astrophysicist, NASA Goddard Space Flight Center; Bobak Ferdowsi, Flight Systems Engineer, NASA Jet Propulsion Laboratory; and Jay Falker, Early Stage Portfolio Executive, Space Technology Mission Directorate, NASA Headquarters.
STAR TREK THE OFFICIAL STARSHIPS COLLECTION: DESIGNING AND FILMING STARSHIPS
Saturday, July 23, 3:00p.m. – 4:00p.m. (Room 28 D/E)
Star Trek concept designer Rick Sternbach and Visual Effects Producer Dan Curry discuss exactly what it takes to take a Starship from the page to the screen and how the process has changed since Star Trek: The Next Generation debuted in 1987 with the introduction of CG. The panel will be moderated by Eaglemoss's Ben Robinson and everyone who attends will receive a free model Starship from Eaglemoss's collection.
STAR TREK: FIVE DECADES OF COMICS
Friday, July 22, 1:30p.m. – 2:30p.m. (Room 8)
A celebration of all the 4-color Star Trek worlds, featuring a look at all past iterations and a chat with many who've chronicled the Enterprise crews' comic-book adventures, including Len Wein, Scott Tipton, Mike Johnson, John Van Citters and JK Woodward. Moderated by Star Trek editor/supreme commander Sarah Gaydos.
How excited are you? Let us know in the comments.