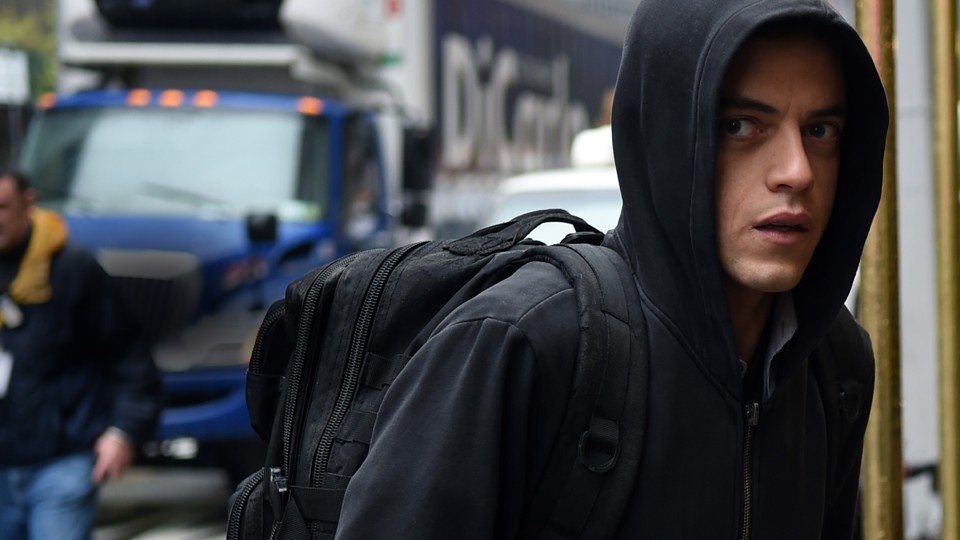 In actual great San Diego Comic-Con news, Syfy and USA have uneviled their San Diego Comic-Con panel plans for Comic-Con mere hours before the official schedule starts to release (Thursday's will be out this afternoon) – and they're bringing everything from Mr. Robot (!) to The Expanse, to Colony, and more.
This is a pretty parred down year for Syfy, with the network only bringing The Expanse, The Magicians, and the upcoming Incorporated (where you'll get to see the pilot). That's unfortunately bad news for fans of their other shows, like 12 Monkeys, Z Nation, Killjoys, and more. It is possible that they may be saving some content for their own offsite – Syfy Presents Live from Comic-Con – as Sharknado 4: The 4th Awakens is also missing from this list, and cast members have already announced they'll be in attendance for the convention.
Also, fear not Wynonna Earp fans. That panel is still happening – it's just like previously Canadian-owned Lost Girl, and never included in these press releases. There's also still hope for Dark Matter, which is also in the same boat, and which Syfy didn't announce last year either.
Here's a look at the full schedule:
SYFY SCREENINGS AND PANELS (Saturday, July 23):
3:00pm – 4:00pm:  THE EXPANSE – Panel Discussion with the Cast and Creators / Moderated by Adam Savage: Get a sneak peek of the new season of Syfy's critically acclaimed series from the writers of "Children of Men" and "Iron Man," based on the New York Times bestselling book series. Moderator Adam Savage("MythBusters,"Tested.com), along with cast members Thomas Jane, Steven Strait, Shohreh Aghdashloo, Dominique Tipper, Wes Chatham, Cas Anvar, Frankie Adams and executive producers Naren Shankar and Mark Fergus, preview the aftermath of season one's explosive finale.   THE EXPANSE is financed and produced by Alcon Television Group (ATG), a division of Alcon Entertainment. Room: Indigo Ballroom
4:00pm – 5:00pm: THE MAGICIANS – Panel Discussion with the Cast and Creators / Moderated by Author Lev Grossman: The acclaimed breakout hit makes its San Diego Comic-Con debut! Join cast members Jason Ralph, Stella Maeve, Olivia Taylor Dudley, Arjun Gupta, Hale Appleman, Summer Bishil, Jade Tailor and Rick Worthy, along with executive producers John McNamara and Sera Gamble, as they tease the anticipated second season of the Syfy series based on Lev Grossman's bestselling fantasy trilogy. THE MAGICIANS is a production of Universal Cable Productions.  Room: Indigo Ballroom
7:00pm – 8:00pm:  INCORPORATED – Exclusive Screening: Be the first to see the pilot of Syfy's newest thriller! Set in a near-future when corporations have unlimited power,INCORPORATEDfollows a young executive who conceals his true identity to infiltrate a ruthless mega-corporation and save the woman he loves.INCORPORATED is from Matt Damon, Ben Affleck & Jennifer Todd's Pearl Street Films, CBS Television Studios and Universal Cable Productions. Room: Indigo Ballroom
USA NETWORK SCREENINGS AND PANELS (Thursday, July 21):
1:45pm – 2:45pm:FALLING WATER – World Premiere Screening: Be the first to see USA Network's highly anticipated new drama series, FALLING WATER, presented by creators Gale Anne Hurd ("The Walking Dead") and Blake Masters("Brotherhood").Ever wondered what would happen if someone could control our dreams? This mind-bending new thriller, starring David Ajala, Will Yun Lee and Lizzie Brochere, explores this question through the lives of three unrelated people who slowly realize they are dreaming separate parts of a single common dream… a dream that just might hold the key to the fate of humanity.  FALLING WATER hails from executive producers Gale Anne Hurd of Valhalla Entertainment, Blake Masters and the late Emmy Award-winner Henry Bromell ("Homeland"). The pilot was written and co-created by Masters and Bromell and is from Universal Cable Productions (UCP).  Room: 6A
4:45pm – 5:45pm:COLONY – Panel with the Cast and Creators / Moderated by Retta: COLONY fans: whose side are you on — the Collaborators or the Resistance? Join executive producers Carlton Cuse and Ryan Condal, along with series stars; Josh Holloway, Sarah Wayne Callies, Adrian Pasdar, Peter Jacobson and Tory Kittles, for an exclusive inside look at the brand new season. When USA Network's critically acclaimed series COLONY returns for season two, mysterious intruders are still in control of a near-future Los Angeles. Will, played by Josh Holloway("Lost"), has been cooperating with the Collaborators, but now that he knows his wife Katie's (Sarah Wayne Callies, "The Walking Dead") secret, have they jeopardized any hope of getting their son Charlie back?  COLONY is a co-production between Legendary Television and Universal Cable Productions.  Room: 6BCF
6:00pm-7:00pm:MR. ROBOT – Panel Discussion with the Cast / Moderated by Chris Hardwick: Hello, friend. USA's Golden Globe® award-winning series, MR. ROBOT, is making its Comic-Con debut.  Go behind the scenes with starsRami Malek, Christian Slater, Portia Doubleday, Carly Chaikin and Season 2 two newcomer Grace Gummer as they discuss the series' exciting second season. MR. ROBOT follows Elliot, a cyber-security engineer who becomes involved in the underground hacker group fsociety, after being recruited by their mysterious leader. Season 2 explores the consequences of fsociety's 5/9 hack on multi-national company Evil Corp… as well as the illusion of control.  MR. ROBOT hails from writer and executive producer Sam Esmail ("Comet"), who will be directing all 12 episodes, as well as Anonymous Content executive producers Steve Golin ("True Detective") and Chad Hamilton ("Breakup at a Wedding"). MR. ROBOT is produced by Universal Cable Productions.  Room: 6BCF