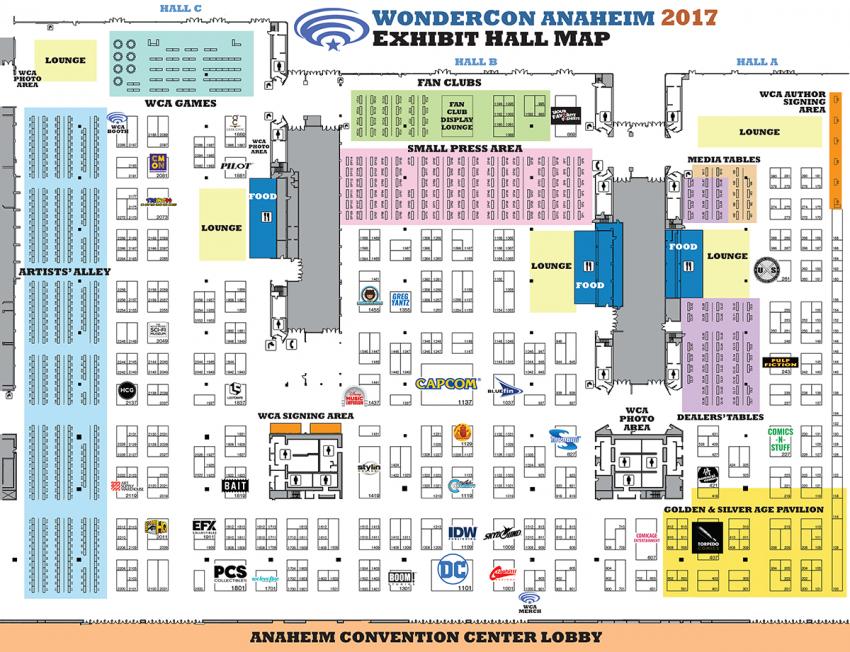 With WonderCon Anaheim 2017 less than four weeks away, CCI has released the official list of Exhibitors that will be attending this year's convention, along with information on fan tables, autograph, artist alley and small press areas — and the map of where you can find everyone.
There are over 400 exhibitors listed for WonderCon Anaheim 2017, covering comics, merchandise, video games, and more.
On the comics front, although Marvel and Dark Horse aren't returning again this year, DC Entertainment, BOOM! Studios, Skybound, and IDW Publishing will all be representing.
The movie side is looking very light – with no major movie studios on the show floor. Or are there? There is a booth for "A Wrinkle in Time", which is the name of an upcoming Walt Disney Studios film based on the Madeleine L'Engle book, starring Oprah Winfrey, Reese Witherspoon, Mindy Kaling, Chris Pine, Gugu Mbatha-Raw, and more. The movie's over a year away from release, so it seems a bit early to us, and that booth name could just as easily be something else – but it's something to consider. Although both Lionsgate and Paramount had booths in 2016, they appear not to be returning for 2017 to exhibit. Does that mean we'll be very light on movie programming as well? Time will tell.
Toy fans can stop by Fugitive Toys, Super7, Toynami, and Kotobukiya to get their collectibles fix on. Powered by Funko, though, is off the grid for 2017.
There's also Capcom for gamers (though no Nintendo this year), the popular subscription box service Loot Crate, and some of our favorites – Toddland, Hero Complex Gallery, Her Universe, and We Love Fine.
Fans of Star Trek and Harry Potter and more will find something to like among the fan tables, with various fan clubs and cosplay groups among the list of Fan Tables. In addition, there are over 300 tables listed in Artists' Alley (including Patrick Ballesteros, James Silvani, Amy Mebberson, and more) and over 100 attending in the Small Press area. There's much to see at WonderCon Anaheim, and we haven't even seen the panel schedule yet.
Check out the Toucan Blog for links to all the areas above, as well as a map of the Exhibit Floor for you to start charting your course for March 31 – April 2.
What are you looking forward to most? Let us know in the comments.