Over the last two days, we asked our readers to vote for their #1 hotel choice for San Diego Comic-Con, to get a very rough, completely un-scientific idea of what the most popular hotels in Wednesday's General Hotel Sale will be.
Although several of the results seem like common sense (the closest hotels to the convention center are very popular!), some of the results did surprise us a bit. So first, let's take a look at the downtown hotels (click for larger):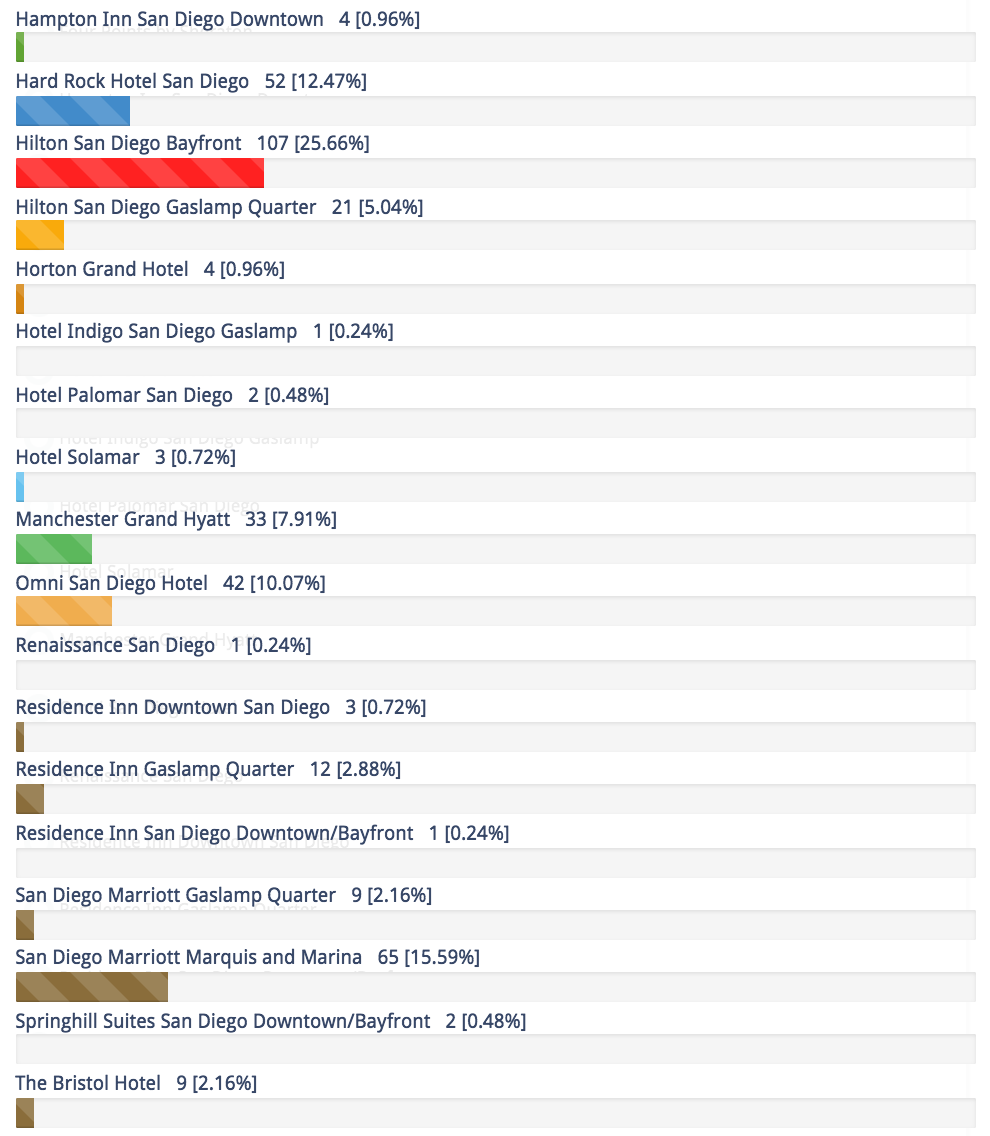 Most hotels have at least one vote, but the top four (all with over 40 votes) are probably pretty obvious: the Hilton San Diego Bayfront (25.66%), San Diego Marriott Marquis and Marina (15.59%), Hard Rock Hotel San Diego (12.47%), Omni San Diego (10.07%). These are the four closest hotels to the convention center, meaning the shortest walk, and they're all also close to the Gaslamp District. Shocking, right?
The next few hotels though show a significant decrease in people's preference. The Manchester Grand Hyatt clocks in with 33 votes (7.91%), the Hilton San Diego Gaslamp Quarter is next with 21 votes (5.04%), and then it drops down to the Residence Inn Gaslamp Quarter with 12 votes (2.88%).
What does this mean for you though?
As you're hopefully already aware, when the General Hotel Sale goes live on Wednesday. At 8AM PT, the site (accessed either through a link on CCI's site or through the e-mail some have received – hopefully more e-mails are forthcoming) will turn into a randomized waiting room. You'll have between 8AM-9AM PT to enter, then at 9AM PT, we'll all be randomly scrambled into an order to be let through to fill out the form. You must select a minimum of at least one hotel (in either downtown or otherwise), or you can submit a maximum of six hotel choices downtown and six hotel choices elsewhere (so 12 hotel choices total).
onPeak is still assigning rooms based on timestamp of when you gain access to the form, but the randomization is going to determine whether your timestamp is 9:02AM or 9:32AM. Unfortunately, we've got no idea anymore what constitutes a "good submission time", after last year's multiple issues with forms being tossed for being "duplicates" and seemingly arbitrary decisions (which weren't helped by last year's bizarre "if my hotel isn't available" options — this year's options at least seem designed by someone who actually decided to care). Some in 2016 who reported getting access to the form at 9:01 were being placed in Mission Valley. Some who got access to the form at 9:04 were being placed in the Westin Gaslamp downtown. How? We're still scratching our heads.
All of that is to say, this year is a big, giant question mark in that area. However, we can still offer a few recommendations.
The best news, really, is that they revamped their options this year for if your preferred hotel choices aren't available. You can either choose to be booked into the closest available hotel, regardless of rate (meaning if a suite is all that's available, you'll pay for the upgraded room); you can choose to be booked into the next lowest rate available hotel; you can choose to be booked into at any hotel at all, so long as you're not sleeping on the cold hard concrete; or if you don't get what you want, you can choose that you don't want anything they have to offer. Here's a look at the options:

These options are going to solve a lot of problems for a lot of people, but there's still some strategy involved in choosing your top six. Since onPeak presumably tries to slot you into your order of preferred hotels (if the first one's full, they'll move on to the second), we recommend that on your list of six, you select at least one hotel that isn't one of the top six hotel choices above. Our theory being that if most people are going to choose those six, at least by choosing a slightly less popular option that you're still happy with, you've got a potentially higher chance of getting it. After all, maybe you'd be perfectly happy at the slightly less popular The Bristol Hotel for $205 per night, but they put you in the Manchester Grand Hyatt's Grand Club Room for $370 per night because it's a block or two closer. That's a big price jump, and maybe you'd have been happier walking the extra block and spending that extra money on Hasbro exclusives.
We also recommend looking at how many rooms total are available at each hotel — which can be useful for helping to strategize.
We also asked our readers to rank their most popular options in Mission Valley (unsurprisingly, Town and Country came in at #1 with 21.9% of the vote, followed by the the Doubletree by Hilton San Diego Mission Valley (14.61% of the vote), and the other areas (Sheraton San Diego Hotel and Marina proved popular with 22.45% of the vote, followed by the Coronado Island Marriott Resort with 13.27%