With San Diego Comic-Con under 90 short days away, we're starting to see more hints and more announcements coming out. The biggest one, of course, was Marvel's triumphant return to SDCC. If you missed that one, you can read about it here. Beneath the din of excitement over Marvel, there were more announcements made. We were there to track them down.
Here's a look at what you might have missed:
The Prison Break writers official Twitter account is encouraging con-goers to cosplay as Prison Break characters at SDCC this year. Since their latest installment was only supposed to be a 10-episode run, and no renewal announcement has been made, an actual Prison Break presence is highly unlikely, they told a fan on Twitter. Hope springs eternal, however, so we'll keep our eyes open for more news.
I'm not saying you HAVE to cosplay #PrisonBreak characters at SDCC *cough* SHEBA *cough*
I'm saying if you do, I will insist on a photo.

— Prison Break Writers (@PBWritersRoom) April 19, 2017
I very much doubt it, unfortunately.

— Prison Break Writers (@PBWritersRoom) April 19, 2017
There will be something for sdcc. Something unexpected https://t.co/LTGG7aS9aQ

— NECA (@NECA_TOYS) April 11, 2017
We are going to be at SDCC17 at Small Press L-08, and oh yeah, we're giving away FREE Ninjabot Swag again! + Secret Free Button!? pic.twitter.com/mi2n7a0VmJ

— Arnel Baluyot (@theninjabot) April 19, 2017
With last year's demise of MattyCollector, there's been a lot of questions about how this year's exclusive buying process would work. While it's not the full details yet, we did learn one thing – new this year, Mattel San Diego Comic-Con exclusives will ONLY be available to attendees. This possibly implies that these SDCC exclusives won't be shipped or sold anywhere else. That's great news for many – and we'll update with more specifics as we get them.
We're sorry, SDCC items are exclusive to Comic Con and won't be sold anywhere else. We apologize for any disappointment.

— MATTEL (@Mattel) April 18, 2017
Illustrator and comic artist Jen Bartel revealed her pinup for the upcoming Saga hardcover, and announced that copies and prints will be available at SDCC.
https://twitter.com/heyjenbartel/status/854516539017625600
Here's a look at the art, via Twitter: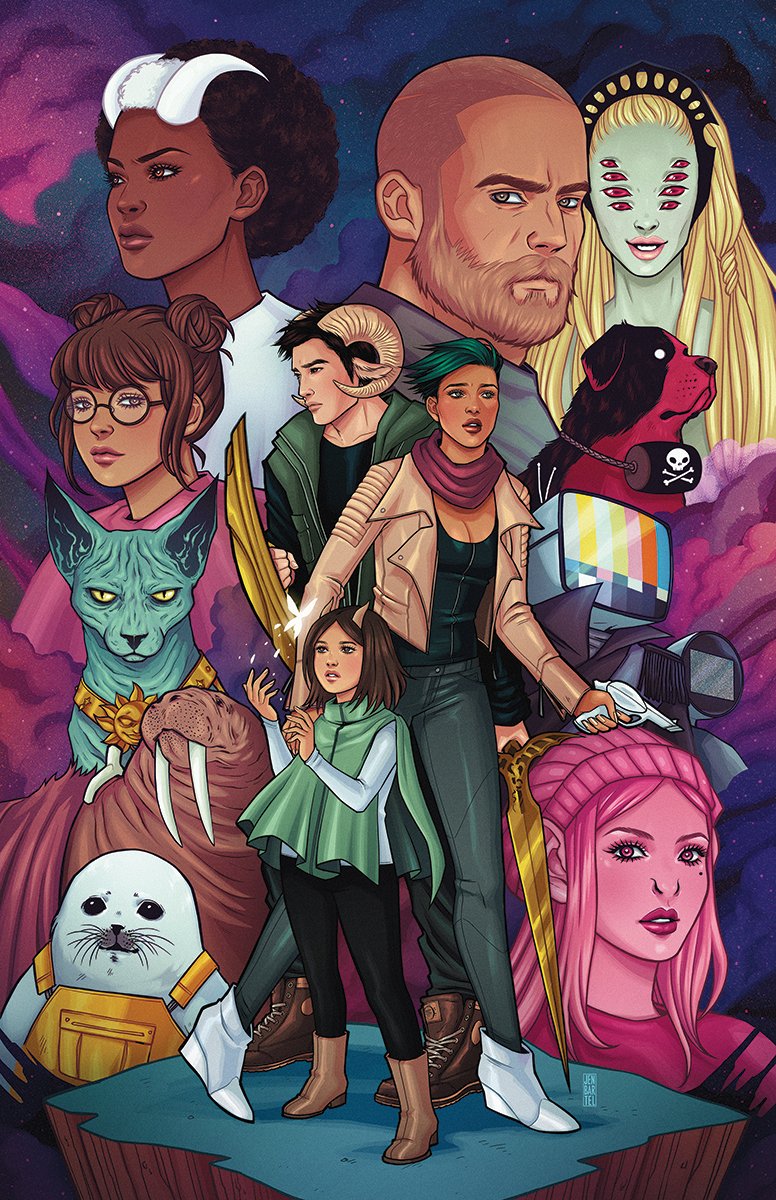 It's official! I'll have my art in the SDCC Art Show again this year! 🙂 My 6th year, woot! #SDCC2017 #ArtShow #excitedmuch !!!

— Pia Thrasher (@PiaThrasher) April 18, 2017
I'll be at #SDCC this year so if anyone has any interest in originals or commissions let me know.

— Andrew Lee Griffith (@glovestudios) April 18, 2017
I am officially accepted into the @Comic_Con art show! Keep watch for previews of a new batch of art available exclusively at #SDCC2017! pic.twitter.com/fOKeI5HEu0

— Rosemary Reeve (@rosemaryreeve) April 19, 2017
https://www.instagram.com/p/BTAaQ4qlUQP/
https://www.instagram.com/p/BTAfYshgdGf/
If the CCI powers that be left you wanting this year after Returning/Open Registration, Bluefin Brands distributors have a proposition for you. They're looking for volunteers to help set up/tear down, manage lines, keep shelves stocked, etc. In return, they're offering a complimentary SDCC badge, head-of-line privileges, and a 35% discount. For more details on this generous offer and to fill out their volunteer form, head to their Volunteer Page.
Now that we're down to double-digit days until SDCC 2017, we expect more announcements will be coming shortly. As always, we'll keep our eyes on the Internet and let you know what we find.
Anything we missed? Let us know in the comments, drop us a line, or tweet us at @SD_Comic_Con.