Our wonderfully talented friends over at The Ninjabot have some big plans for both WonderCon and San Diego Comic-Con this year, and you're going to want to stop by Booth #2044 in Anaheim to see for yourself.
The Portland-based illustrators who put their own unique spin on everything from superhero origin stories to pop culture-ized cats — are now not only giving attendees a chance to see their favorite pop culture characters in cat and dog form, but also to  Pop Cat/Dog yourself. Commissions are just $60 each, and you'll receive a customized creation in digital PDF package, with pre-sized images for Facebook/Twitter/Instagram(or anything else really) profile, one for a Facebook timeline banner, another one sized for mobile screensavers, and desktop screensaver too.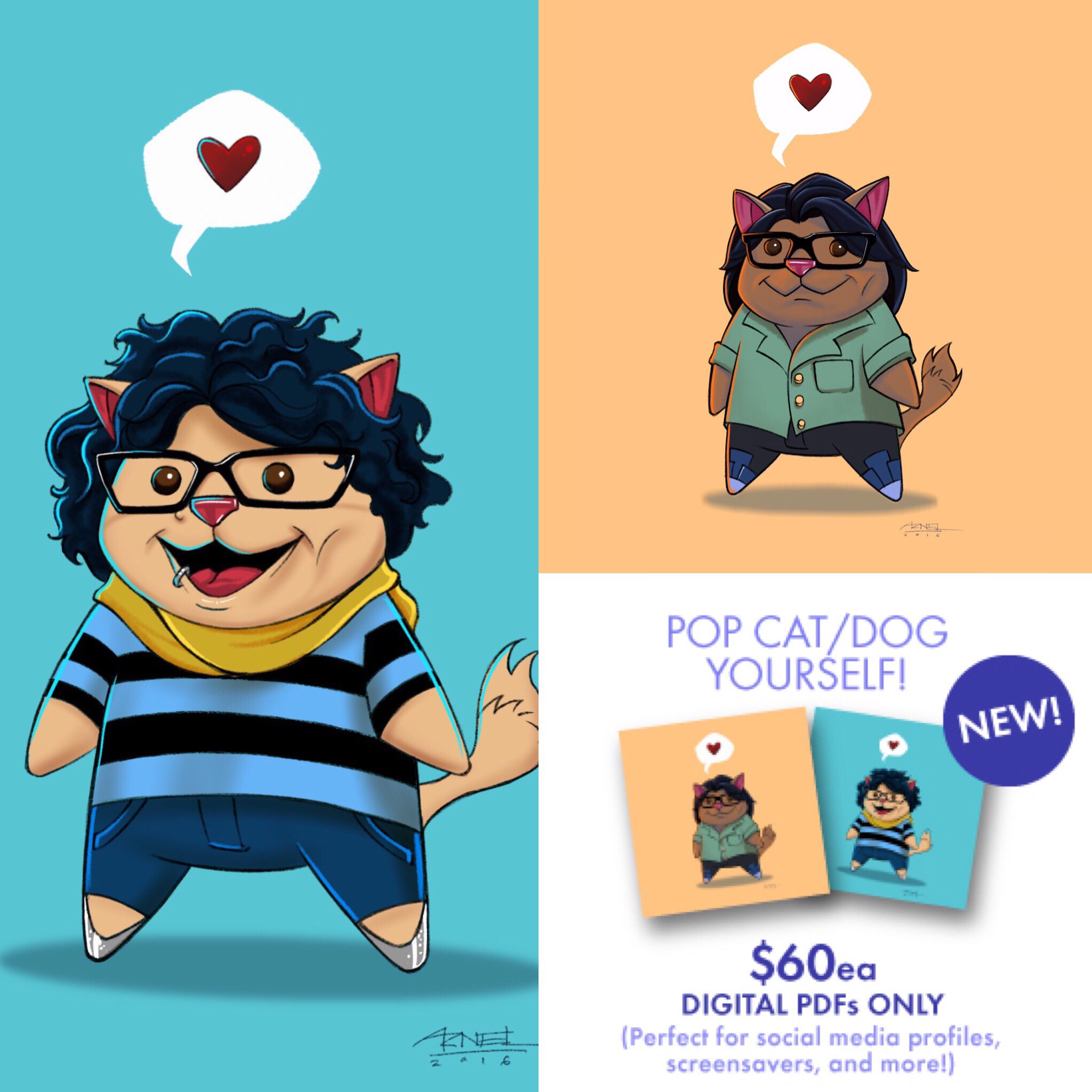 For those who prefer themselves not to take a starring role in their artwork, Ninjabot will also still be doing regular Pop Cat/Dog commissions for $60 each (which include a free frame, and which can be customized to resemble your pet at no extra cost), as well as custom character headshots. All payments will be done with PayPal, and the paintings must be picked up at WC.
On the print side of things, The Ninjabot will have two Logan prints available — a black and white version which is making its debut at the show, as well as a variant with red type, hand embellishment, and signed by artist Arnel Baluyot. The exclusive variant is limited to only 10 copies (!), so make sure you get there early to snag yours for $80.
They'll also be giving away free, daily Stranger Things buttons – so make sure you stop by daily to collect the whole set. Will will be available on Friday, Lucas on Saturday, and Mike on Sunday — with Dustin available every day with any $10 purchase at the booth. You can also snag a Barb and Eleven button for purchase at the booth, for $3 each (or two for $5).
On the San Diego Comic-Con side of things, this year The Ninjabot will be releasing the last chapter of their awesome Origin Series, featuring pieces spanning comic character creations that run the gamut from Wonder Woman to Teenage Mutant Ninja Turtles. They'll be taking pre-orders on their website for Origin 3: The End of the Beginning closer to the event, and we'll share when that happens, to pick them up at SDCC at a discounted price.
E-mail hi@theninjabot.com for more information and to make your WonderCon commission requests.