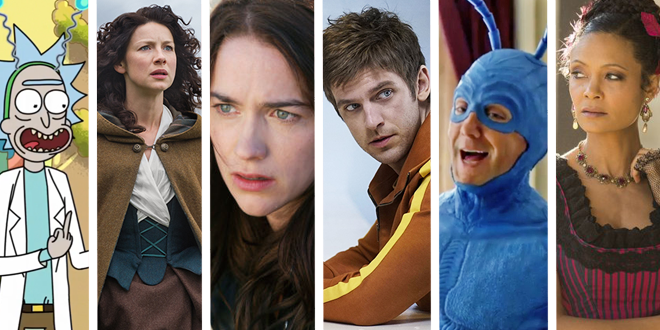 Television series comprise a huge chunk of the schedule for San Diego Comic-Con — and every year it seems like they become a larger and larger piece of the pie. The lines for Ballroom 20 are starting to rival even those of Hall H, and they won't be getting any shorter any time soon.
As the anticipation builds for the official announcements from networks and CCI as to which television shows will be on the panel schedule, we like to take time out earlier in the year to speculate which shows have the best chances of appearing at SDCC. We'll be breaking this into three segments, starting with the Broadcast Networks which we did on Monday, and followed by the Family Networks on Friday. But today, we're focusing on the Cable Networks — and there's a lot of them.
So what do we think you'll be seeing at Comic-Con this summer? Let's take a look:
Adult Swim
Adult Swim has cut way, way down on the amount of programming that they bring to the convention over the last three years – focusing instead mostly on flagship series like Rick & Morty and Robot Chicken. We also saw panels from Brad Neely's Harg Nallin Sclopio Peepio and Samurai Jack last year, but those have since been cancelled.
Could this year be the year that they bring back everything? Predicting Adult Swim's schedule is always a tricky thing to cover, because they have so damn much programming, and they also typically utilize not only the convention center, but also outside the convention center. The last several years, Adult Swim has held nightly screenings and panels in addition to the festivities taking place inside the San Diego Convention Center, which potentially gives them double the amount of coverage.
This year they could choose to bring back Mike Tyson Mysteries, which had a panel two years ago, or decide to focus on new shows like Apollo Gauntlet or Hot Streets.
Again, Adult Swim has an insane amount of programming, so it's also entirely possible that there are shows they could bring that we haven't mentioned here.
Amazon
Amazon burst onto the Comic-Con Scene two years ago. Since then they have continued to bring such shows as The Man in the High Castle and Thunderbirds Are Go (and we expect both to return in 2017), and last year even expanded their appearance with an offsite for the two shows. But if they want to increase the amount of programming that they bring to the con they might add two new shows that will be starting in the next year: The Tick, based on the comic and which already has a beloved cult status, and Electric Dreams, based on from Ronald D. Moore (who should likely already be in attendance for Outlander) and based on the Philip K. Dick novel. The Tick is further along in production and seems the more likely of the two additions, but Amazon clearly wants to make a splash at Comic-Con, so expanding their presence is certainly one way to do that.
AMC
The Walking Dead should be a lock in for this year's con, like always.
The series is an unstoppable force and has been for years, and there's no reason to change a winning formula – which also includes a Comic-Con presence. We think there's a good chance AMC will double down on the series again this year, and pair it with a back-to-back panel with their spinoff  show Fear the Walking Dead.
Also expect Preacher to return this summer to Hall H. Last year the show did a live reading of their penultimate season one episode – and this year, the show will have only aired 5 episodes before this year's con, meaning they'll have plenty to showcase and tease.
Into The Badlands could potentially make a return this year, but season two has already finished by the time the con comes around – meaning they wouldn't have anything to show.
Along that same vein, Better Call Saul has a very slim chance of being at the con this summer – it's the prequel to Breaking Bad, which did make the trek to the con multiple times. The show will have finished airing its season by then, and the show has never attended before.
Lastly comes The Terror which is an upcoming anthology series based on the 2007 best-selling novel by Dan Simmons. The show stars Jared Harris, Tobias Menzies, and Ciarán Hinds.
BBC America
Perhaps strangely, the most likely contender for BBC America's San Diego Comic-Con schedule this year? Dirk Gently's Holistic Detective Agency, which made its SDCC debut last year with series stars Elijah Wood, Samuel Barnett, Hannah Marks, and Jade Eshete. Plan on this being back.
Doctor Who, which has long been BBC's flagship, could go either way. While it didn't attend last year (and one would think BBC might not want to skip two years in a row), the new season will be finished airing by July 1. There's the upcoming Christmas special they could promote if they wanted to, but with both series star Peter Capaldi and showrunner Steven Moffat leaving, BBC could either decide to do a final farewell tour or both – or want to keep quiet about upcoming changes. Both seem equally possible.
And then there's Orphan Black. Last year's appearance was specifically touted as a "final farewell" panel for the series, but with the final season not starting until June, it will still be airing episodes in July when Comic-Con rolls around. Is BBC interested in spending money on a show with only a few weeks left on the air? We think probably not – but never count Clone Club out completely.
Cinemax
Last year, Cinemax only decided to take Outcast – which is a safe bet again for 2017, as the second season hasn't aired, and it has ties with The Walking Dead's creator Robert Kirkman.
Comedy Central
Expect Comedy Central to bring South Park along for the series' 21st anniversary (which, while likely to not be nearly as big/exciting as last year's 20th anniversary, should warrant some fanfare). There's also Drunk History, whose fifth season should be airing later this year, and should have something to share with fans.
In the past, they've also brought along Period Drama and Legends of Chamberlain Heights – and depending on where they are in their respective production schedules, either might make sense to pair with Drunk.
Freeform
Freeform decided to come back to SDCC last summer, for the first time since 2011. While we don't think this means they will start taking every show on the network to the convention, we do think there is a better chance of them coming back in the future. The question now is what they decide to bring.
Shadowhunters has yet to make an appearance at SDCC (though they have been to WonderCon) typically due to production schedules, but new this year they're doing a split season with the second part starting in June – meaning they should have footage they could show and promote. The third season of Stitchers also starts in June, making it a likely contender.
The network also picked up two new Marvel TV shows, including Cloak and Dagger which is about two teenagers from very different backgrounds that get superpowers, and New Warriors which follows six young people who live and work together to make a difference in the world. Both Marvel shows have a 2018 premiere date, which may mean they're too far out to promote this year – but Cloak and Dagger at least has a pilot shot (while New Warriors doesn't even have cast), so we could easily see Cloak getting a full panel, with perhaps some New Warriors news sprinkled on the end.
https://www.youtube.com/watch?v=E5hrFVQiGyk
FX/FXX
The Strain, which starts its final season on July 16, should get a farewell panel at San Diego Comic-Con (though maybe we could skip the creepy Hilton Bayfront wrap this year, FX?). Archer is also a lock to return. American Horror Story could go either way – it's attended in the past, but it skipped last year. This season doesn't seem to be quite as under wraps as AHS: Roanoke was, so creator Ryan Murphy and FX may be more interested in bringing out the cast to tease a few details or talk about the seasons that have come before.
We think FX would be crazy not to bring Legion to the convention – it's regarded as one of the best, most inventive things on TV so far this year by just about everyone who saw it, and while it skipped last year, we heard rumblings that it was due to a scheduling conflict, rather than lack of confidence in the project. The first season finished airing not long ago, so they wouldn't have new footage to show – but really, would anyone care about that minor detail? [Editor's Note: Please bring Legion, FX. Please.]
They've also got Mayans MC, the upcoming sequel to longtime Hall H staple Sons of Anarchy, which is a possibility. It's also possible that FX/FXX could trot out Donald Glover's new animated Deadpool series. However, it was just ordered to series this month, and doesn't premiere until sometime in 2018 – so they'd only have some footage from the pilot to show, if anything.
Beyond that, we've long said that just about everything on FX's schedule – from Fargo to The Americans would make sense at the convention, but FX has yet to agree.
HBO
If ever there was a year for HBO to go really big with Game of Thrones (not that they haven't already – but even bigger) – it's this year. For the first time, the new season of Thrones will be airing during the convention (it premieres July 16, just one week before the con), meaning that they could easily hold a viewing for a new episode, or at least show new footage to a very eager Hall H crowd. Their appearance is usually a victory lap, and a very exciting one at that – so just imagine the possibilities.
It's entirely possible that we could get Silicon Valley and/or Vice Principals back at the convention – but the biggest question, and the option that would make the most sense, is obviously WestWorld. They sat last year out, but at the time, they hadn't aired anything yet, and were also undergoing some creative challenges. With a season now under their belts, they could easily bring cast members to talk season one, and tease a few things for the future. It seems like a lock on paper, especially as HBO is eventually going to need a Comic-Con predecessor for Thrones.
History
Vikings will be back to the convention – it's already been confirmed. Break out those drinking horns!
Less likely, but not impossible, is Six (especially if Walton Goggins happens to already be in town for HBO's Vice Principals). The series – which follows a U.S. Naval Special Warfare Development Group – didn't attend in 2016, but it's been picked-up for a second season. If History is looking to expand their presence, this would be one way to do it.
Hulu
How much Hulu wants to be a part of San Diego Comic-Con remains to be seen. They brought The Awesomes along for a few years before it ended, and last year they hosted a special Hulu Lounge as part of the massive South Park offsite outside — but are they serious about having a bigger panel presence?
If they are, this might be the year to do it. They've got Runaways, which has been picked up for ten episodes, set to premiere in 2018. The pilot has been shot — so there would be footage to show, and it's, y'know, Marvel, making it a great fit for the convention.
Another contender, though less likely, is The Handmaid's Tale. It's been renewed for a second season, but the first will have finished its run just a few weeks before, so it's questionable how much they could really promote. But Hulu extended their presence at SXSW this year with handmaid street teams, and often SXSW happenings are a good indicator for San Diego plans.
MTV
Last year, MTV cut down the amount of programming they normally bring to the con, only taking Teen Wolf. This year MTV could choose to do two things. 1. Skip the con entirely, as last year's Teen Wolf panel was billed as the final farewell panel, back when presumably they thought the final ten episodes would have already aired or 2. Bring the cast back for one more panel, this time for real for the last time. Really. For real.
MTV has yet to release the final trailer for this second half of the season, which is something that normally happens at San Diego Comic-Con. Are they waiting to let the fans say goodbye to their favorite characters once again? Only time will tell.
Netflix
Oh, Netflix. You break our hearts every year.
Last year, Marvel brought along Marvel's Luke Cage, and if anything on Netflix has a shot at attending in 2017, it's got to be The Defenders. Put Charlie Cox, Krysten Ritter, Mike Colter, and Finn Jones on a stage together — and that's your Comic-Con moment right there. While there are plenty of other Netflix/Marvel TV shows that could also tag along, we feel like anything after Defenders is going to be a bit of a letdown, so we just don't see them spending the money to bring along extra cast for Punisher or Jessica Jones season 2. If they really wanted to promote something for one of those shows, they could easily throw a 90 second teaser onto the end of a Defenders panel anyway.
Then there's also the Netflix DreamWorks Animation stuff, which again, technically DreamWorks brings instead of Netflix — but you should still see Voltron and TrollHunters represented.
Would we love to see some other Netflix shows at the convention — like Stranger Things, or Sense8 (with cast — it's a lock you can get some of your Sense8 fix at the J. Michael Straczynski Spotlight panel, at least), or Glow, or literally any other show on the network? Absolutely.
Are we holding our breath? Absolutely not.
https://www.youtube.com/watch?v=4h3m7B4v6Zc
Syfy
Syfy has a tendency to bring everything and the kitchen sink — and with Syfy Presents Live From Comic-Con returning to the convention, expect the network to pull out all the stops. Again.
Which means, really, the biggest question is: What will Maryjane's, the Hard Rock restaurant that Syfy transforms every year, most likely be? Well, it could be the upcoming Syfy Grindhouse series Blood Drive, about a world where cars run on blood (at least a Mad-Max looking setup might be fun?) — or perhaps it will be Krypton, which was just ordered to series, and follows Superman's grandfather on their home planet, set 200 years before the current Man of Steel film. Of the two, though, we'd probably start stocking up on chrome now.
We already know that there will be a Wynonna Earp party at Comic-Con, which all but confirms the series will be attending. We also expect this year for Dark Matter, as well as possibly 12 Monkeys, The Magicians, The Expanse, and The Killjoys. They've also got new series Ghost Wars, which is slated to premiere sometime this year — and it stars Vincent D'Onofrio and Kim Coates, which makes it very Comic-Con friendly.
Plus, there's Sharknado 5… Earth 0 (yes, that's the real name), which debuts on August 6, making it the perfect time for some off-the-wall promo at SDCC. We're rooting for shark parades again, but aren't we always?
https://www.youtube.com/watch?v=ZR093dTc4m8
Showtime
Over the past few years Showtime really has skimmed back the amount of programming they bring, capped off with last year's non-existent panel presence. Hopefully this year is when that all changes. The big show on the network right now is the return of Twin Peaks, and with the show premiering in late May, the network would still have plenty to share by the time the con comes around with the possibility of even screening an episode.
Plus, that Double R Diner pop-up from SXSW looked amazing, and we'd really like if that showed up. Just in case you're listening, Showtime.
Starz
The only thing on this list officially confirmed to be attending the convention is Outlander — so that's coming, and we fully expect Starz to go all out for the series, considering they skipped last year and announced so early this time around.
The next closest thing to a confirmation is Counterpart, an upcoming espionage sci-fi thriller which follows J.K. Simmons' character as a lowly bureaucrat who discovers the agency he's working for is guarding a parallel dimension. Sounds like a good fit for Comic-Con, right? Executive producer Amy Berg already mentioned she expects the show to be at the convention, and Starz loves premiering new shows at San Diego (though it could be an offsite only, in that case), so…
You can also expect some kind of presence (likely both panel and offsite) from both Ash vs Evil Dead and American Gods. American Gods' actor Orlando Jones hinted earlier this year in an interview that he'd heard rumblings of the bar from the series being set up as a real place, where people could visit. Will that be Starz' booth this year, or something at Petco Interactive Zone or the surrounding areas? Seems likely.
TBS
Two years ago, TBS decided to make the trek to San Diego with Conan and last year they upped their game by bringing a booth and a panel for the show People of Earth. This year we don't see why they wouldn't bring the show back, seeing as it's already been picked up for a second season and last year's panel even had producer Conan O' Brien moderating. Since he's already in town for his live shows, this seems like a no-brainer.
TNT
The Last Ship is the only sure bet from TNT for San Diego Comic-Con this year. The show's fourth season will premiere in June and the show has already been picked up for a fifth season, so there's no reason not to bring it.
Moving on to shows that could potentially be there, though, let's start with Good Behavior, which finished up season one back in January and has already been picked up for a second season. It could show something for season two, and considering it stars Michelle Dockery, fans of TV would likely flock to it. Less likely is Animal Kingdom, whose second season premieres in late May and follows a teenage boy who moves in with his grandmother and four uncles. This show is all about surfing and takes place in Southern California. If anything, they could just have a really cool surfing offsite.
TV Land
TV Land is hit or miss. While in the past they've brought series to the convention, last year they skipped completely. If they do decide to come, we could see a panel for Teachers (which attended in 2015), or, less likely but not impossible, Younger, which premieres its fourth season in late June.
USA Network
Odds seem strong that the Psych reunion Christmas movie will be at the convention this year (though at this point, we're really just hoping Tim Omundson is well enough to both be involved and come to San Diego). It's been far too long since that cast graced the Ballroom 20 stage, and Christmas in July would be the perfect excuse to do something really fun outside the convention center.
We fully expect everyone's favorite hacker drama Mr. Robot back at the convention, and are rooting for more awesome offsite installations and activities, like last year's masked street team or the awesome Petco Park VR screening with cast. Colony should also be a lock for this year – it's gotten a major push the last two years, and we'd be very surprised if it skips.
Shooter is also a possibility, though it didn't attend in 2016. Ryan Phillippe on the small screen is certainly a draw, and it also stars Comic-Con friendly cast Omar Epps and Eddie McClintock.
TV Graveyard
Bates Motel (A & E)
Black Sails (Starz)
Brad Neely's Harg Nallin Sclopio Peepio (Adult Swim)
Dead of Summer (Freeform)
House of God (Amazon)
Impastor (TV Land)
Incorporated (Syfy)
The Leftovers (HBO)
Man Seeking Woman (FX)
Powers (PlayStation Network)
Salem (WGN)
Samurai Jack (Adult Swim)
Sex & Drugs & Rock & Roll (FX)
Workaholics (Comedy Central)