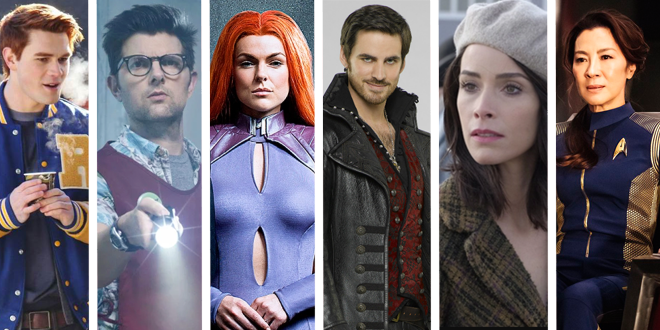 Television series comprise a huge chunk of the schedule for San Diego Comic-Con — and every year it seems like they become a larger and larger piece of the pie. The lines for Ballroom 20 are starting to rival even those of Hall H, and they won't be getting any shorter any time soon.
As the anticipation builds for the official announcements from networks and CCI as to which television shows will be on the panel schedule, we like to take time out earlier in the year to speculate which shows have the best chances of appearing at SDCC. We'll be breaking this into three segments, including the Cable Networks (coming Wednesday!) and the Family Networks, but we're kicking things off today with the main five basic broadcast channels — ABC, CBS, CW, FOX, and NBC.
It's important to note that while we've broken out the schedule by which network a series airs on, these aren't necessarily the entities that physically own the shows, and thus bring them to Comic-Con. So, for instance, The Big Bang Theory is actually a Warner Bros. production, that merely airs on CBS, so Warner Bros. is the one who brings it to the convention. FOX owns The Exorcist, but not Lucifer, so it would only be responsible for bringing the former along. Confusing? We know. That's why we've laid it out like this — but don't panic if your favorite shows aren't on any announcements the networks and studios make in the next two months.
So what do we think you'll be seeing at Comic-Con this summer? Let's take a look:
ABC
The question on several attendee's minds this year is, with Once Upon a Time essentially cutting all but three cast members, will they still be at San Diego Comic-Con? And with which cast members? We do think there's a very high likelihood the series will be at the convention — but as for cut cast members being in tow, there's a vague possibility Jennifer Morrison may turn up (as she's agreed to one episode, and thus would have something to promote), but everyone else seems highly unlikely. We just don't see ABC spending money to bring cast that they no longer employ. Sorry, Oncers — but you should still get Colin, Lana, and Robert!
In happier news, expect Marvel's Agents of S.H.I.E.L.D. to be a lock. Designated Survivor, which last year received a screening and some extra promotion at the con, could also return — though the network may choose instead to promote newer offerings.
The most obvious of which is Marvel's Inhumans, an 8-episode series which follows the story of Black Bolt and the royal family, and stars Anson Mount, Serinda Swan, and Iwan Rheon, among others. We think they'd be crazy not to bring it, and wouldn't be surprised if they aired the pilot as well during the panel, similar to what they did for S.H.I.E.L.D. several years ago. If they do, look for it getting an extra-long time slot rather than the normal 60 minutes on the schedule.
We also think we'll see an appearance from Deception, about a superstar magician whose career is ruined by scandal, so he becomes the world's first consulting illusionist for the FBI. It sounds a bit silly, but it's from Warner Bros. (who brings everything), has some big names behind it including Greg Berlanti and Chuck's Chris Fedak — and magicians are fun. We'd actually be more surprised if this didn't attend. You also probably also count this in for a Preview Night Ballroom 20 pilot screening.
Another possibility is The Crossing, which is set 250 years in the future as refugees from a war-torn country start seeking asylum in an American town. The Gospel of Kevin, from Agent Carter's creators, is also a possibility. The series, which stars Jason Ritter, is a one hour light drama about a man who is down on his luck and is tasked by God to save the world. Don't count this one out.
https://www.youtube.com/watch?v=tEKCP4slr28
https://www.youtube.com/watch?v=9LMkHLt1rx8
https://www.youtube.com/watch?v=6zPOQmgEi_k
CBS
With Scorpion star Katharine McPhee having announced that the series won't be returning to San Diego Comic-Con this year, CBS may be looking to shake things up a bit this year (but it's still CBS, so don't expect too much shaking up). The most likely contender, and already kind-of-confirmed series, is obviously Star Trek: Discovery. It's Star Trek, CBS knows con attendees love it, and they have good reason to want to push the CBS All Access platform where it will be airing. It's a no-brainer.
The Big Bang Theory will undoubtedly be back for their annual Writer's Room Panel with Special Guests — though it's possible that Warner Bros. may be looking to spark some interest in their prequel comedy series, Young Sheldon. If we had to guess, we'd say that might get teased somewhere on the actual Big Bang panel, rather than having it's own panel, but anything's possible with WB. Zoo has a third season that debuts in late June, and also seems very likely for a panel, though last year it was part of a "CBS Fan Favorites" panel that also included stars from NCIS, NCIS: LA, and Criminal Minds. Will they take a similar route this year? We're also fully expecting a presence for MacGyver, which at this point, is about the quirkiest thing they have on their roster.
When it comes to new series (that aren't, y'know, Star Trek), we're expecting the biggest push to likely go to Salvation, this year's summer series that debuts July 12. It hails from the same folks who brought you Extant, and it follows the government cover-up of an asteroid that's set to collide with Earth in six months.
Meanwhile, likely taking the place of so many other CBS "this kind of makes sense if you squint" series that have come to the con before, it's probably a toss-up between Seal Team with David Boreanaz, which follows the lives of the elite SEALs as they train and executive high-risk missions — and Wisdom of the Crowd, which follows Jeremy Piven as a "tech innovator" who creates a cutting-edge crowd-sourcing hub to solve his own daughter's murder (as well as other murders). SEALs has Boreanaz, which may be enough to push it over Wisdom… but how many "this has tech, it should go to Comic-Con!" series has CBS brought over the years? You do the math.
https://www.youtube.com/watch?v=XR-jIhwIfIw
https://www.youtube.com/watch?v=HjZVccyic10
https://www.youtube.com/watch?v=wKMPAOGIA7I&t=196s
The CW
Pretty much rinse and repeat last year's schedule — which isn't a bad thing.
If there's any network that boasts a truly Comic-Con friendly programming schedule, it's The CW. Expect another year of panels for Supernatural, Riverdale, The Originals, Arrow, The Flash, Legends of Tomorrow, Supergirl, iZombie, and The 100.
The CW also picked up Black Lightning, which is (we're sure you're shocked to hear) another WB/DC Greg Berlanti produced comic series (though this one isn't set in the same verse as the others!). Black Lightning follows Jefferson Pierce, who had hung up his suit and secret identity years ago, but is pulled back into the fight as the wanted vigilante and DC legend — Black Lightning. Of everything on this list, it's also the most likely to appear as one of the pilots screened in Ballroom 20 on Wednesday night.
Beyond that, the CW ordered a lot less genre fare this year — and unless they feel like bringing Valor, about a group of elite helicopter pilots, government/military secrets, and MIA soldiers — we're not expecting much more out of the network. While we'd also love to see Crazy Ex-Girlfriend represented, since it hasn't made it to the convention thus far, it just doesn't seem likely. But hey, if you're listening WB/CW – we'd go to that panel!
https://www.youtube.com/watch?v=RZpJeuXo2CY
https://www.youtube.com/watch?v=8dqzih8hI1U
FOX
In our opinion, FOX could have the most interesting Comic-Con schedule this year.
Yes, FOX will still dominate Saturday Ballroom 20 with back-to-back-to-back animated series, including The Simpsons, Family Guy, and American Dad! (which technically airs on another network these days, but it's our blog, and we'll do what we want! We're mad with power!), and Bob's Burgers. Yes, Lucifer, Gotham, and The Exorcist will all be heavily featured as well. Yes, Last Man on Earth is very likely to be somewhere in that mix tool.
But of every network on this list, we're most excited about FOX's upcoming series. First, and essentially a lock to appear at the convention, there's the Marvel series The Gifted, about two parents (who just happen to be played by the very genre-friendly Amy Acker and Stephen Moyer) who must protect their children from the government when they discover they possess mutant powers. This is going to get a big push at San Diego — and we're seriously rooting for this Mutant Testing Station from Upfronts to make its way to being an offsite at the con.
They've also got Orville, which should also be a total shoe-in. The 13-episode dramedy comes from frequent FOX collaborator and SDCC favorite Seth MacFarlane, is set 300 years in the future, and follows the adventures of Orville (MacFarlane) and a motley crew of space explorers. If you love Space Balls and Galaxy Quest, this should be right up your alley.
Less of a sure-thing, but still very likely, is Ghosted. The series stars Craig Robinson (as a cynical skeptic) and Adam Scott (as the true believer in the paranormal), as they're recruited by The Bureau Underground to investigate "unexplained" activity in LA. It's a half-hour comedy, and would pair very nicely with Last Man on Earth, which is exactly what we think they'll do (likely over in Indigo).
The one big question mark on the schedule, though, is The X-Files. It skipped last year, which is still incredibly surprising to us — but now that it's got a season under its belts, will FOX bring it along? We sure hope so — and really, all you need to do is put David Duchovny and Gillian Anderson on a stage, and people will flock to it. It's also possible we could see some presence for Lethal Weapon, but as it skipped in 2016, that seems pretty unlikely.
https://www.youtube.com/watch?v=qTzW9rMcbzk
https://www.youtube.com/watch?v=Yy9sKeCE8V0
NBC
Hey, NBC. Please bring The Good Place back again (aka, the best comedy on TV that you should all be watching — please watch).
Oh, you want us to talk about other stuff too? Fine. Now that Timeless has defied the odds and been un-cancelled, we expect it to return to San Diego Comic-Con, so you can all celebrate in person soon enough. There should be a lot of fanfare around this one, as it was the fans who got it un-cancelled, and if ever there was a place to celebrate the fans, San Diego is it.
It's also possible we could see a return for The Blacklist and/or Blindspot – but as Blacklist skipped last year, we'd give preference to Blindspot or a newer series.
And that does it for returning series, now that NBC ended both Grimm and Emerald City. In the wonderful world of new series, we think Midnight, Texas has a very good chance of being the main attraction (perhaps literally) over at Tin Fish this year. The series — which is based on True Blood's Charlaine Harris' novels — about a town where everyone's just a little bit different. It was plastered all over this year's WonderCon, including on the badge designs, so a heavy push at San Diego definitely makes sense (and what's more, the pilot at least is a lot of fun!).
Reverie, which stars Sarah Shahi as a former detective specializing in human behavior who is brought in when the launch of an advanced virtual reality program has dangerous consequences, should also get a big push — though the trailer wasn't shown for press at Upfronts or released yet (despite airing this fall), which may mean they're tinkering with it and not ready to show some things.
Not impossible, but less likely, is Taken — which was just renewed for a second season. It skipped the con last year, but it's got a slight pop culture edge to it as it's based on the Liam Neeson film of the same name, which could warrant some extra exposure.
https://www.youtube.com/watch?v=dNKGC0GWWpM
Television Graveyard
We'd also like to take a moment to reflect back upon our dearly departed shows that won't be gracing the stages at San Diego Comic-Con this summer, either because they were canceled, or simply ended their run. Here are the broadcast shows that you won't be seeing at SDCC again, at least until that ten year reunion (or until Hulu, Netflix, or some streaming service that hasn't been invented yet inevitably picks it up):
American Gothic (CBS)
Bones (FOX)
Emerald City (NBC)
Frequency (The CW)
Grimm (NBC)
Powerless (NBC)
Reign (The CW)
Scream Queens (FOX)
Sleepy Hollow (FOX)
Son of Zorn (FOX)
The Vampire Diaries (The CW)
Time After Time (ABC)