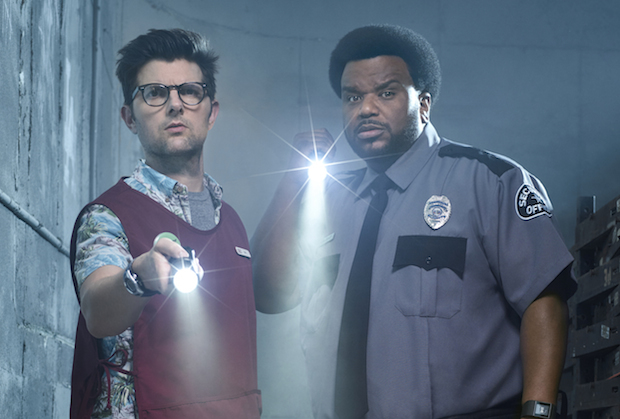 FOX TV always brings a strong presence to San Diego Comic-Con – and this year is no different, though it's 8-series line-up is a bit scaled down from last year's 13 series represented.
Returning favorites like American Dad!, Bob's Burgers, Family Guy, The Simpsons and The Exorcist are all back this year – The Last Man on Earth looks like it didn't make the cut. Other series, like Gotham and Lucifer, aren't mentioned – but it's Warner Bros. who brings those series, so those should show up on their own panel announcement. Unfortunately, this does mean that there won't be an X-Files panel.
They're also bringing along several new series, including the upcoming Marvel TV series The Gifted, the new comedy starring Craig Robinson and Adam Scott Ghosted, and the new sci-fi comedy The Orville from everyone's favorite Seth McFarlane.
Here's a look at this year's panels:
THURSDAY, JULY 20:
4:45 – 5:45PM Ghosted, Room 6BCF – Craig Robinson and Adam Scott, respectively play a cynical skeptic and true believer in the paranormal. They're hired to investigate unexplained phenomena in Los Angeles while uncovering a larger mystery about the human race. Robinson, Scott, Ally Walker ("Sons of Anarchy") and EPs Tom Gormican and Kevin Etten will be on hand. Series debuts this Fall.
6:00 – 7:00PM The Exorcist, Room 6BCF – Father Tomas (Alfonso Herrera, "Sense8"), Father Marcus (Ben Daniels, "House of Cards"), Father Bennett (Kurt Egyiawan, "Skyfall"), and EPs Jeremy Slater ("Fantastic Four") and Sean Crouch ("Numb3rs") will discuss season 2.
FRIDAY, JULY 21:
3:45 – 4:45PM The Gifted, Ballroom 20 – 20th Century Fox/Marvel's X-Men series follows a suburban couple whose ordinary lives are rocked by the discovery that their children are mutants. The government is after their kids, and the family links up with an underground network of supernatural-powered people for their survival. Cast and EPs will be on hand for a first look of this series debuting in September. Written by Matt Nix directed by Bryan Singer, and executive-produced by Nix, Singer, Lauren Shuler Donner, Simon Kinberg, Jeph Loeb and Jim Chory, The Gifted stars Stephen Moyer, Amy Acker, Sean Teale, Jamie Chung, Coby Bell, Emma Dumont , Blair Redford , Natalie Alyn Lind and Percy Hynes White.
4:15 – 5:00PM Bob's Burgers, Indigo Ballroom – The Belcher family returns to San Diego for another panel with creator and EP Loren Bouchard, EP Jim Dauterive and cast H. Jon Benjamin, Dan Mintz, Eugene Mirman, John Roberts, Kristen Schaal and Larry Murphy.
SATURDAY, JULY 22:
12:00 – 12:45PM The Simpsons, Ballroom 20 – A peek at the 29th season with creator Matt Groening, EPs Al Jean and Matt Selman, Supervising Director Mike Anderson and Director of The Simpsons Movie David Silverman.
1:00 – 2:15PM Family Guy & American Dad!, Ballroom 20 – A special preview of Family Guy with cast Alex Borstein, Mike Henry and Jon Viener as well as EPs Rich Appel and Alec Sulkin. There will be surprise guests and a look at upcoming 300th Episode. It's a Smith-family Funday with "Francine" (Wendy Schaal), "Steve" (Scott Grimes), "Hayley" (Rachael MacFarlane), and "Klaus" (Dee Bradley Baker), plus EPs Matt Weitzman who will treat American Dad! fans to a first look at the all new season airing July 24 on TBS.
4:15 – 5:15PM The Orville, Room 6A – Come meet the whole crew of the mid-level exploratory vessel U.S.S. Orville – Seth MacFarlane, Adrianne Palicki, Scott Grimes, Penny Johnson Jerald, Peter Macon, Halston Sage, J. Lee, Mark Jackson, and Chad Coleman – as well as producers David A. Goodman and Brannon Braga – for an exclusive look at this sci-fi comedy series, which is a take-off of 1960s sci-fi shows like Star Trek. Jon Favreau directed the pilot.