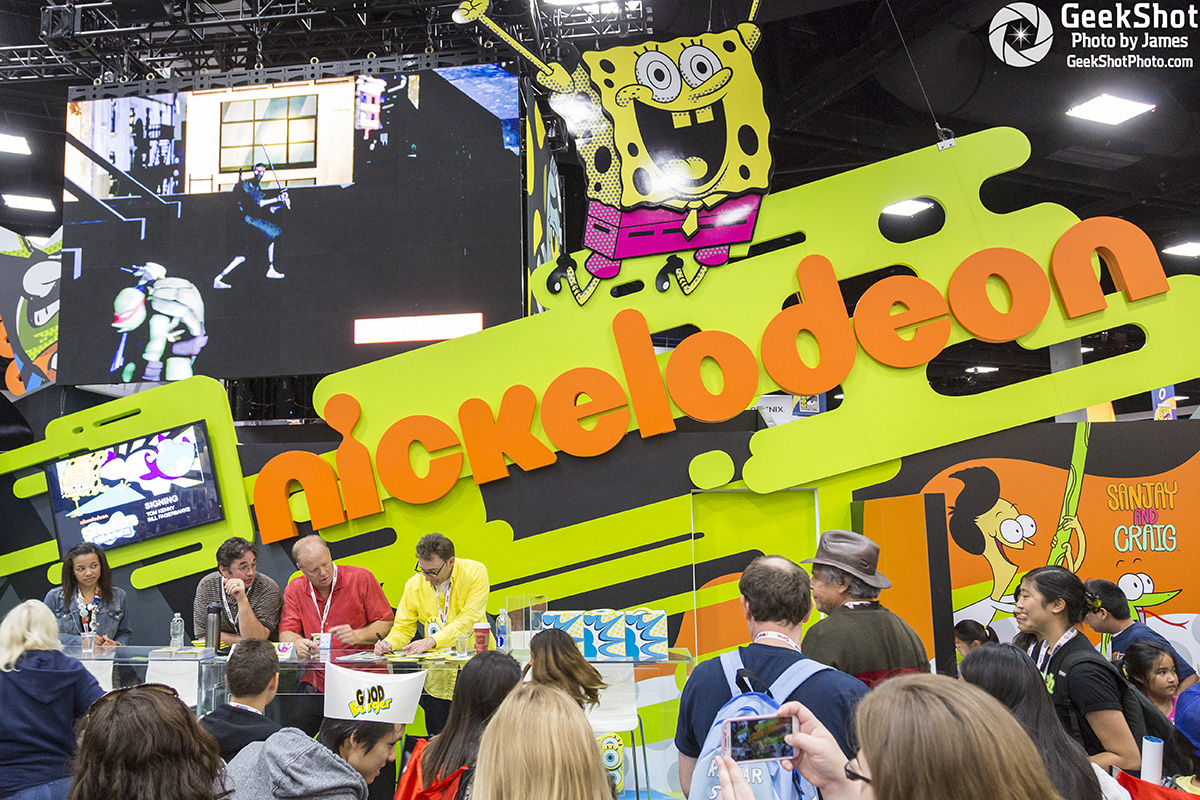 Nickelodeon continues to celebrate the 90's with this year's San Diego Comic-Con panel line-up and booth plans.
This year, Entertainment Weekly reports that the network will be bringing panels for four of their series, including Rocko's Modern Life on Thursday, Hey Arnold! and Teenage Mutant Ninja Turtles on Friday, and SpongeBob SquarePants on Saturday. Best of all, most of the voice casts (which include legends like Tom Kenny, Sean Astin, Rob Paulsen, Greg Cipes, and many others) are set to take center stage at the con, where they'll be discussing upcoming plans for all four series.
Over at Nickelodeon Booth #4113, attendees will have a chance to visit and snap a selfie Helga Pataki's shrine to Arnold, step inside a 23-foot version of SpongeBob's pineapple home for an interactive gaming and video capture experience. You'll also be able to buy exclusives (still yet to be revealed), and buy and then customize a t-shirt featuring characters from Hey Arnold!, Rocko's modern Life, Danny Phantom, Rugrats, Teenage Mutant Ninja Turtles, SpongeBob SquarePants, and The Loud House. There will also be costumed characters.
There will also be autographs at the booth, featuring voice talent from Rocko's Modern Life: Static Cling, Hey Arnold!: The Jungle Movie, Teenage Mutant Ninja Turtles, and SpongeBob SquarePants – as well as the creators and producers of more recent Nickelodeon programming, including The Loud House's Chris Savino, Bunsen Is a Beast's Butch Hartman, and Welcome to the Wayne's Billy Lopez.
Here's a look at their panels;
Rocko's Modern Life: Return to Earth! (Thursday, July 20)
Show creator Joe Murray and director Cosmo Segurson will join the voice cast of everyone's favorite O-Town residents Carlos Alazraqui (Rocko), Tom Kenny (Heffer), Mr. Lawrence (Filburt), Charlie Adler (Mr. Big Head and Mrs. Big Head) as they discuss the show itself and preview what viewers can expect from the new special (while also offering attendees of the panel a special sneak peek).
Hey Arnold!: From Hillwood to the Jungle! (Friday, July 21)
Take a trip back to Hillwood as voice actors from the classic series — Lane Toran (Arnold), Jamil Walker Smith (Gerald), Francesca Marie Smith (Helga), and Anndi McAfee (Phoebe) — join some of the newer voice actors (Mason Vale Cotton as Arnold, and Benjamin "Lil' P-Nut" Flores Jr. as Gerald) to discuss the show, and present footage from the upcoming TV movie once again created by original creator Craig Bartlett. Also appearing will be composer Jim Lang, who'll be gracing those in attendance with a live musical performance.
Tales of the Teenage Mutant Ninja Turtle (Friday, July 21)
Co-creators (and collaborators) Kevin Eastman and Stan Sakai (Usagi Yojimbo) will discuss the series along with voice actors Stranger Things' Sean Astin (Raphael), Animaniacs' Rob Paulsen (Donatello), Teen Titans Go!'s Greg Cipes (Michaelangelo) and Eric Bauza (Tiger Claw). Also, executive producer Ciro Nieli will give fans an inside look at season 5 of the animated Nickelodeon show.
SpongeBob SquarePants: The Legend of Boo-kini Bottom (Saturday, July 22)
Flash forward to October, as supervising producers Vincent Walker and Marc Ceccarelli, and storyeditor Mr. Lawrence (who also voices Plankton) join Screen Novelties founders Chris Finnegan, Seamus Walsh, and Mark Caballero to preview behind-the-scenes footage from the upcoming stop-motion special. Also present at the panel will be voice actors Tom Kenny (SpongeBob), Bill Fagerbakke (Patrick), Rodger Bumpass (Squidward) and Carolyn Lawrence (Sandy) who will be doing a live table read of a classic Halloween episode as picked by fans of the show.