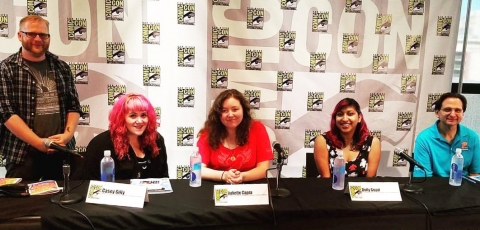 San Diego Comic-Con is about so much more than just movies and TV. Comic-Con International is bringing back a special series of panels, called "Talking Comics with America's Educators: The Comic Conference for Educators and Librarians", which is aimed specifically at educators and librarians. It's a great way for teachers, academics, publishers and more to connect and learn more about their field – just register now.
Additionally, the Neil Morgan Auditorium at the San Diego Central Library will play host to podcasts and webcasts all week long, including Elfquest, The Hillywood Show, A Song of Ice and Fire, and more.
Here's a look at the Comic Conference panels:
Wednesday, July 19
4:00: Teaching with Comics: An Interactive Workshop for Educators
Thursday, July 20
10:00: Creators, Libraries, and Literacy
11:00: Picture Books for Grown-Ups: Why Graphic Novels Matter to Adults
12:00: Read-Alikes: What to Suggest When Patrons Have Already Read Smile and The Walking Dead
1:00: Young Adult Graphic Novel and Manga Collection Essentials: What Titles Every Library Should Carry
2:00: Diversity in Comics: A Librarian's Perspective
3:00: Graphic Novel and Manga Programming for Tweens and Teens in our Diverse Communities for Any Budget
4:00: Library Cons: Welcoming Deadpool into Your Library
5:00: How to Judge What Is Appropriate in Comics: What Does T for Teen Really Mean?
Friday, July 21
10:00: Using Comics to Support Different Learning Styles in the Classroom
11:00: From Asterix to Zeus: Developing an Essential Kids' Graphic Novel Collection
12:00: Handling Challenges: Bans and Challenges to Comics
1:00: Read Like a Girl: Middle Grade Fiction for Girls (and Boys)
2:00: Nonfiction and Memoir in Graphic Novels
3:00: Prose to Panels: Graphic Novel Adaptations
4:00: Meet the Makers
5:00: Publishers' Talkback Session
Saturday, July 22
10:00: Content Literacy: Teaching STEM with Comics
11:00: CBLDF: Equipping Teachers to Defend Comics
12:00: Graphic Novels in the High School Library
1:00: Superheroes and Comics Can Transform Learning
2:00: Comics in Classrooms and Instruction
3:00: Developing Comics for Social Impact and Change
4:00: When Comic Shops, Teachers, and Librarians Work Together
5:00: Inspiring Young Readers Through Graphic Novels
Sunday, July 23
11:00: GeekEd #1: Nerdentity
12:00: GeekEd #2: Shall We Play a Game?
1:00: GeekEd #3: Caring for the Nerd Mind
2:00: GeekEd #4: Comics in Secondary Education
And here's a look at the podcast panels:
Thursday, July 20
11:00: Batman: The Animated Podcast LIVE!
12:00: Elfquest: An Intimate Conversation with Wendy and Richard Pini
1:00: Heroes at the Mic
2:00: Geek K.O. LVL 025: The Marvel Cinematic Universe
3:00: Your Star Trek Podcast HQ: SoCal
4:00: On the Mic Podcast Live from San Diego Comic-Con
Friday, July 21
11:00: An Inside Look at Man at Arms: Reforged
12:00: Space Command: Bold Adventures!
1:00: The Hillywood Show Q&A Panel
2:00: Film Threat Podcast LIVE!
3:00: Comics on Comics: Live!
4:00: Best of Earwolf
Saturday, July 22
11:00: Nerd Up or Shut Up Live!
12:00: Outlandish Confabulation: An Outlander Fan Panel
1:00: The Kaiju Kingdom Podcast: The Resurgence of the Kaiju Film Genre
2:00: Children of Tendu Live!
3:00: Lost Fans Unite with Jay and Jack
4:00: A Song of Ice and Fire: Game of Thrones Fan Discussion